Introducing the Feelworld F5 Pro V4 Camera Monitor, a cutting-edge companion for professional videographers and photographers seeking enhanced visual clarity and precise monitoring capabilities. With its sleek design and advanced features, this monitor takes your creative vision to new heights.

The Feelworld F5 Pro V4 boasts a vibrant 5-inch Full HD display, providing vivid and true-to-life colors, allowing you to capture every intricate detail with unrivaled accuracy. Equipped with a 1920x1080 resolution and a 160-degree wide viewing angle, this monitor ensures optimal visibility from various perspectives, enabling you to achieve the perfect shot every time.

Designed with versatility in mind, the F5 Pro V4 supports a wide range of professional cameras, including Sony, Canon, Nikon, and more. Its compatibility with input signals, such as HDMI, allows seamless integration into your existing setup. The monitor's intuitive interface and user-friendly controls provide effortless navigation, empowering you to customize settings and fine-tune your visuals according to your specific requirements.

Furthermore, the Feelworld F5 Pro V4 is equipped with essential monitoring tools, including focus peaking, false color, and histogram, enabling precise adjustments and accurate exposure monitoring. The built-in 360-degree adjustable sunshade ensures optimal visibility even in bright outdoor conditions, allowing you to work comfortably in any environment.

Experience unparalleled performance and elevate your creative workflow with the Feelworld F5 Pro V4 Camera Monitor. With its exceptional display quality, wide compatibility, and comprehensive monitoring features, this monitor is an indispensable tool for professionals who demand nothing but the best.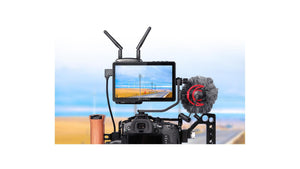 The F5 Pro V4 Feelworld camera monitor with touch screen
The Feelworld F5 Pro V4 monitor gives a Professional Quality Picture at a Budget-Friendly Price. Get access to the great range of professional features industry experts love, such as external mounting hardware, today.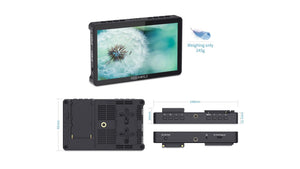 THE Feelworld F5 Pro V4 monitor: A touchscreen CAMERA MONITOR DESIGNED FOR EVERY SITUATION
When shooting high quality projects, the size, weight and portability of your monitor matters. With this in mind, we designed the Feelworld F5 Pro V4 monitor to weigh just 245g and added 1/4-20 screw mounts to the top, bottom and right of the case for easy rigging to cages, adaptors and tilt arms. This professional camera monitor features an F970 battery plate and an install/ power kit on its rear, which can power external equipment such as wireless transmitters, LED lights as well as most accessories fitted with a Sony F970 battery plate. The Feelworld F5 Pro V4 touchscreen camera monitor is compatible with most cameras as well as HDMI-ready devices, making this camera monitor the perfect companion for the professional who wants excellent detail and brightness without sacrificing portability.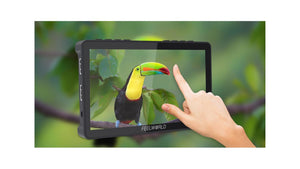 This Feelworld monitor has a 6" LCD, 1920X1152 HIGH RESOLUTION, WITH BRIGHTER, FULLER COLORS
The Feelworld F5 Pro V4 touch screen camera monitor provides a sharp image, ideal for focus pulling and image analysis on set and in the field. With a high native resolution of 1920x1152 in its 16:9 display, alongside 500cd/m2 brightness and a 1000:1 contrast ratio, the Feelworld F5 Pro V4 touchscreen camera monitor delivers excellent detail, so you can enjoy sharper and richer colour. Furthermore, the Feelworld F5 Pro V4 touchscreen camera monitor features wide viewing angles of IPS 160 degrees, allowing you to accurately monitor your shots from a wide range of angles. The Feelworld F5 Pro V4 touchscreen camera monitor follows the REC-709 standard and is calibrated so as to eliminate colour cast.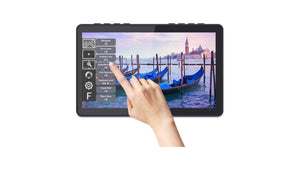 THIS FEELWORLD F5 PRO CAMERA MONITOR HAS A TOUCHSCREEN TO MAKE SETUP EASY
The Feelworld F5 Pro V4 touchscreen camera monitor features an interactive touchscreen that makes setting up the F5 Pro V4 touchscreen camera monitor incredibly intuitive. All of the functions are at your fingertips, allowing you to use simple tap and swipe gestures to change settings and access functions. When you need to turn off the touch screen function to prevent misuse, you can do this quickly and intuitively from the menu.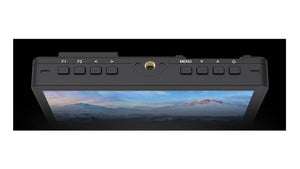 The F5 Pro V4 Feelworld Monitor has iNTUITIVE CONTROLS AND MENUS
You can touch the screen or physical buttons to browse the menu and set functions. The Feelworld F5 Pro V4 touchscreen camera monitor's key distribution design is simple and easy to operate. At the top of the monitor, you will find 2 custom function buttons which you can set to commonly used functions for easy access. You can also set the function of the left and right keys directly in the Settings menu, which can be set to backlight adjustment or volume adjustment. Once set, you can simply press "﹤" to decrease the value or press "﹥" to increase the value. The Feelworld F5 Pro V4 touchscreen camera monitor will automatically save the parameters you have previously set, saving you time when you pick up the shooting later on.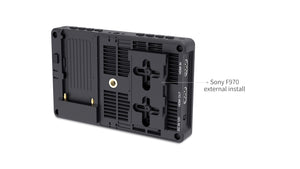 VERSATILE POWER SUPPLY
A Feelworld Camera Monitor comes equipped with a F970 battery mount, and can also be powered via its built-in USB-C port (power only).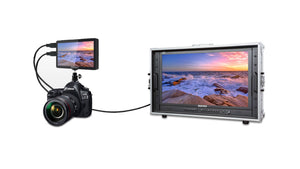 COMPATIBLE WITH YOUR FEELWORLD WIRELESS TRANSMITTER AND SEETEC DIRECTOR MONITOR
Simultaneously connect to your film crew director monitor at the same time. Use the Feelworld wireless video transmission system to transition between scenes effortlessly for outdoor shooting. Display the live picture on multiple displays simultaneously to allow the whole crew to monitor your shots.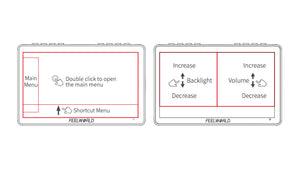 FEELWORLD F5 PRO V4 TOUCHSCREEN MONITOR OPERATING INSTRUCTIONS
1. When the monitor and touch are both on, continuously click the screen twice to enter the main menu.
2. Swipe up from the bottom of the screen to open the shortcut menu and click on the corresponding menu to open or set the corresponding function. Double-click the shortcut menu function and select the function setting with the "<" or ">" key.
3. On the left side of the screen (1/2 split screen), you can directly adjust the brightness of the screen backlight; on the right side of the screen (1/2 split screen), you can directly adjust the volume.
4. Click any space beside menu to exit the menu.
The Feelworld F5 pro v4 Monitor - features
 Model Feelworld F5 Pro V4 
Screen Size 6" IPS Touch Screen 
Resolution 1920x1152 pixels 
Pixel Pitch 0.0639 (H) x 0.0213 (W) mm 
Aspect Ratio 16:9 
Brightness 500cd/m² 
Contrast Ratio 1000:1 
Backlight LED 
Viewing Angle 80°/80°(L/R) 80°/80°(U/D)
Input 
1 X HDMI HDMI 
1 X Type-C 5V Type-C (Note: please use 5V/2A or more than 2A Type-C power supply)
Output 
1 X HDMI  HDMI 
1 X DC Output DC Output
Audio Audio Stereo Headphone
HDMI Input/ Output Support Format
480i/576i/480p/576p
1080i (60/59.94/50)
720p (60/59.94/50/30/29.97/25/24/23.98)
1080p (60/59.94/50/30/29.97/25/24/24sF/23.98/ 23.98sF)
4K UHD 3840×2160p (30/29.97/25/24/23.98Hz), 4096×2160p (24Hz)
General 
Input Voltage DC7~24V 
Power Consumption ≤9W 
Power Connector DC 
Working Temperature -20°C~50°C 
Storage Temperature -30°C~60°C 
Install Way  ¼-20 thread points 
Unit Size 148Lx93Hx20D (mm) 
Unit Weight 245g 
Color
Box Size 186L*124W*80H(mm) 
Outer Carton Qty 10 
Outer Carton Size 465*200*326 (mm) 
Gross Weight 7.4kgs
Advanced Features
Support 3D LUT Log to Rec.709, user 3D LUT Upload
All Waves 
Waveform (RGB, Y, YUV)
Histogram(RGB1, Y, RGB2)
Peaking Focus Assist (Red, Green, Blue three colors optional highlight over parts of the image in focus) 
False Colors 
Zebra Exposure (1-100IRE adjustable)
Check Field (Red, Green, Blue, Mono)
Scan Mode (Under Scan, Over Scan) 
Anamorphic Mode (1.3x, 2.0x, 2.0x mag)
Image Flip (H, V, H/V) 
Image Freeze 
Center Marker 
Screen Marker (80%,85%,90%,93%,96%, 2.35:1)
Ratio marker (4:3,13:9,14:9,15:9,16:9,1.85:1,2.35:1)
Color Temperature Adjustment
 Nine Grid (Zoom one of the images to realize the full screen)
Zoom (4X, 9X, 16X)
Aspect Ratio 
Pixel to Pixel
Zoom All 
U/D Zoom 
L/R Zoom