Introducing the extraordinary Feelworld FW703 Camera Monitor, the ultimate companion for professional photographers and filmmakers. With its cutting-edge features and impeccable performance, this camera monitor sets the industry standard for excellence. Whether you're capturing breathtaking landscapes or shooting captivating videos, this monitor will take your creative vision to new heights.

The Feelworld FW703 boasts a vibrant 7-inch IPS LCD display that delivers stunning visual clarity and exceptional colour accuracy. Its high resolution of 1920x1200 pixels ensures every detail of your footage is presented with remarkable precision. With a wide viewing angle of 160 degrees, you can comfortably frame your shots from various perspectives without compromising on image quality.

Equipped with advanced focus-assist functions, the FW703 allows for effortless precision focusing. The innovative peaking feature highlights the sharpest areas of your image, enabling you to achieve razor-sharp focus even in challenging conditions. Additionally, the built-in histogram and waveform monitoring tools provide real-time feedback on exposure levels, empowering you to make accurate adjustments on the fly.

Featuring a robust yet sleek design, this camera monitor is built to withstand the rigors of professional use. Its lightweight and compact form factor make it incredibly portable, while the durable metal housing ensures longevity and reliability. With a variety of connectivity options, including HDMI input and output, AV input, and headphone output, you can seamlessly integrate the FW703 into your existing setup.

Experience the pinnacle of visual excellence with the Feelworld FW703 Camera Monitor. Elevate your photography and videography to unprecedented levels of professionalism and creativity. Don't miss out on this remarkable tool that will revolutionize the way you capture and view your content.
ACCESS ADVANCED FEATURES WITH THE FW703
The Feelworld FW703 SDI Camera Monitor is equipped as standard with a wide range of features needed by professionals, including Peaking Focus Assist, Scan Modes, Image Flipping, Zebra Exposure, Colour Temperature Adjustment, Pixel to Pixel Scaling, Aspect Ratio Adjustment, Zoom, Brightness Histograms and more! These features are all easily accessible via the conveniently placed buttons on the top of the device.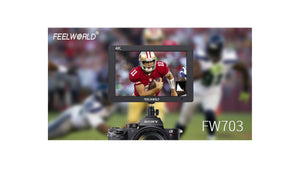 SECURE CONNECTIVITY – HDMI & SDI
The Feelworld FW703 SDI Camera Monitor comes equipped with connectors for both the 3G SDI and HDMI standards. The 3G SDI interface of the The Feelworld FW703 SDI Camera Monitor makes this monitor ideal for professional television projects.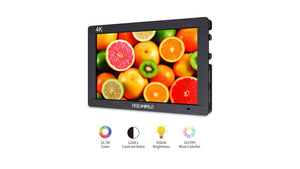 Richer, Brighter, More Colourful
The Feelworld FW703 SDI Camera Monitor comes with an excellent Full HD IPS screen with a resolution of 1920X1200, providing a crisp pixel density of 323PPI. The Feelworld FW703 Camera Monitor's brightness of 450nits, alongside the included sunshade, make this monitor extremely versatile and usable in both indoor and outdoor conditions. It is compatible with DSLR cameras and more with its 4K UHD HDMI Input and Output, and all feeds look excellent on its IPS screen. This monitor also comes equipped 3G SDI ports as both an input and output. These can be used to connect to other monitors which allows the whole crew including the director to see what the camera is capturing during production.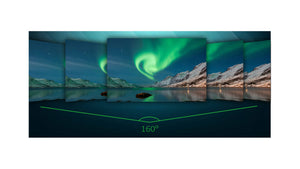 160° VIEWING ANGLES
The viewing angles of camera monitors are very important. While shooting, camera operators may shift their position relative to the monitor during the shot. If viewing angles are poor, colours can appear washed out and distorted. The Feelworld FW703 SDI Camera Monitor, with its wide viewing angle of 160 degrees allows the operator to have a clear, easy-to-see image as they move with minimal distortion and colour inaccuracies, which ultimately leads to more impressive shots.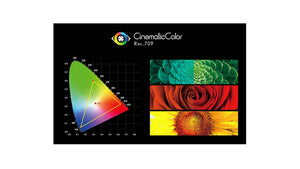 TRUE COLOUR - PROFESSIONAL COLOUR CALIBRATION
Discover the Feelworld FW703 Camera Monitor, meticulously factory-calibrated to meet the exacting standards of the professional Rec.709 HD colour spectrum. This expert calibration ensures seamless efficiency in achieving monitor calibration, effortlessly delivering precise and true-to-life colour reproduction without any distortions. Trust in this monitor's ability to faithfully portray the real image as you shoot videos, guaranteeing an unparalleled viewing experience that accurately reflects the original content with unwavering accuracy.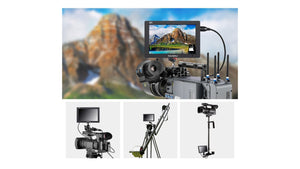 VERSATILE MOUNTING SOLUTIONS
The Feelworld FW703 SDI Camera Monitor is equipped with standard 1/4 hole (bottom) mounting points, allowing easy installation to a DSLR Rig, Camcorder Kit, Handheld Stabilizer, Video Camera Crane, and more. This, combined with the Feelworld FW703 SDI Camera Monitor's built in image flip function makes this monitor ideal for field shooting.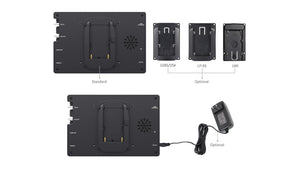 FLEXIBLE BATTERY SYSTEM
The Feelworld FW703 SDI Camera Monitor has a flexible battery system that supports F970 battery plate (standard), D28S/D54, LP-E6 and U60 battery plate (optional). It can also be powered by a DC power adapter (optional).

Please note: When you turn off the monitor, you need to press the power button, and you can't pull out the power cable directly.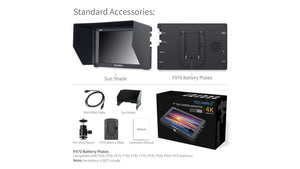 PACKAGE INCLUDES
1× Feelworld FW703
1× Mini HDMI Cable
1× Sunshade
1× Hot Shoe Mount
1× F970 Battery Plate
1× Operation Manual
Feelworld FW703 Technical Specifications
DISPLAY SPEC.
Screen Size: 7" IPS
Resolution: 1920x1200 pixels 
Pixel Pitch: 0.07875 (H) x 0.07875 (W) (mm)
Aspect Ratio: 16:10
Brightness: 450cd/m² 
Contrast Ratio: 1200:1
Backlight: LED 
Viewing Angle: 80°/80°(L/R) 80°/80°(U/D)
INPUT/ OUTPUT
Input: 1 X 3G-SDI; 1 X 4K HDMI 
Output: 1 X 3G-SDI; 1 X 4K HDMI 
Audio: 3.5mm Stereo Headphone, Speaker
SDI Support Format:
480i/576i; 720p (60/59.94/50/30/29/25/24/23.98); 1080i (60/59.94/50); 1080p (60/59.94/50/30/29.97/25/24/24sF/23.98/23.98sF)
HDMI Support Format:
480i/576i/480p/576p; 1080i (60/59.94/50); 720p (60/59.94/50/30/29/25/24/23.98); 1080p (60/59.94/50/30/29.97/25/24/24sF/23.98/23.98sF); 4K UHD 3840×2160p (30/29.97/25/24/23.98Hz), 4096×2160p (24Hz)
GENERAL
Input Voltage: DC 6.5 ~24V
Consumption: ≤9W
Connector: DC 
Working Temperature: -20°C~55°C
Storage Temperature: -30°C~65°C 
Install Way:1/4"-20 Thread Socket (bottom)
Battery Plate: F970 (Standard); D28S/D54, LP-E6, U60 (Optional)
Unit Size:180Lx120Hx22D (mm)
Unit Weight: 320g/350g (With F970 Battery Plate)
COMPATIBLE BATTERY
Compatible Battery:Sony F970, F960, F950,F930, F770, F750, F730, F570, F550, F530, QM91D, QM91, QM90D, QM90, QM71D, QM71, QM70D, QM70, QM51D, QM51, FM71, FM70 series.(
Note battery not include, need purchase sperate)