Introducing the Feelworld LUT5 Ultra-Bright Camera Monitor, your ultimate companion for professional videography and cinematography. Designed with precision and engineered to elevate your shooting experience, this cutting-edge monitor delivers unrivaled performance and unmatched visual clarity.

Equipped with a vibrant 5-inch IPS screen boasting a resolution of 1920x1080 pixels, the Feelworld LUT5 displays true-to-life colors and exceptional image details, allowing you to capture every moment with utmost accuracy. With its ultra-bright 3000 cd/m² brightness, this monitor ensures seamless visibility even in the harshest lighting conditions, making it an ideal choice for outdoor shoots.

The Feelworld LUT5 stands out from the competition with its versatile functionality. Featuring support for various professional functions like waveform, histogram, and peaking focus assist, this monitor empowers you with precise monitoring and focus control. Its 3D LUT color calibration technology provides accurate color reproduction, giving you the confidence to achieve the perfect shot every time.

Crafted with durability in mind, the Feelworld LUT5 is built to withstand the demands of the industry. Its robust housing ensures reliable performance even in challenging environments. The lightweight and compact design make it highly portable, allowing you to effortlessly carry it wherever your creativity takes you.

Unleash your artistic vision and bring your videos to life with the Feelworld LUT5 Ultra-Bright Camera Monitor. Elevate your filmmaking journey with this indispensable tool, and experience the true potential of your camera's capabilities.
Feelworld LUT5 with ULTRABRIGHT 3000NIT SCREEN: IDEAL FOR OUTDOOR FILMING
The Feelworld LUT5 monitor is a 5.5-inch ultrabright on-camera monitor. With an exceptionally high brightness of 3000nits, the screen is clearly visible without a sunshade even in direct sunlight, making it the perfect tool for outdoor filming. The Full HD LCD touch screen provides simple and intuitive operation. The Feelworld LUT5 Ultrabright Touchscreen Camera Monitor supports HDMI signals up to 4K@30Hz HDR monitoring, custom 3D LUT and other professional auxiliary composition tools. On the rear of Feelworld LUT5 Ultrabright Touchscreen Camera Monitor there is a F970 external battery mount and power kit. This combines the monitor with wireless transmission to get rid of obstructive cables - perfect for director monitoring.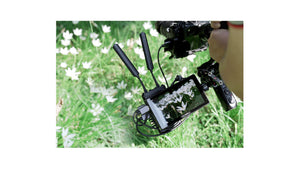 The Feelworld LUT5 Monitor - Compact and Lightweight
At just 270 grams, the compact size and lightweight design of the Feelworld LUT5 Ultrabright Touchscreen Camera Monitor means it can be used with a gimbal to quickly move on set to capture excellent shots on the first try.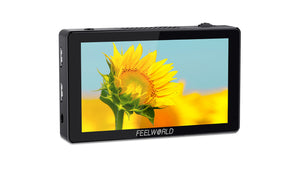 5.5" LCD Full HD Resolution - Capture every detail with confidence
The Feelworld LUT5 Ultrabright Touchscreen Camera Monitor houses a 5.5-inch 1920x1080 full HD panel which displays your stills and monitoring content with exceptional colour fidelity. The Ultrabright 3000nit display, featuring 1000:1 contrast ratio and sRGB / Rec.709 Colour Gamut, results in exceptional screen clarity even in intense light conditions. With the monitor displaying your content at a crisp 368 pixels per inch (PPI), you can shoot in direct sunlight with confidence. The wide 160º viewing angle makes it easy for multiple members of the crew to view the footage with excellent clarity and colour accuracy.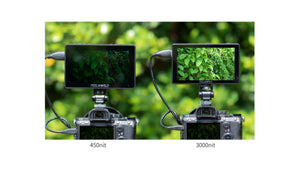 3000NIT ULTRABRIGHT PANEL - IDEAL FOR OUTDOOR SHOOTING
Supporting 3000 nits of ultra-high brightness, the Feelworld LUT5 Ultrabright Touchscreen Camera Monitor is undeterred by strong lights. When outdoors, the Ultrabright Full HD display is clearly visible so you can get your shots without needing a sunshade.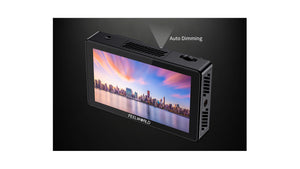 Feelworld LUT5 monitor with VERSATILE LIGHT SENSOR FOR AUTO DIMMING
The Feelworld LUT5 Ultrabright Touchscreen Camera Monitor features an ambient light sensor, so whether you need to shoot in a dark studio or outside on a bright sunny day, from pitch blackness to noon sunshine, you can be sure that the Feelworld LUT5 Ultrabright Touchscreen Camera Monitor will automatically adjust to perfectly suit your filming environment.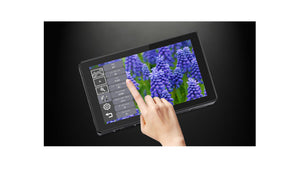 FULL TOUCH SCREEN DESIGN - EASY AND INTUITIVE OPERATION TO IMPROVE FILMING EFFICIENCY
The innovative touch screen user interface provides incredible control at your fingertips. You can use simple tap and swipe gestures to intuitively control the Feelworld LUT5 Ultrabright Touchscreen Camera Monitor without buttons.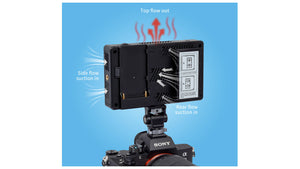 Feelworld LUT5 Camera monitor with BUILT-IN COOLING SYSTEM
The monitor has a heatsink and an efficient fan built in. This, combined with our well ventilated design, guarantees effective cooling performance.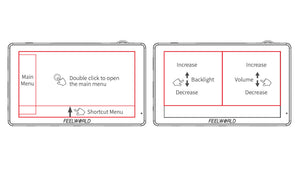 Touch Screen Operating Instructions
1. When the monitor and touch are both on, continuously click the screen twice to enter the main menu.
2. Swipe up from the bottom of the screen to open the shortcut menu and click on the corresponding menu to open or set the corresponding function. Double-click the shortcut menu function and select the function setting with the "<" or ">" key. 
3. On the left side of the screen (1/2 split screen), you can directly adjust the brightness of the screen backlight; on the right side of the screen (1/2 split screen), you can directly adjust the volume.
4. Click any space beside the menu to exit.
Feelworld LUT5 Camera Monitor
Display Spec. 
Model LUT5 
Screen Size 5.5" IPS 
Resolution 1920x1080 pixels
Pixel Pitch 0.069 (L) x 0.069(W) (mm) 
Aspect Ratio 16:9 
Brightness 3000cd/m² 
Contrast Ratio 1000:1 
Backlight LED 
Viewing Angle 80°/80°(L/R) 80°/80°(U/D)
Input 1 X HDMI HDMI
Output 
1 X HDMI HDMI 
1 X DC Barrel (5.5mm outer, 2.1mm inner) barrel output for powering cameras via camera specific adaptor.
Audio Audio 3.5mm Stereo Headphone
HDMI Input/ Output Support Format
480i/576i/480p/576p
1080i (60/59.94/50)
720p (60/59.94/50/30/29.97/25/24/23.98)
1080p (60/59.94/50/30/29.97/25/24/23.98)
4K UHD 3840×2160p (30/29.97/25/24/23.98Hz), 4096×2160p (24Hz)
General 
Input Voltage DC7~24V 
Power Consumption ≤20W 
Working Temperature -20°C~70°C 
Storage Temperature -30°C~80°C 
Install Way 1/4"-20 Thread Socket ( Right, Bottom) 
Unit Size 142Lx86Hx28D(mm) 
Unit Weight 270g 
Color
Box Size 186L*124W*80H(mm) 
Outer Carton Qty 10 
Outer Carton Size 465*200*326 (mm) 
Gross Weight 7.5kgs
Note: When you turn off the monitor, you need to press the power button, and you can't pull out the power cable directly.
Advanced Features
Support 3D LUT Log to Rec.709, user 3D LUT Upload
Support Touch Menu
Parade (RGB, YUV, Y)
All Waves*
Vector
RGB Histogram 
Brightness Histogram
Embedded Audio
Peaking Focus (red, green, blue, white, yellow five peaking colors optional; 1~10 peaking level adjustable)
False Colors 
Zebra Exposure (1%~100% adjustable)
Check Field (Red, Green, Blue, Gray)
Scan Mode (Under Scan, Over Scan)
Anamorphic Mode (1.25x, 1.33x, 1.5x, 1.6x, 1.8x, 2.0x, 2.0x mag)
Image Flip (H, V, H/V)
Image Freeze
Center Marker
Safety Marker (70%, 80%, 90%, 16:9, 16:10, 4:3, 5:4, 1:1, 1.91:1.1, 4:5, 9:16, 1.85:1, 2.35:1)
Ratio Marker (16:9, 16:10, 4:3, 1.85:1, 2.35:1)
Marker Color (red, green, blue, white, black, yellow)
Color Temperature Adjustment (5600K, 6500K, 9300K, user)
Nine Grid
Zoom (100%~500%)* Aspect Ratio 
Pixel to Pixel