Introducing the Feelworld LUT7 Ultra-Bright Camera Monitor – the ultimate companion for professional filmmakers and photographers. Designed with utmost precision and packed with advanced features, this cutting-edge monitor ensures unparalleled visual clarity and enhances your creative vision like never before.

Featuring a stunning 7-inch ultra-bright display, the Feelworld LUT7 delivers vivid, true-to-life colors, enabling you to capture every intricate detail with exceptional accuracy. Its impressive 1920x1200 resolution guarantees sharpness and clarity, allowing you to view your footage or images with impeccable precision. Whether you're shooting in bright sunlight or low-light conditions, this monitor's remarkable brightness of 2200 cd/m² ensures seamless visibility, minimizing the challenges posed by extreme lighting environments.

The Feelworld LUT7 goes beyond its impressive display capabilities. With a comprehensive set of professional tools and functions, this monitor empowers you to fine-tune your shots with ease. The integrated 3D LUT support enables precise color grading, ensuring your visuals match your artistic vision effortlessly. Additionally, the advanced waveform, vector scope, and histogram assist in accurate exposure monitoring, while the focus peaking and zoom-in functionality enable precise focus control, enhancing the overall sharpness of your shots.

Crafted with meticulous attention to detail, the Feelworld LUT7 Ultra-Bright Camera Monitor embodies excellence in every aspect. Its sturdy build, user-friendly interface, and wide compatibility with various camera systems make it an indispensable asset for professionals and enthusiasts alike. Elevate your cinematography or photography to new heights with the Feelworld LUT7 – the ultimate companion for capturing stunning visuals.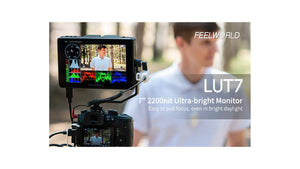 2200nit Ultrabright Screen – Perfect for outdoor filming
The Feelworld LUT7 Ultrabright Touchscreen Camera Monitor comes equipped with a 2200nit Ultrabright screen which allows for excellent visibility in direct sunlight, even without a sunshade.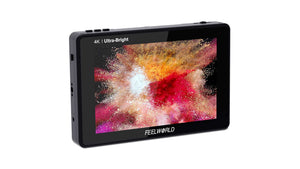 More Resolution, Less Reflection
The Feelworld LUT7 Ultrabright Touchscreen Camera Monitor displays content at a crisp 323 pixels per inch (PPI) to allow clear and precise monitoring in the field. The Ultrabright panel is made of optically bonded glass with an effective anti-reflective coating, to ensure optimal viewing clarity even in direct sunlight. What really makes the Feelworld LUT7 Ultrabright Touchscreen Camera Monitor stand out is its light-emitting diode (LED) backlighting, with an impressive 1200:1 contrast ratio and sRGB / Rec.709 Colour Gamut coverage calibrated at the factory. These factors, combined with the wide 160º viewing angle makes it easy for multiple members of the crew to watch the footage simultaneously with excellent clarity.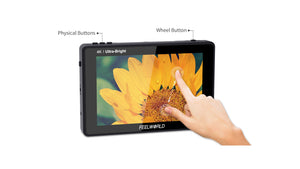 LARGE 7" MONITOR WITH INTUITIVE TOUCH CONTROLS
The innovative touchscreen LCD interface provides incredible control. You can use simple tap and swipe gestures for important and powerful monitoring functions. Scopes, focus and exposure assists can be enabled via the touch screen in addition to custom 3D LUTs to allow you to get the shots you need easily and efficiently.
COMPATIBLE WITH WIRELESS TRANSMITTERS AND DIRECTOR MONITORS
Transmit to the crew and director at the same time. Wireless functionality via the Feelworld Wireless Transmitter makes transitions between scenes more flexible and allows for effortless outdoor shooting. This functionality allows you to display live pictures on multiple displays simultaneously without the need for obstructive wires.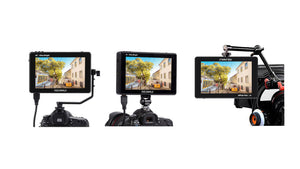 VERSATILE MOUNTING SOLUTIONS
There are 3 standard sized mounting points. Using the bottom 1⁄4 inch hole, you can securely attach the Feelworld LUT7 Ultrabright Touchscreen Camera Monitor to the top of your camera to make the ultimate viewfinder. The 1⁄4-inch holes on the left and right sides can be mounted on other equipment such as magic arms, brackets, etc. for the entire crew to monitor the screen.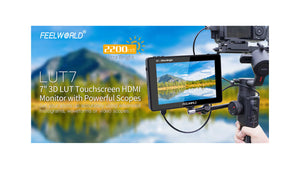 Package Includes
1× Feelworld LUT7 Monitor, 1× Mini/ Micro HDMI to HDMI Cable, 1× Tilt Arm, 1× Manual Note: battery not included..
One year warranty - We always do our best to improve our products and services - feel free to contact us.
Feelworld LUT7 Technical Specifications
DISPLAY SPEC.
Screen Size:7" IPS
Resolution:1920x1200 pixels
Pixel Pitch:0.07875 (H) x 0.07875 (W) (mm)
Aspect Ratio: 16:10
Brightness:2200cd/m² (Light Sensor)
Contrast Ratio:1200:1
Viewing Angle:80°/80°(L/R) 80°/80°(U/D)
INPUT/ OUTPUT
Input: 1 X 4K HDMI
Output: 1X 4K HDMI,DC Output ( Barrel (3.5mm outer, 1.1mm inner) barrel output for powering cameras via camera specific adaptor)
Audio:  3.5mm Stereo Headphone
HDMI Input/ Output Support Format: 480i/576i/480p/576p
1080i (60/59.94/50)
720p (60/59.94/50/30/29.97/25/24/23.98)
1080p (60/59.94/50/30/29.97/25/24/23.98)
4K UHD 3840×2160p (30/29.97/25/24/23.98Hz), 4096×2160p (24Hz)
GENERAL
Input Voltage: DC7~24V
Consumption:≤20W
Working Temperature: -20°C~55°C
Storage Temperature: -30°C~65°C 
Install Way: 1/4"-20 Thread Socket (Left, Right, Bottom)
Unit Size:190Lx126Hx27D (mm)
Battery Plate: Dual F970
Battery Plate
Compatible Battery: Sony F970, F960, F950,F930, F770, F750, F730, F570, F550, F530, QM91D, QM91, QM90D, QM90, QM71D, QM71, QM70D, QM70, QM51D, QM51, FM71, FM70 series.  Because the FEELWORLD LUT7S monitor is the ultra bright, we recommend use Sony F970 battery, two F970 batteries can use 4-5 hours.
(Note battery not include, need purchase separate)
The monitor install one F970 battery can be used about 2 hours, and install two F970 batteries can be used for about 4-5 hours. You can choose install 1 or 2 battery base on your need.