Introducing the Feelworld TP2A Smartphone DSLR Teleprompter, your ultimate solution for professional-grade teleprompting on the go. This innovative teleprompter is designed to enhance your video production experience and elevate your content creation to new heights. With its sleek and portable design, the TP2A combines convenience and functionality, making it an indispensable tool for vloggers, filmmakers, and video enthusiasts alike.

Crafted with precision and durability in mind, the Feelworld TP2A teleprompter features a high-quality beam splitter glass that ensures optimal readability and clarity of your script. This glass reflects text from your smartphone or DSLR, providing you with a crisp and vivid on-screen display, while maintaining direct eye contact with your camera. Say goodbye to fumbling with cue cards or memorizing lines; the TP2A enables smooth and seamless delivery of your content, resulting in professional-looking videos every time.

Equipped with adjustable height and angle, the TP2A offers maximum versatility to suit your shooting requirements. The quick-release base plate allows for effortless mounting and compatibility with a wide range of smartphones and DSLR cameras. Whether you're shooting indoors or outdoors, this teleprompter's lightweight construction ensures hassle-free transportation, allowing you to capture captivating videos wherever inspiration strikes.

Elevate your video production and captivate your audience with the Feelworld TP2A Smartphone DSLR Teleprompter. Its exceptional design, reliable performance, and unrivaled portability make it the ideal companion for content creators who aspire to deliver engaging and professional videos effortlessly.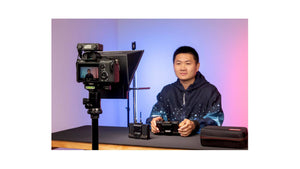 CONFIDENCE MAKES FOR GREAT PRESENTATIONS
Live streaming has never been more popular. To make live broadcasts more professional and efficient, the teleprompter has become an indispensable tool for creators. It helps users express themselves more smoothly and shorten the distance between the anchor and the audience. The Feelworld TP2A Teleprompter is lightweight and portable and has been developed for professional video shooters. It can be prompted via smartphones and tablets while your DSLR or another smartphone is recording, allowing you to clearly read scrolling text while looking directly into the camera. It supports wide-angle lenses, Android and iOS, and Bluetooth remote control. The operation is made more convenient, making producing video faster. It is the ideal teleprompter for video and program creators.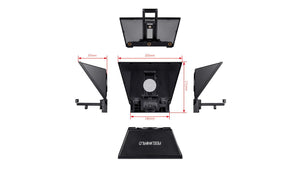 COMPACT AND PORTABLE DESIGN
The Feelworld TP2A Teleprompter uses environmentally friendly ABS plastic, which is sturdy and durable. The compact design is easy to carry and transport, suitable for quickly using in many situations.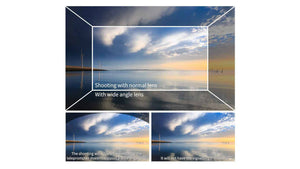 WIDE-ANGLE LENS SUPPORT
The Feelworld TP2A Teleprompter supports shooting with wide-angle lenses, providing a wider viewing angle without the effects of a vignette. When prompted with a smartphone, the TP2A supports more than 28mm focal length, and with a tablet, a focal length of 35mm. With vertical camera shooting, the focal length for smartphones is 40mm, and with a tablet more than 50mm.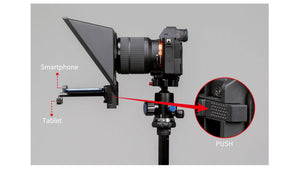 STURDY SMARTPHONE / TABLET CLAMP
The Feelworld TP2A Teleprompter comes equipped with a robust clamp so you can easily and securely attach your phone or tablet. There is a convenient button to lock the clamp in place. When you're finished shooting, just push the button again to disengage the clamp quickly and intuitively.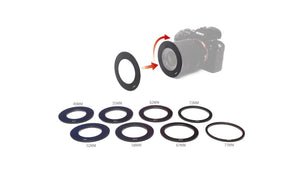 LENS ADAPTER RINGS INCLUDED
The Feelworld TP2A Teleprompter comes as standard with 49/52/55/58/62/67/72/77mm lens adapter rings, making it compatible with most DSLRs. Please note: When installing the adapter ring, you need to remove the UV mirror from the lens, otherwise the adapter ring may be locked together with the UV mirror and cannot be removed.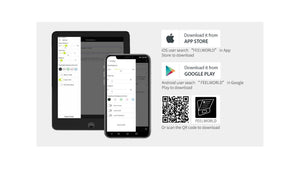 FREE FEELWORLD TELEPROMPTING APP
iOS users can search "Feelworld" on the App Store to download the app.
Android users can download the APP in the following ways:
1. Search "Feelworld" in Google Play to download.
2. Scan the QR code to download.
3. Download from the "Download" section of the TP2A details page.
Note: We updated APP to a new version, and the new one improved the following features:
1. Compatibility with Android phones
2. Adjust the position of playback content
3. Increased the adjustable range of font size
4. Android system can be downloaded directly from Google Play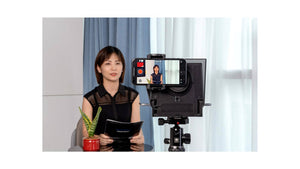 CONVENIENT MOUNTING SOLUTIONS
The Feelworld TP2A comes with three standard ¼ inch mounting holes which makes the device compatible with a wide range of third-party accessories such as tripods and light stands. Furthermore, also included is a magnetic phone clamp which allows you to attach your smartphone to the rear of the teleprompter so it can be used as the camera instead of a DSLR.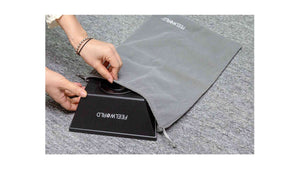 COMPACT AND LIGHTWEIGHT
The Feelworld TP2A Teleprompter's compact body weighs just 300 grams, making it easy to carry and transport in its included drawstring bag. The included microfiber cloth is there to keep your teleprompter clean at all times.
FEELWORLD TP2A Teleprompter Technical Specifications
Specification
Model TP2A
Main Material ABS
Tablet/smartphone clamp support size Up to 8"for smartphone/tablet
Shooting Focal Length Above 28mm
System Supporting Android, IOS
Control Way APP, Bluetooth remote control
Unit Size 205x97x171mm
Unit Weight 300g
Color Box Size 217L*177W*122H(mm)
Outer Carton Qty 10
Outer Carton Size 645*240*395 (mm)
Gross Weight 12.4kgs