Introducing the SEETEC SC173-HSD-56 Rack-Mount Broadcast Monitor – the ultimate companion for professional broadcast environments. Engineered with precision and equipped with cutting-edge technology, this monitor sets the benchmark for exceptional visual performance.

Designed specifically for rack-mounted applications, the SEETEC SC173-HSD-56 combines unrivaled functionality with an innovative folding 1RU design. This space-saving feature allows seamless integration into any broadcast setup, optimizing your workflow and maximizing efficiency. Whether you're in a production studio, control room, or outside broadcast van, this monitor's compact form factor ensures it effortlessly adapts to your workspace while leaving ample room for other essential equipment.

Beyond its ergonomic design, the SEETEC SC173-HSD-56 Rack-Mount Broadcast Monitor delivers stunning visuals that captivate audiences. Boasting a high-resolution 17.3-inch display, every frame is presented with remarkable clarity and exceptional color accuracy. Experience true-to-life images, vibrant hues, and precise details, providing an immersive viewing experience that elevates your production value.

Equipped with a comprehensive range of advanced features, this monitor offers versatile connectivity options, including 3G-SDI, HDMI, and VGA inputs, ensuring seamless compatibility with various devices and video sources. Additionally, its user-friendly on-screen display menu allows effortless customization of settings, empowering you to fine-tune your display preferences with ease.

Don't compromise on quality or space – choose the SEETEC SC173-HSD-56 Rack-Mount Broadcast Monitor and witness unparalleled performance in a folding 1RU form factor. Revolutionize your broadcast environment and bring your productions to life like never before.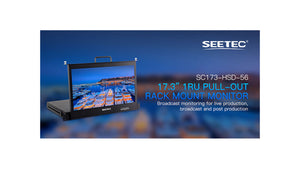 The Seetec SC173-HSD-56 rack mount broadcast monitor
Broadcast monitoring for live production and post production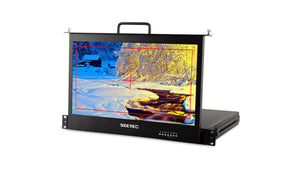 17.3-inch 3G-SDI/HDMI Pull-out Monitor
The metal housing of Seetec SC173-HSD-56 boasts a crisp 17.3" IPS display panel with 1920x1080 resolution. It has a host of inputs including 3G-SDI BNC , HDMI, DVI, VGA, YPbPr, Video, and Audio making it a perfect fit for any broadcast or live event production. For added stow-and-go convenience, the SC173-HSD-56 is designed with 1RU rack drawer design for rack mounting or as a stand alone unit. It an be folded down and slid into rack drawer to save space or to transport. It has multiple functions to help monitoring, including focus assist, image zoom, center marker, screen marker, image freeze, check field etc. This innovative drawer monitor is a cost-effective "all-in-one" solution for broadcast, post production, on set monitoring, broadcast trucks and more!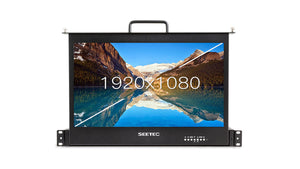 See Everything in Stunning Detail
The Seetec SC173-HSD-56 has a full HD 1920 x 1080 native resolution panel at 17.3". The IPS screen panel gives crisp pictures and sharp color contrast, resulting in the high fidelity picture quality for both text and video alike. Combine that with its 178 degrees (horizontal and vertical) wide viewing angle and you'll see the same high-quality image from nearly any viewing position, whether you're leaning back in your chair or you're shifting from one side to the other.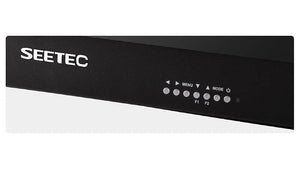 Simple and Intuitive Button Operation
It adopts simple and intuitive key operation, and is equipped with two shortcut keys F1 and F2, you can be set the required shortcut function.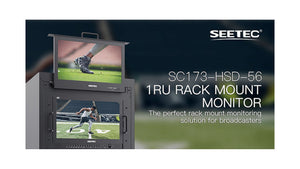 Easy Connectivity with Your Equipment 
Seetec SC173-HSD-56 features a machined metal design that's durable and extremely strong! From its machined metal front to its professional broadcast connections, the Seetec SC173-HSD-56 rack mount monitor has been designed to handle the stress of professional broadcast, television, film and commercial production on the road or in your studio! Includes SDI input/output, HDMI, DVI, VGA, YPbPr, Video, Audio input, and you can also monitor audio using the 3.5mm stereo headphone jack . For power, there's a 12V DC input.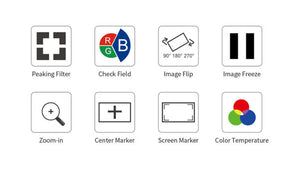 Advanced Monitoring Tools
Seetec SC173-HSD-56 has multiple functions to help monitoring, including focus assist, image zoom, image freeze, check field, center marker, screen marker, image flip, color temperature adjust etc. These assist users to accurately monitor when shooting, making and playing movies/ videos.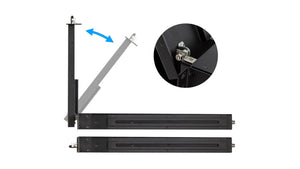 Innovative Design Saves Precious Rack Space  
If the rack space is tight, the Seetec SC173-HSD-56 was designed with you in mind. Metal housing with pull-out drawer type design, which occupies just 1 RU (rack unit) of space when it's housed and provides perfect protection for a 17.3 inch monitor from shock and drop. A 1RU rack design not only can save the space of rack greatly with a 17.3-inch monitor, but also viewed from different angles when monitoring. Easily pull it out when you need it, fold it up and store it after use. It's the ideal studio monitor for applications where space is constrained.
SPECIFICATIONS
FEATURES
1. Wide view angle screen, Full HD 1920x1080, bright, colorful display
2. SDI (Optional), 4K HDMI, DVI, VGA, YPbPr, Video, Audio inputs and SDI (Optional) loop-through output
3. Special Features:
* Peaking Focus Assist (Red highlight over parts of the monochrome image in focus)
* Check Field (Red, Green, Blue, Mono)
* Pixel to Pixel
* Center Marker
* Safe Marker (80%, 85%, 90%, 93%, 96%, 2.35:1)
* Image Flip (Horizontal, Vertical, Hor&Ver)
* Image Freeze
* Zoom (4X, 9X, 16X)
* Scan Mode (Under Scan, Over Scan)
* Zoom All
* U/D & L/R Zoom
4. Monitoring via 3.5mm stereo headphone jack
SPECIFICATIONS
Display Spec. Model SC173-HSD-56 
Screen Size 17.3" 
Color Depth 16.7M 
Resolution 1920×1080 pixels 
Dot pitch 0.1989(H)×0.1989(V) mm 
Aspect Ratio 16:9 
Brightness 300cd/m² 
Contrast Ratio 700:1 
Backlight LED 
Viewing Angle 89°/89°(L/R) 89°/89°(U/D)
Input 
1 X BNC SDI  
1 X HDMI HDMI 
1 X DVI DVI 
1 X VGA VGA 
1 X YPbPr YPbPr 
1 X Video Video 
1 X RCA Audio
Output 
1 X BNC SDI 
Audio 
Audio Stereo Headphone
SDI Support Format
480i/576i
720p(60/59.94/50/30/29.97/25/24/23.98)
1080i(60/59.94/50)
1080p(60/59.94/50/30/29.97/25/24/24sF/23.98/23.98sF)
HDMI Support Format
480i/576i/480p/576p1080i (60/59.94/50)
720p (60/59.94/50/30/29.97/25/24/23.98)1080p (60/59.94/50/30/29.97/25/24/24sF/23.98/ 23.98sF)
4K UHD 3840×2160p (30/29.97/25/24/23.98Hz), 4096×2160p (24Hz)
General 
Input Voltage DC7-24V 
Power Consumption ≤10W 
Working Temperature -10°C~50°C 
Storage Temperature -20°C~60°C 
Unit Size  485Lx462Hx43.5D (mm) 
Unit Weight 7.7kg