Introducing the SEETEC ATEM156S Broadcast Monitor - your ultimate companion for professional video production. Designed with meticulous attention to detail, this cutting-edge SEETEC monitor brings unrivaled clarity and precision to your creative workflow. Its sleek, compact design ensures easy portability without compromising on functionality.

Equipped with a vibrant 15.6-inch IPS panel, the SEETEC ATEM156S boasts exceptional color accuracy and wide viewing angles, allowing you to capture every nuance of your footage with astonishing realism. Whether you're editing, color grading, or mastering your content, this broadcast monitor delivers remarkable visual performance, making it an indispensable tool for industry professionals.

Featuring an impressive Full HD resolution of 1920 x 1080 pixels, the ATEM156S Monitor ensures crystal-clear imagery with rich detail and vivid colors. With advanced monitoring capabilities, including waveform, vectorscope, and histogram displays, you can confidently assess and fine-tune your video content for optimal quality. Additionally, its comprehensive range of professional I/O ports, including 3G-SDI, HDMI, and loop-through outputs, enables seamless connectivity with various devices and ensures efficient signal transmission.

Enhancing your productivity further, the SEETEC ATEM156S Monitor incorporates advanced features like focus peaking, false color, and image flip, providing precise control and customization options for a streamlined workflow. The built-in stereo speakers deliver immersive audio playback, while the headphone output allows for private monitoring on set. With its intuitive menu navigation and user-friendly interface, this SEETEC broadcast monitor empowers you to achieve exceptional results effortlessly.

In conclusion, the SEETEC ATEM156S Broadcast Monitor stands as a pinnacle of technological innovation, empowering video professionals with unparalleled accuracy and versatility. From the studio to the field, this SEETEC monitor's exceptional performance and comprehensive features ensure your creative vision comes to life with precision and finesse. Elevate your video production to new heights with the SEETEC ATEM156S Broadcast Monitor - the ultimate tool for uncompromising visual excellence.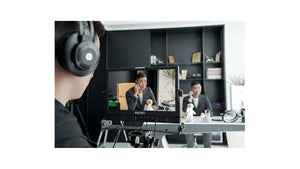 TRUSTED SEETEC QUALITY
The SEETEC ATEM 156S Broadcast Monitor is a complete monitoring solution for live production, broadcast and post-production. It comes equipped with 4x3G-SDI inputs and outputs, 1 x HDMI input interface and RS485, GPI control interface. The SEETEC ATEM 156S Broadcast Monitor is factory calibrated to the Rec.709 colour standard, ensuring it can display vivid images and professional effects with excellent accuracy. The excellent 15.6" panel is housed in rugged and durable aircraft-grade aluminium. The SEETEC ATEM 156S Broadcast Monitor comes equipped with a suite of professional tools, including custom 3D-LUTs, waveform, vectorscope, histogram, and peaking focus. All functions can be easily and intuitively operated and controlled via the front panel buttons. It supports the VESA mounting standard, so can be bracket-mounted or wall-mounted using a wide range of third-party accessories. It is the ideal monitor for live production, broadcast and post-production.
BEAUTIFUL 15.6-INCH FULL HD IPS SCREEN FROM SEETEC
The SEETEC ATEM 156S Broadcast Monitor utilises a 15.6-inch IPS panel, with a high resolution of Full HD 1920x1080, which features excellent colour accuracy, providing you with a natural and clear image. Alongside this, the SEETEC ATEM 156S Broadcast Monitor features 200cd/㎡ peak brightness with a 800:1 contrast ratio and 170° viewing angles. This allows you to see your footage clearly, no matter which angle you monitor from.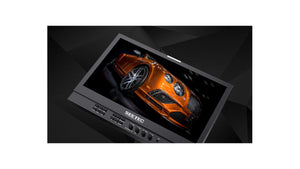 RUGGED AND DURABLE, EXCELLENT HEAT DISSIPATION
Discover the remarkable SEETEC ATEM 156S Broadcast Monitor, boasting a full aluminium alloy frame that seamlessly blends durability with enhanced heat dissipation capabilities, and elevates overall build quality to unparalleled heights. Crafted to withstand the test of time, this cutting-edge monitor utilizes the power of aluminium alloy to ensure its long-lasting sturdiness and resilience, making it an ideal investment for professionals seeking reliable performance. Embracing innovative engineering, the aluminium alloy frame serves a dual purpose, effectively tackling the challenge of heat dissipation, thus ensuring optimal operating conditions even during extended usage. Say goodbye to overheating concerns and welcome uninterrupted productivity. Additionally, the incorporation of this premium material not only reinforces the monitor's structural integrity but also exudes a sleek and sophisticated aesthetic, amplifying its appeal in any broadcasting or media setup. Elevate your monitoring experience with the SEETEC ATEM 156S, where form and function harmoniously unite for an exceptional broadcasting journey like never before.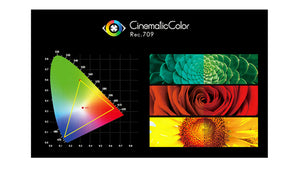 Accurate Colour Reproduction using the Rec.709 colour standard
Discover the SEETEC ATEM156S Broadcast Studio Monitor, meticulously factory-calibrated to meet the exacting standards of the professional Rec.709 HD colour spectrum. This expert calibration ensures seamless efficiency in achieving monitor calibration, effortlessly delivering precise and true-to-life colour reproduction without any distortions. Trust in this monitor's ability to faithfully portray the real image as you shoot videos, guaranteeing an unparalleled viewing experience that accurately reflects the original content with unwavering accuracy.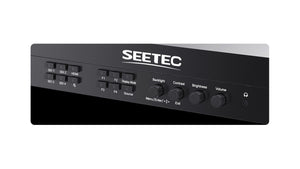 FLEXIBLE AND INTUITIVE BUTTON OPERATION WITH THIS SEETEC MONITOR
When you are busy shooting a scene, you need to be able to easily control your equipment. The SEETEC ATEM 156S Broadcast Monitor can switch between one-button sources and custom shortcuts, while allowing you to quickly adjust brightness, contrast, volume, etc. to make shooting easier and more efficient. The backlight button makes it easier for you to distinguish the current input signal and the shortcut keys used, making this SEETEC monitor easy to use in both dimly lit studios and outdoor environments.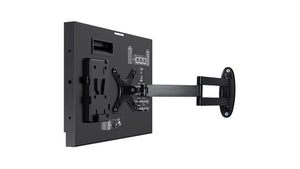 PRACTICAL VESA MOUNTING POINTS
The SEETEC ATEM 156S Broadcast Monitor is equipped with 4 standard VESA mounting points, so you can mount it in a rack or hang it on a wall. This means this SEETEC monitor is compatible with a wide range of third-party accessories.

(Please note: The pictured bracket is not included, please purchase separately)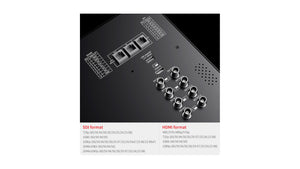 4X3G-SDI INPUTS AND OUTPUT FOR PROFESSIONAL APPLICATIONS
SEETEC ATEM156S monitors are the perfect choice to use SDI monitoring wherever you need it. The SEETEC ATEM 156S Broadcast Monitor comes equipped with 4x3G-SDI signal inputs and outputs, making it suitable for multicamera shooting and simultaneous monitoring by multiple people. In addition, it also comes with an HDMI input, RS485, and GPI control interface to meet your different needs.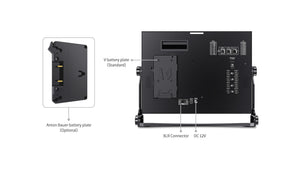 MULTIPLE POWER OPTIONS FOR ENDURANCE SHOOTING
The SEETEC ATEM 156S Broadcast Monitor can be used with both a 12V DC power interface, XLR connector or Sony V-mount battery plate for optimal practicality and flexibility.
(Please note: The battery plate default is V-mount Plate, the client can also choose to use a Panasonic Anton Plate)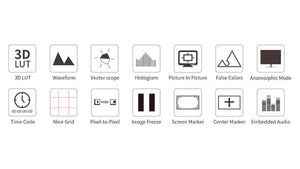 PROFESSIONAL SEETEC TOOLS BUILT IN
The professional SEETEC tools built into the SEETEC ATEM 156S Broadcast Monitor are designed to improve the efficiency of your projects. This broadcast monitor includes a suite of professional monitoring tools, such as waveform, 3D-LUT, peaking filter, histogram, vectorscope, audio meter, time code, and anamorphic mode. All functions can be easily selected and operated from the menu, and can also be set to shortcut buttons on the front of the device or via GPI control. The SEETEC ATEM 156S Broadcast Monitor effectively improves the efficiency of on-site shooting and post-production.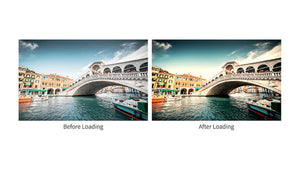 SUPPORTS UP TO 36 CUSTOM LUTS
3D-LUTs (Look Up Tables) are used for quickly looking up and outputting specific colour data. By loading different 3D-LUTs, the SEETEC ATEM 156S Broadcast Monitor can quickly recombine colour tones to form different colour styles. This SEETEC monitor features 4 DE-log LUTs built in, and you also can load up to 36 of your custom .cube files to the monitor via USB.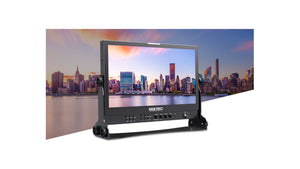 HDR MONITORING - WHAT YOU SEE IS WHAT YOU GET
The SEETEC ATEM 156S Broadcast Monitor supports HDR (high dynamic range) monitoring for incredible clarity and details, effectively enhancing the overall picture quality. When HDR is enabled, you can select Gamma and Gamut corresponding to the manufacturer of your camera (Sony, Canon, Panasonic, Fujifilm, Bolex, RED, ARRI) to accurately monitor HDR content.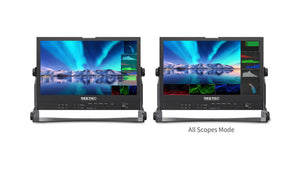 ACCURATE WAVEFORM MONITORING
The SEETEC ATEM 156S Broadcast Monitor features built-in waveform monitoring. Users can choose from waveform (RGB Parade, YUV Parade, Y Parade), vectorscope, histogram, audio phase and level displays, and get broadcast accurate waveform monitoring that shows everything you need to know about your video and audio signals. These functions can be opened separately, all controllable via one convenient key (can be adjusted right and left). The SEETEC ATEM 156S Broadcast Monitor is the ideal choice for live production monitoring and eliminates the need for separate scopes.
Dynamic UMD TSL3.1/4.0 Protocol
The SEETEC ATEM 156S Broadcast Monitor supports UMD via the TSL 3.1/4.0 protocol, with 0-126 TSL address selection, and Max 16 letters displayed. There are UMD inputs and outputs via RS485 ports.
Seetec ATEM156S Technical Specifications
Display Spec.
Model ATEM156S
Screen Size 15.6" IPS
Color Depth 16.7M
Resolution 1920×1080 pixels
Pixel pitch 0.17925(W) x 0.17925(H) mm
Aspect Ratio 16:9
Brightness 200cd/m²
Contrast Ratio 800:1
Backlight LED
Viewing Angle 85°/85°(L/R) 85°/85°(U/D)

Input
4 X 3G-SDI 3G-SDI (support 2K)
1 X HDMI HDMI (support 1080P)
1 X RS485 RS485
1 X GPI GPI
1 X USB USB (upgrade and LUT import)

Output
4 X 3G-SDI 3G-SDI (support 2K)
1 X RS485 RS485

Audio
Audio Stereo Headphone

SDI Support Format
720p (60/59.94/50/30/29/25/24/23.98)
1080i (60/59.94/50)
1080p (60/59.94/50/30/29.97/25/24/24sF/23.98/23.98sF)
2048x1080i (60/59.94/50)
2048x1080p (60/59.94/50/30/29.97/25/24/23.98)

HDMI Support Format
480i/576i/480p/576p
720p (60/59.94/50/30/29.97/25/24/23.98)
1080i (60/59.94/50)
1080p (60/59.94/50/30/29.97/25/24/23.98)


General
Input Voltage DC 12V
Power Consumption ≤21W
Working Temperature 0°C~50°C
Storage Temperature -20°C~60°C
Unit Size 372L×262H×28.4D (mm) (W/O bracket)
Unit Weight 1.81kg
Outer Carton Qty 2
Outer Carton Size 440*270*325 (mm)
Gross Weight 7.9kgs

Advanced Features
* Built-in Multi camera Delog LUTs
* User 3DLUTs upload via USB (up to 36)
* Support GPI control
* Support dynamic IMD, support TSL 3.1/4.0 and IMAGE VIDEO protocol
* Support TALLY
* Support 16-ch embedded audio meters display
* Histogram
* HDR
* Focus Assist (Yellow, Red, Green, Blue, White five colors optional highlight over parts of the image in focus)
* False Colors
* Zebra (70IRE, 80IRE, 90IRE)
* Timecode Display
* Picture in Picture (Adjustable Horizontal or Vertical Wipe Position)
* Under Scan, Over Scan
* Anamorphic Mode (1.25X, 1.33X, 1.5X, 2.0X, 2.0X mag)
* Pixel to Pixel
* Center Marker
* Safety Marker (70%, 80%, 90%, 16:9, 16:10, 4:3, 5:4, 1.85:1, 2.35:1,user)
* Marker Mat (16:9, 16:10, 4:3, 1.85:1, 2.35:1)
* All Waves
* Parade (RGB Parade, Y, YUV Parade)
* Image Freeze
* Selectable Color Temperature Presets