Discover the revolutionary Feelworld CUT6 Camera Monitor, an extraordinary solution meticulously crafted to enhance your filmmaking journey. This state-of-the-art monitor redefines industry standards with its remarkable features and functionality, propelling filmmakers towards unrivaled excellence. By providing direct, unaltered access to the 1:1 signal source for image inspection, the CUT6 empowers you to capture the minutest details with unparalleled precision. Its sleek and sophisticated design, coupled with cutting-edge technology, positions it as an indispensable companion for discerning professionals in pursuit of unmatched visual clarity. Step into a realm of unrivaled image monitoring and revolutionize your filmmaking experience with the Feelworld CUT6 Camera Monitor. Elevate your creative vision to unprecedented heights today.

Immerse yourself in a world of boundless possibilities as you acquaint yourself with the exquisite Feelworld CUT6 Camera Monitor. This high-performance marvel is meticulously engineered to revolutionize your approach to filmmaking. Its exceptional capabilities grant you direct access to the 1:1 signal source, bypassing any scaling processes and enabling you to capture every minute detail with unparalleled precision. The sleek and contemporary design perfectly complements the monitor's advanced technology, making it an essential tool for professionals seeking uncompromising visual brilliance. Stay one step ahead of the competition and unlock the true potential of your artistry with the Feelworld CUT6 Camera Monitor. Experience filmmaking like never before and elevate your creative journey to new heights today.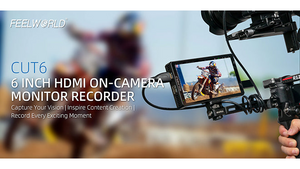 FEELWORLD CUT6 - POWERFUL AND PORTABLE
The Feelworld CUT6 Camera Recorder Monitor is the first monitor released by Feelworld that integrates both monitoring and recording into the same portable chassis. It can record up to 1080P 30FPS HD video with custom LUTs via its built-in USB2.0 port. Ideal for photographers or creators looking to create relaxing and entertaining content for sharing on social media, the Feelworld CUT6 Camera Recorder Monitor can help creators finish their production with greater efficiency. The Feelworld CUT6 Camera Recorder Monitor features a 6-inch full HD touch screen which comes equipped with 4K HDMI input, HDMI loop-out LUT function, and provides a suite of professional monitoring and framing tools. Featuring a new menu layout, the Feelworld CUT6 Camera Recorder Monitor allows for easier operation to let you get the shot you need on the first try.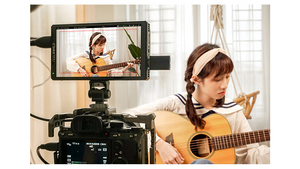 EXCELLENT 1920X1080 FULL HD SCREEN
View clearly and capture every detail with confidence. The Feelworld CUT6 Camera Recorder Monitor comes equipped with a 6-inch Full HD 1920x1080 high-resolution touch screen with 8-bit colour depth. It provides excellent detail giving you a clearer, richer colour in your images and videos.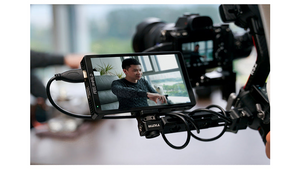 COMPACT, PORTABLE, AND EASY TO HANDLE
The body of the Feelworld CUT6 Camera Recorder Monitor is only 2.3cm thick and weighs only 230g. This means the Feelworld CUT6 Camera Recorder Monitor can be easily mounted on various camera racks. This monitor is perfect for use with a gimbal for on-site shooting and recording on the go.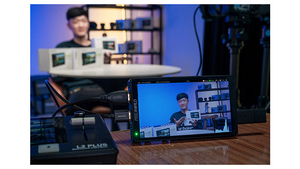 FEELWORLD CUT6 MONITOR WITH USB2.0 Real-time Recording
The difference between the Feelworld CUT6 Camera Recorder Monitor and other monitors is its included USB2.0 recording functionality. It records the video footage at up to 1080p 30FPS from compatible cameras, using MP4 format over HDMI. Just plug in a USB flash drive (supports FAT32 format) and click the red recording key to start recording.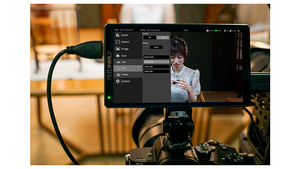 RECORD WITH LUT EFFECTS TO ACCELERATE VIDEO PRODUCTION
When the LUT function is turned on, the Feelworld CUT6 recorder field monitor can record video with custom LUT effects. For simple content such as behind-the-scenes snippets, you can finish recording your video quickly, saving you both time and money.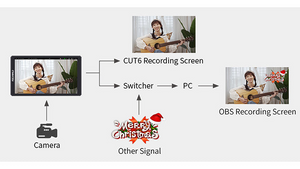 SECONDARY EDITING FOR LIVE STREAMING
When you use a PTZ camera for live streaming, they can rarely record at the same time. If you use the camera to record and stream at the same time it will usually get too hot. That means you can only get the contents of live streaming from playback from your streaming platform or local recording by OBS. However, OBS records the images of the final platform, and the recording from the platform needs to be uploaded and then downloaded before editing. The Feelworld CUT6 Camera Recorder Monitor can not only be used as a field monitor, but also for secondary editing. On top of this, it can also be recorded with LUTs applied, which saves you the work of importing LUTs in the editing stage which improves work efficiency.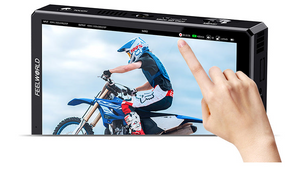 GREAT NEW USER INTERFACE AND TOUCH SCREEN FOR EASIER OPERATION
The Feelworld CUT6 Camera Recorder Monitor comes with a built-in touchscreen user interface that provides incredible control. You can use simple tap and swipe gestures to access important monitoring functions without having to use buttons. The new UI makes it more convenient than ever to operate various functions. You also can operate via a handy wheel on top of the monitor. The recording symbol is displayed on top of the screen with the recording time. The information displayed on the top of the screen will be hidden automatically after a short time to avoid obstruction during filming. To reenable this function, you can click anywhere on the screen to view the recording time or click the recording key again to end the recording.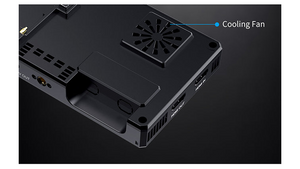 THIS CUT6 FEELWORLD MONITOR HAS GREAT THERMAL PERFORMANCE
The built-in adjustable cooling fan keeps the Feelworld CUT6 Camera Recorder Monitor cool to allow optimal thermal efficiency during filming.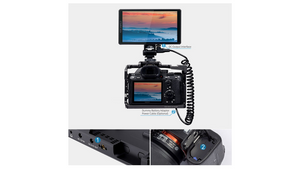 FEELWORLD CUT6 HAS A DC Power Supply
The Feelworld CUT6 Camera Recorder Monitor provides auxiliary power out (DC OUT 8.4V) allowing shooters to power their cameras. When paired with a battery adapter cable (Optional), the Feelworld CUT6 Camera Recorder Monitor extends camera run-time, while providing a more usable display. Barrel output for powering your camera with a separately available DC coupler via adapter (NP-FW50 Sony & LP-E6 Canon & DMW-BLF19 Panasonic). More adapters are coming soon.
(Please note: since different brands and models of cameras require a different power supply for normal operation, the camera may not be able to take pictures or video normally. Therefore, when using batteries to power the monitor, to use the camera normally, it is recommended to use a large-capacity fully charged battery known to be compatible with your camera)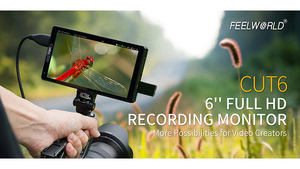 Flexible Power Supply - FEELWORLD CUT6
In addition to the DC 12V power input (for which you can use a 12V/1.5A adapter), on the rear of the Feelworld CUT6 Camera Recorder Monitor, there is also an F970 battery plate, which is compatible with Sony F970, F960, F950, F930, F770, F750, F730, F570, F550, F530 batteries.
(Please note: batteries not included)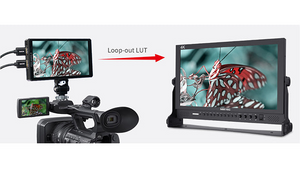 HDMI LOOP-OUT LUT FUNCTIONALITY
After the LUT mode is activated, the HDMI output will feature the LUT by default, which can output a custom LUT image to other displays. When shooting on-set, you can output the image using LUTs to the director or client's monitor for real-time monitoring by connecting a wireless device to allow the whole crew to monitor the footage.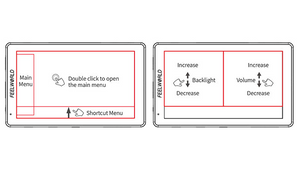 Touch Screen Operating Instructions
1. When the monitor and touch are both on, continuously click the screen twice to enter the main menu.
2. Swipe up from the bottom of the screen to open the shortcut menu and click on the corresponding menu to open or set the corresponding function. Double-click the shortcut menu function and select the function setting with the "<" or ">" key. 
3. On the left side of the screen (1/2 split screen), you can directly adjust the brightness of the screen backlight; on the right side of the screen (1/2 split screen), you can directly adjust the volume.
4. Click any space beside the menu to exit.
FEELWORLD CUT6 CAMERA MONITOR
Packaging List:
1×  Monitor Recorder
1× Micro HDMI Cable
1× Mini Hot Shoe Mount
1× Manual
Features:
* 6-inch 1920x1080 full HD IPS screen
* Touch screen menu operation, improve shooting efficiency
* New UI interface, easier to setup
* Real-time USB2.0 recording, and support record video with LUT effect
* HDMI supports LUT loop-out
* Supports 3D LUT Log to REC.709 and user 3D LUT upload (up to 50)
* HDR monitoring, what you see is what you get
* With Waveform, Vectorscope, RGB Histogram, Focus Assist, Monochrome etc. functions, help you accurately exposure and focus every shot.
* Flexible power supply DC IN 12V and NP-F battery slot, meet the different selection.
* Stereo Earphone output
* DC 8.4V power out to power your DSLR camera or mirrorless camera
Display Spec. 
Model CUT6 
Screen Size 6" IPS 
Resolution 1920x1080 pixels 
Pixel Pitch 0.069 (H) × 0.069 (V) (mm) 
Aspect Ratio 16:9 
Brightness 450cd/m² 
Contrast Ratio 1000:1 
Backlight LED Viewing Angle 80°/80°(L/R) 80°/80°(U/D)
Input 
1 X HDMI HDMI 2.0 
1 X Micro SD Card SD Card Slot (LUT files and firmware update file import)
Output 
1 X HDMI HDMI 1.4 
1 X USB USB 2.0 Recording (supports the USB flash disk of FAT32 format) 
1 X DC Barrel (5.5mm outer, 2.1mm inner) barrel output for powering cameras via camera specific adaptor.
USB Recording Support FormatMP4 (1080P30)
HDMI Input Support Format
SMPTE:720p@50/60 | 1080i@50/60 | 1080p@24/30/50/60
VESA:1024×768@60 | 1280×720@60 | 1280×768@60 | 1280×800@60 | 1280×1024@60 |1360×768@60 |1366×768@60 | 1440×900@60 | 1600×1200@60 | 1680×1050@60 | 1920×1080@60 | 1920×1200@60 |3840×2160@60 | 4096×2160@60
HDMI Output Support Format
SMPTE:720p@50/60 | 1080p@24/25/30/50/60
VESA:1024×768@60 | 1280×720@50/60 | 1280×768@60 | 1280×1024@60 |1360×768@60 | 1920×1080@24/25/30/50/60