Introducing the Feelworld D71 Dual Rack Mount Monitor, the perfect visual companion for professionals seeking top-notch performance and unparalleled versatility. Designed with meticulous precision, this cutting-edge rack mount monitor brings forth a remarkable blend of functionality and convenience, making it a go-to choice for demanding production environments.

The Feelworld D71 Dual Rack Mount Monitor boasts two generous 7-inch IPS LCD screens, enveloping your visuals with vibrant colors, crisp details, and wide viewing angles. With its high resolution of 1920x1200, you can rest assured that every image will be showcased with utmost clarity, enabling you to capture even the tiniest nuances of your work. Whether you're in the film industry, broadcast studios, or live event productions, this monitor delivers unmatched visual accuracy, ensuring that every frame is reproduced with stunning precision.

Featuring a dual rack mount design, the Feelworld D71 offers seamless integration into your existing setup, saving valuable space and enhancing workflow efficiency. Its durable construction ensures long-lasting performance, while the sleek and compact form factor adds a touch of sophistication to any professional environment. Equipped with advanced connectivity options, including HDMI and SDI ports, this monitor effortlessly integrates with various devices, granting you the freedom to work with different sources.

Elevate your visual experience with the Feelworld D71 Dual Rack Mount Monitor – where exceptional performance meets unparalleled versatility. Discover a new level of precision and efficiency in your production workflow, and let this cutting-edge monitor revolutionize the way you see your creative endeavors.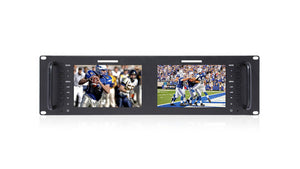 DUAL, EASY TO INSTALL MONITORS
The Feelworld D71 Dual Rack Mount Monitors are designed to be extremely thin and lightweight. The D71's two 7" IPS 1080x800 screens work excellently for viewing SD, HD and 3G-SDI video on any 3RU rack. The unit also features GPIO for Software control via Ethernet connection so it can be controlled remotely. The Feelworld D71 Dual Rack Mount Monitors are widely used in all levels of TV news production, post-production, programme broadcasting and in TV broadcasting trucks, video surveillance and other fields. Since this series is designed to work alongside other professional equipment, high stability, reliability and electromagnetic compatibility are important priorities in the design that ensure the whole system runs smoothly.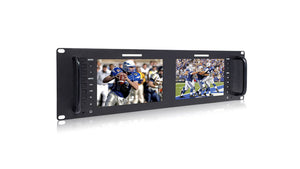 Enjoy Consistent Images from Any Perspective
The Feelworld D71 Dual Rack Mount Monitors each use great 7" IPS panels, which provide a wide 178°/178° viewing angle and brightness output of up to 400nits. This means you'll be able to see accurate, consistent, and bright images from any point of view.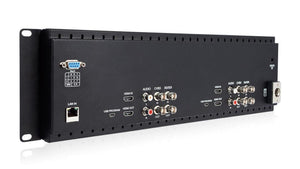 Intuitive, Consistent and easy to learn
The Feelworld range of camera monitors has been designed to be as consistent as possible. This allows users of one product to be able to intuitively and quickly learn how to use the rest of the range with minimal effort, which improves production efficiency.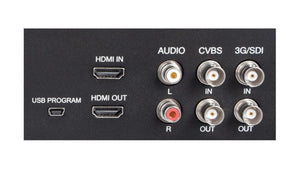 VERSATILE INPUT METHODS
Each monitor of the D71 supports multiple inputs and outputs, including HDMI, SDI and more, ensuring you can view footage from a wide range of sources. Each monitor also features its own dedicated audio interface so you can monitor your footage with confidence.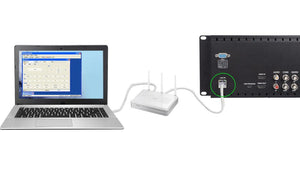 Network Control
The Feelworld D71 Dual Rack Mount Monitors include a LAN port, which allows the operator to the unit via software over ethernet (software included). The LAN 100 port on the rear panel connects the unit to the network. Once connected, the user simply locates the IP address of any one of the units connected to this network. This is accomplished by going to the MAIN MENU of any of the connected units and selecting the NETWORK CONFIGURATION submenu. This will then display the IP address of that unit. Simply type this IP address into the address bar of your Software. It is possible to poll your LAN for all other units connected by accessing the NETWORK tab from the Top Menu. The user can then control multiple networked D71 monitors at once using a single piece of software. The user may select which monitor(s) they wish to control and send commands to them over the network. The browser provides the real-time status of any connected monitors, which ensures consistent signals/feeds.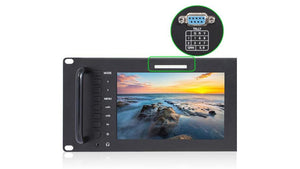 3-colour Tally Light
Each monitor of the Feelworld D71 includes a Tally Light for each screen, with 3 colour display (Red, Green, and Yellow), which is controlled via the DB-9 ports on the rear of the device.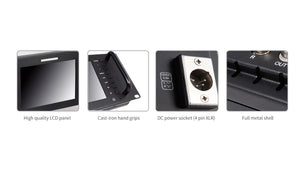 Incredible Stability and Reliability
As rack mount monitors need to be designed for continuous operation, all components of the Feelworld D71 Dual Rack Mount Monitors must be made in accordance with industrial quality standards. The Full Metal case of the D71 not only makes the product more robust and durable but also improves thermal efficiency.
FEELWORLD D71 Dual Rack Mount Monitor - TECHNICAL SPECIFICATIONS
Display Spec.
Model D71 (D71-H: W/O SDI)
Screen Size 7"×2 IPS
Resolution 1280×800 pixels
Dot pitch 0.117 (H)×0.117 (V) mm
Aspect Ratio 16:10
Brightness 400cd/m²
Contrast Ratio 800:1
Backlight LED
Viewing Angle 89°/89°(L/R) 89°/89°(U/D)

Input (Each LCD)
1 X BNC 3G-SDI
1 X HDMI HDMI
1 X BNC Video
2 X RCA Audio(L/R)

Output (Each LCD)
1 X BNC 3G-SDI
1 X HDMI HDMI
1 X BNC Video

Audio (Each LCD)
Audio Out Stereo Headphone × 1

SDI Support Format
480i/576i
720p(60/59.94/50/30/29/25/24/23.98)
1080i(60/59.94/50)
1080p(60/59.94/50/30/29.97/25/24/24sF/23.98/ 23.98sF)

HDMI Support Format
480i/576i/480p/576p
1080i (60/59.94/50)
720p (60/59.94/50/30/29/25/24/23.98)
1080p (60/59.94/50/30/29.97/25/24/24sF/23.98/ 23.98sF)

General
Input Voltage DC9~24V
Power Consumption ≤20W
Power Connector DC/ 4-pin XLR
Working Temperature -20°C~55°C
Storage Temperature -30°C~65°C
Install Way Rack Mount
Unit Size 482.6Lx132Hx30.5D mm
Unit Weight 1890g
Outer Carton Qty 5
Outer Carton Size 480*274*500 (mm)
Gross Weight 14.5kgs