Introducing the Feelworld F5 Pro X Camera Monitor – a game-changing Full HD touchscreen display designed to elevate your visual creations. With vibrant 1920x1080 resolution and 1600-nit brightness, this monitor ensures unparalleled colour accuracy and clarity for photographers and videographers. Equipped with advanced waveform monitoring, vectorscope, and histogram analysis, the F5 Pro X delivers professional-grade precision, making it an essential tool for achieving optimal exposure and colour balance in any lighting scenario. Its versatile HDMI and SDI inputs, combined with a durable yet lightweight aluminum alloy build, make the F5 Pro X the ultimate companion for creative enthusiasts seeking real-time monitoring with unmatched performance. Transform your shooting experience and unlock new levels of creativity with this cutting-edge camera monitor.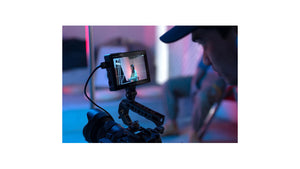 Introducing the Feelworld F5 Pro X
The ultimate companion for photographers and videographers seeking unparallelled precision and creativity in their visual work. Designed with cutting-edge technology and a commitment to exceptional performance, the F5 Pro X redefines how you experience your shots.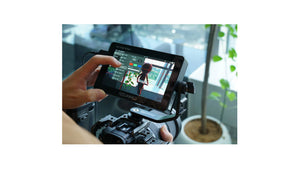 Incredible new 1600nit DISPLAY
Immerse yourself in a world of colour accuracy and clarity with the F5 Pro X's remarkable 5.5-inch Full HD touchscreen display. With a 1920x1080 resolution, 1000:1 contrast display with 1600 nits of brightness, this monitor delivers vibrant, true-to-life visuals even in challenging lighting conditions. Whether you're working indoors or in the great outdoors, the F5 Pro X ensures your shots look exactly as you envisioned them.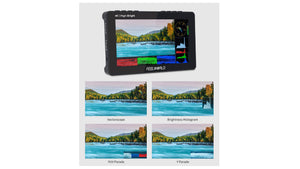 Upgraded Professional FEATURES
Equipped with advanced features such as waveform monitoring, vectorscope, and histogram analysis, the F5 Pro X empowers you to achieve precise exposure and colour balance with every frame. Say goodbye to guesswork and hello to professional-grade results. The intuitive touchscreen interface allows for seamless control and customisation, putting your creative vision at your fingertips.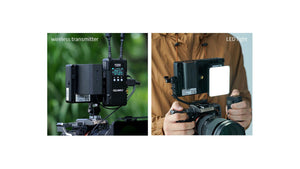 UPGRADE YOUR SETUP
The F5 Pro X is more than just a monitor – it's a versatile tool that adapts to your shooting style. With multiple input options including HDMI and SDI, compatibility is never an issue. Whether you're working with DSLRs, mirrorless cameras, or professional camcorders, the F5 Pro X seamlessly integrates into your setup, providing real-time monitoring and instant feedback.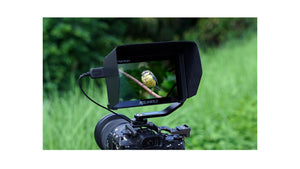 RUGGED, LIGHTWEIGHT HOUSING
Crafted with durability in mind, the F5 Pro X features a rugged yet sleek housing that can withstand the rigours of the field. The compact and lightweight design makes it ideal for handheld setups, gimbals, and even drone applications. Its slim profile doesn't compromise on functionality, offering a wealth of monitoring tools while remaining easy to transport.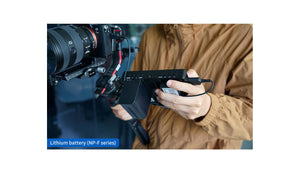 VERSATILE POWER SUPPLY
The Feelworld F5 Pro X comes equipped with a F970 battery mount, and can also be powered via its built-in USB-C port (power only).
COMPATIBLE WITH YOUR FEELWORLD WIRELESS TRANSMITTER AND SEETEC DIRECTOR MONITOR
Simultaneously connect to your film crew director monitor at the same time. Use the Feelworld wireless video transmission system to transition between scenes effortlessly for outdoor shooting. Display the live picture on multiple displays simultaneously to allow the whole crew to monitor your shots.
Feelworld F5 Pro X Technical Specifications
Model F5 PROX
Screen Size 5.5" IPS Touch Screen
Resolution 1920x1080 pixels
Pixel Pitch 0.069 (H) x 0.069 (V) mm
Aspect Ratio 16:9
Brightness 1600cd/m²
Contrast Ratio 1000:1
Backlight LED
Viewing Angle 80°/80°(L/R) 80°/80°(U/D)

Input
1 X HDMI HDMI
1 X Type-C 5V Type-C (Note: please use 5V/2A or more than 2A Type-C power supply)

Output
1 X HDMI HDMI
1 X DC Output DC Output

Audio
Audio Stereo Headphone

HDMI Input/ Output Support Format
480i/576i/480p/576p
1080i (60/59.94/50)
720p (60/59.94/50/30/29.97/25/24/23.98)
1080p (60/59.94/50/30/29.97/25/24/24sF/23.98/ 23.98sF)
4K UHD 3840×2160p (30/29.97/25/24/23.98Hz), 4096×2160p (24Hz)

General
Input Voltage DC7~24V
Power Consumption ≤9W
Power Connector DC
Working Temperature -20°C~50°C
Storage Temperature -30°C~60°C
Install Way ¼-20 thread points
Unit Size 148Lx93Hx20D (mm)
Unit Weight 245g
Color Box Size 186L*124W*80H(mm)
Outer Carton Qty 10
Outer Carton Size 465*200*326 (mm)
Gross Weight 7.4kgs

Advanced Features
* Support 3D LUT Log to Rec.709, user 3D LUT Upload
* All Waves
* Waveform (RGB, Y, YUV)
* Histogram(RGB1, Y, RGB2)
* Peaking Focus Assist (Red, Green, Blue three colors optional highlight over parts of the image in focus)
* False Colors
* Zebra Exposure (10-100IRE adjustable)
* Check Field (Red, Green, Blue, Mono)
* Scan Mode (Under Scan, Over Scan)
* Anamorphic Mode (1.33x,1.6x, 2.0x, 2.0x mag)
* Image Flip (H, V, H/V)
* Image Freeze
* Center Marker
* Safe Frames (80%,85%,90%,93%,96%, 2.35:1)
* Ratio marker (4:3,13:9,14:9,15:9,16:9,1.85:1,2.35:1)
* Color Temperature Adjustment
* Nine Grid (Zoom one of the images to realize the full screen)
* Zoom (2X, 4X, 9X, 16X)
* Aspect Ratio (Auto, 16:9, 16:10, 4:3, 5:4, 1.85:1, 2.35:1, Full Screen)
* Pixel to Pixel