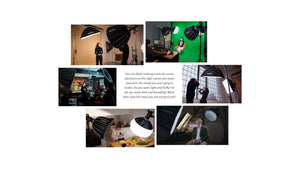 Flexible and powerful
Getting great lighting for your studio has never been easier. The new Feelworld FL125D Daylight Source Light features accurate colour rendition, powerful light output, flexible CCT and is cost-effective, making it more intuitive and accessible to achieve your artistic vision.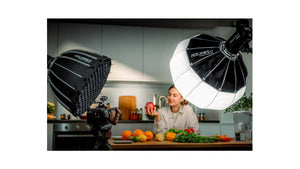 Balanced 5600K Daylight Reproduction
Dedicated daylight fixtures are nearly always brighter than a bi-colour option. The FL125D is a powerful daylight optimised light that is built to compete with ambient light levels. It also allows you to modify your fixture by cutting off diffusing the light as you see fit to get perfect daylight reproduction for your use case.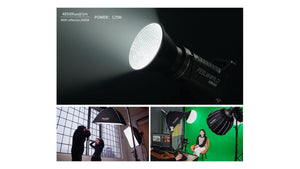 POWERFUL OUTPUT
The Feelworld FL125D is a 125W daylight studio light. With a reflector, when the light is set to 5600K, it offers a luminance of 48500lux at 1m. The built-in dimming control lets you easily adjust the output from 0-100%, making this light extremely useful in a smaller or larger studio at the perfect lighting level to suit your space.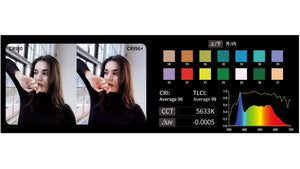 Accurate colour performance
The Feelworld FL125D offers great CRI and TLCI performance, covering an avarage coverage of 96 CRI and 98 TLCI. This helps you avoid headaches in post-production. Light settings can also be easily controlled by the Feelworld Light app, which lets you control multiple lights from your smartphone or tablet.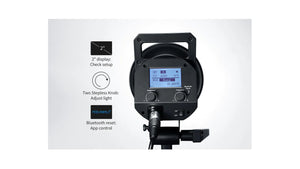 Intuitive Controls and setup
We love the Feelworld FL125D because it is incredibly easy to setup and use to get great shots. It features a lightweight body, weighing only 1.53kg, as well as a 180 degree rotating bracket so you can set up your light efficiently. Its built-in LCD screen lets you easily view settings at a glace and use the incorporated controls to quickly adjust colour temperature and achieve rapid dimming to best suit your needs.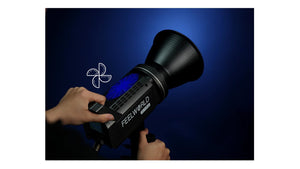 VERSATILE MOUNTING OPTIONS
The Feelworld FL125D comes equipped with a universal Bowens mount and umbrella holder which makes it widely compatible with a range of third-party accessories to help you acheive your creative vision. The light also incorporates built-in active cooling to ensure reliability on set.
Feelworld FL125D Technical Specifications
Model FL125D
Lamp Beam COB
Power Consumption 125W Max:150W
Working Current 7.8A@DC 19V
Input Voltage DC 12~34V
Adapter Input Voltage AC100~240V(50/60Hz)
CCT 5600K (±200K)
Color Temperature Adjustment Not support
CRI 96+
TLCI 98+
Dimming 0~100
APP Control Way Bluetooth
Power Supply Adapter
Lighting Effects Paparazzi, Fireworks, Lighting, Fault Bulb, TV, Breath, Flash, Party, Flame, Music
Cooling Method Active cooling
Unit Size Lamp Frame(w/o protection cap)221x105x180mm
Unit Weight Lamp Frame 1.53kg


Illumination (lux/fc)-Light Only
Distance 1M
5600K 5150lux/478fc


Illumination (lux/fc)-With Reflector
Distance 1M
5600K 48500lux/4506fc