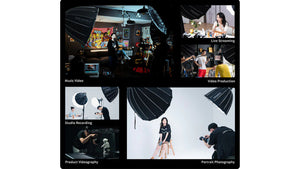 DEEP PARABOLIC SHAPE
Getting great lighting for your studio has never been easier. The new Feelworld FSP60 is a deep parabolic softbox with a diameter of 60cm. It uses industry-grade reflective materials to suppress crosslight, which ensures an accurate colour temperature and satisfies the needs of lighting engineers for soft lights and light output.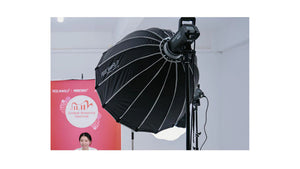 16 DURABLE UMBRELLA RIBS
The Feelworld FSP60 features 16 umbrella ribs for support, and forms a round, omnidirectional light. The umbrella ribs are made of strong, durable steel, which is lightweight but sturdy, and not easily deformed. The deep parabolic design is designed to produce more uniform light.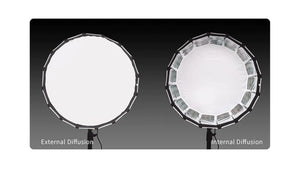 INCORPORATED DUAL DIFFUSION
The Feelworld FSP60 softbox is equipped with dual diffusion which can create soft or hard edge lighting around its reflected beam, making this deep parabolic softbox ideal for portrait photography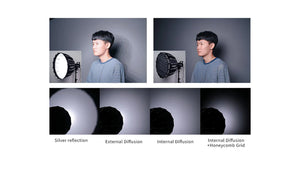 EXCELLENT HONEYCOMB GRID
When the Feelworld FSP60 is installed with the included honeycomb grid, lighting engineers can administer greater control over the direction of their light. This can be used to reduce surrounding overflow and helps to greate an atmosphere and improve spotlighting effects.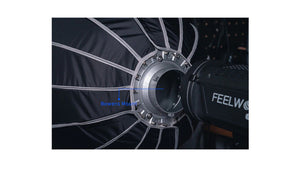 EXCELLENT COMPATIBILITY
The Feelworld FSP60 can be attached easily to lighting fixtures using the Bowens mount design. This makes it compatible with a vast range of lamps and other accessories. Its lightweight design is ideal for use in medium and small spaces.
QUICK INSTALLATION
The Feelworld FSP60 softbox has been designed to be as easy to use as possible. The unit folds up easily and can be stored in an included carry case during transportation.
Feelworld FSP60 Technical Specifications
Model FSP60
Diameter 60cm
Depth 41cm
Length after Folded 52cm
Ribs Support 16
Mount Bowens Mount
Unit Weight 1.1kg