Introducing the remarkable Feelworld FW1018V1 Camera Monitor, a cutting-edge visual companion for professional photographers and videographers. Designed with meticulous attention to detail, this top-of-the-line monitor offers unrivaled performance and unmatched clarity, ensuring that every shot is flawlessly captured.
Equipped with a vibrant 10.1-inch IPS screen, the Feelworld FW1018V1 boasts a high resolution of 1920x1200 pixels, providing astonishingly sharp and true-to-life images. Its wide color gamut and impressive 178-degree viewing angle guarantee that you never miss a single detail, even when capturing shots from challenging angles. Whether you're working in bright sunlight or dimly lit environments, the monitor's 800:1 contrast ratio and 320cd/m² brightness ensure optimal visibility, enhancing your overall shooting experience.

But that's not all. The Feelworld FW1018V1 Camera Monitor offers an array of professional features that set it apart from the competition. With an HDMI input and output, as well as a 3.5mm headphone jack, you can effortlessly connect your camera and external devices, making it a versatile tool for live monitoring and playback. The monitor's advanced focus-assist functions, including focus peaking and pixel zoom, enable precise focus control, resulting in sharper and more refined shots. Additionally, its comprehensive set of auxiliary functions, such as histogram, zebra exposure, and audio level meter, provide valuable assistance in achieving optimal exposure and audio quality.

Experience a new level of visual excellence with the Feelworld FW1018V1 Camera Monitor. Elevate your photography and videography endeavors with this exceptional device that combines superior performance, remarkable clarity, and an extensive range of professional features. Stay ahead of the competition and unlock your creative potential with the Feelworld FW1018V1, the ultimate companion for capturing breathtaking moments.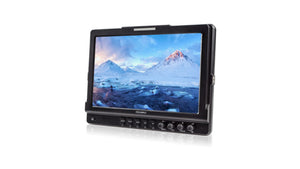 EXCELLENT PROFESSIONAL FEATURES
The Feelworld FW1018 V1 Field Camera Monitor features image measurement functions like Focus Assist, Brightness Histogram, False Colour, Zebra Exposure, Centre Marker, Safe Frame, Check Field, Camera Mode, Aspect Ratio, Image Flip, Pixel-to-Pixel and Image Freeze which allow professionals to quickly, conveniently, and accurately analyse their footage. These functions are assignable across six custom function buttons which are easily accessible on the front panel for ultimate convenience.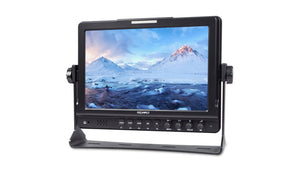 INCREDIBLE HIGH-RES IPS DISPLAY
The large 10.1-inch 1920x1200 display of the Feelworld FW1018 V1 Field Camera Monitor means you can focus clearly on your shots, eliminating guesswork when lining up your shots. It is the ultimate viewfinder, expanding your built-in camera screen to a much larger display, enabling easier viewing and minimising eye strain. With brightness levels of 320cd/m², an 800:1 contrast ratio and 170° vertical and horizontal viewing angles due to its excellent IPS panel, this monitor is a useful tool when shooting both videos and stills. It provides a larger image than built-in viewfinder or LCD screens on most cameras.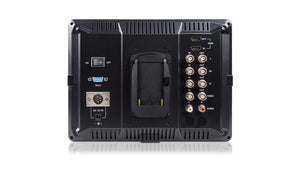 VERSATILE INPUT AND OUTPUT
The Feelworld FW1018 V1 Field Camera Monitor provides maximum versatility with multiple inputs; featuring HDMI, YPbPr, Video, Audio(L/R) and HDMI, YPbPr, and Video loop-through output, you can connect this Feelworld camera monitor directly to any DSLR or HD video source.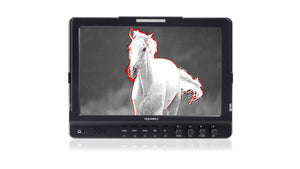 Professional Peaking Focus Assist
The Peaking Filter built into the Feelworld FW1018 V1 Field Camera Monitor can be used to help the camera operator to obtain the sharpest possible picture. When activated, the internal processor will display a coloured highlight on the screen where sharp edges appear. You can switch the outline colour between red, green, and blue to be most visible on the subject.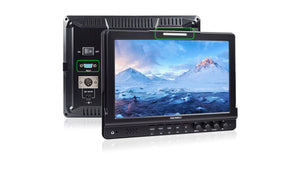 3-COLOUR TALLY LIGHT
The Feelworld FW1018 V1 Field Camera Monitor features DB-9 input signals to control the front TALLY lights with 3 colours to let your crew know when you're filming, keeping everyone on set on the same page and improving the efficiency of production by speeding up communication.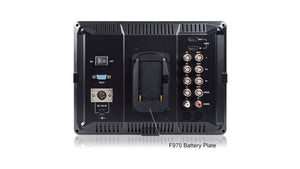 FLEXIBLE BATTERY SYSTEM
The Feelworld FW1018 V1 Field Camera Monitor can be powered by a 4-pin XLR connector or 12V DC input with the included power adapter. This Feelworld camera monitor has a flexible battery system that supports F970, LP-E6, D28S, Anton, and Sony V mount plates of your choice.
The Feelworld FW1018V1 - features
Model FW1018V1 
Screen Size 10.1" IPS 
Resolution 1920×1200 pixels 
Dot pitch 0.113(H)×0.113 (W) mm 
Aspect Ratio 16:10 
Brightness 320cd/m² 
Contrast Ratio 800:1 
Backlight LED 
Viewing Angle 85°/85°(L/R) 85°/85°(U/D)
Input 
1 X HDMI HDMI  
1 X BNC Y 
1 X BNC Pb 
1 X BNC Pr 
1 X BNC Video 
2 X RCA Audio(L/R) 
1 X DB-9 Tally
Output 
1 X HDMI HDMI 
1 X BNC Y 
1 X BNC Pb 
1 X BNC Pr 
1 X BNC Video
Audio 
Audio Stereo Headphone, Speaker
SDI Support Format
480i/576i
720p(60/59.94/50/30/29/25/24/23.98)
1080i(60/59.94/50)
1080p(60/59.94/50/30/29.97/25/24/24sF/23.98/ 23.98sF)
HDMI Support Forma
480i/576i/480p/576p
1080i (60/59.94/50)
720p (60/59.94/50/30/29/25/24/23.98)
1080p (60/59.94/50/30/29.97/25/24/24sF/23.98/ 23.98sF)
4K UHD 3840×2160p (30/29.97/25/24/23.98 Hz), 4096×2160p (24Hz)
General 
Input Voltage DC7~24V 
Power Consumption ≤12W 
Power Connector DC/ 4-pin XLR 
Battery Plate F970 (Standard); D28S, LP-E6, V-Mount, Anton Bauer (Optional) 
Working Temperature -20°C~55°C 
Storage Temperature -30°C~65°C 
Install Way 1/4"-20 Thread Socket (3 sides left&right&bottom) 
Unit Size 258L×192H×39D mm  
Unit Weight 810g 
Color Box Size 304L*85w*265H(mm) 
Outer Carton Qty 5 
Outer Carton Size 477*319*317 (mm) 
Gross Weight 16.8kgs
Advanced Features
* Peaking Focus Assist
* Check Field (Red, Green, Blue, Mono)
* Camera Mode
* Anamorphic Mode (1.3x, 2.0x, 2.0x mag)
* Image Flip (H, V, H/V)
* Image Freeze
* Center Marker
* Screen Marker (80%,85%,90%,93%,96%, 2.35:1)
* Ratio marker (4:3,13:9,14:9,15:9,16:9,1.85:1,2.35:1)* Color Temperature Adjustment
* Nine Grid (Zoom one of the images to realize the full screen) (Nonsupport in 4K input)
* Zoom (4X, 9X, 16X) (Nonsupport in 4K input)
* Aspect Ratio (Nonsupport in 4K input)
* Pixel to Pixel (Nonsupport in 4K input)
* Zoom All (Nonsupport in 4K input)
* U/D Zoom (Nonsupport in 4K input)
* L/R Zoom (Nonsupport in 4K input)