Introducing the Feelworld KBC10 PTZ Camera Controller, your ultimate solution for professional camera control! Designed with precision and versatility in mind, this top-of-the-line device empowers photographers and videographers with seamless control over their PTZ cameras, ensuring every shot is captured with unmatched precision and finesse.

Equipped with a sleek and intuitive interface, the Feelworld KBC10 controller with joystick allows you to effortlessly manipulate camera movements, including pan, tilt, and zoom, with just a few clicks. Its ergonomic design ensures maximum comfort and ease of use during long shooting sessions, allowing you to stay focused on the creative process. Plus, the responsive joystick and programmable shortcut buttons enable quick and precise adjustments, giving you full command over your PTZ camera's motion.

The Feelworld KBC10 PTZ Camera Controller boasts unrivaled compatibility, supporting a wide range of popular PTZ camera models. With its advanced connectivity options, including USB and RS-422 interfaces, seamless integration with your existing camera setup is guaranteed. This controller's intelligent features, such as preset positioning, speed control, and customizable settings, provide you with unparalleled flexibility and creative freedom. Whether you're shooting live events, conferences, or immersive video productions, the Feelworld KBC10 PTZ Camera Controller is the perfect companion for achieving professional-grade results every time.

Experience the pinnacle of camera control and elevate your photography and videography to new heights with the Feelworld KBC10 PTZ Controller with joystick. Invest in this game-changing device today and unlock a world of creative possibilities for capturing breathtaking visuals like never before.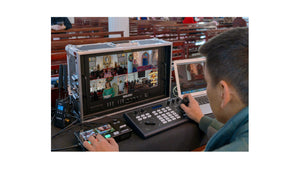 THE COMPLETE PTZ CONTROL SOLUTION
The Feelworld KBC10 PTZ Camera Controller is a joystick and button-controlled PTZ camera controller made for use in broadcasting, professional video conferencing and live streaming. Users can control up to 255 PTZ cameras via both LAN and serial interfaces. The built-in ergonomic joystick allows for fast and intuitive real-time adjustment of pan, tilt, zoom and lock functions. The unit incorporates a handy LCD screen to display the camera status in real-time. The KBC10 can be powered by 12V DC or power-over-ethernet (PoE).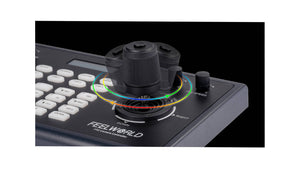 INCREDIBLE ERGONOMIC JOYSTICK
The Feelworld KBC10 PTZ Camera Controller includes a 4D joystick which allows precise adjustment of the PTZ camera and its functions. Users can utilise the stick to quickly change camera angles and parameters.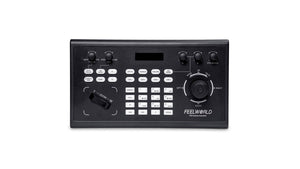 INTUITIVE BUTTON LAYOUT
The Feelworld KBC10 PTZ Camera Controller's button layout makes it easy for professionals to operate their cameras and access settings intuitively. They offer precise control over the camera's PTZ speed, red & blue gain, focus, iris, on-screen display, white balance, fast camera switching, quick‐set camera parameters & presets, and many other features. The KBC10 also features two custom function buttons (F1 & F2) that can be set to customisable functions using IP VISCA & VISCA protocols and quickly call up desired functions to optimize settings for different shooting scenes. Using these tools combined with the joystick makes the Feelworld KBC10 PTZ Camera Controller easy to set up to easily handle any live video production.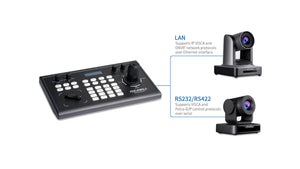 Multiple Control and Network Protocols
The Feelworld KBC10 PTZ Camera Controller supports multiple protocols including IP VISCA, ONVIF, VISCA, and PELCO via Ethernet interface and serial interface RS232, and RS422 to give you greater freedom in control and settings. One operator can control multiple PTZ cameras simultaneously to reduce production costs by making remote production more efficient.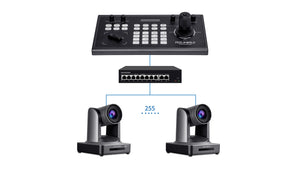 Connect up to 255 PTZ cameras
Using IP VISCA and ONVIF network protocols over Ethernet, the Feelworld KBC10 PTZ Camera Controller can connect to up to 255 PTZ cameras. It Supports VISCA and Pelco-D/P control protocols over serial RS232, and RS422 interfaces to connect to up to 7 PTZ cameras. When connecting more than 4 cameras, you need to cooperate with CAM key + number key to add. The Feelworld KBC10 PTZ Camera Controller can remotely control cameras up to 1200M away using twisted pair cables over the RE422/RS485 standards.
Note: The controller and PTZ camera must be connected to the same LAN, and IP addresses must at the same segment.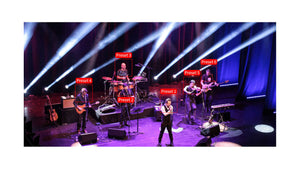 Up to 255 Preset Positions
The Feelworld KBC10 PTZ Camera Controller can be equipped with up to 255 preset positions, which can quickly be called up to switch the camera position. Short press the PRESET button to set the desired preset position, and long press to delete the preset position, both are worked with the number keys and ENTER button. In addition, you can call any saved preset position via the CALL button by using the number keys and ENTER button.