Introducing the Feelworld L2 Plus Livestream Mixer - the ultimate companion for professional content creators and avid livestreamers. Designed to elevate your streaming experience to new heights, this state-of-the-art mixer boasts an array of impressive features that will revolutionize the way you engage with your audience.

Equipped with advanced audio and video mixing capabilities, the Feelworld L2 Plus mixer enables seamless integration of multiple audio sources, ensuring crystal-clear sound quality during your broadcasts. Its intuitive control panel and user-friendly interface make it effortless to customize audio settings, adjust volume levels, and fine-tune your audio mix in real-time.

But that's not all! This Livestream Mixer also offers unparalleled visual enhancements. With its high-definition video switching capability, you can effortlessly transition between multiple cameras, creating a professional-grade livestream with ease. The Feelworld L2 Plus supports various video input formats, allowing you to connect and switch between HDMI, SDI, and VGA sources seamlessly.

Crafted with precision and durability in mind, this compact and sleek mixer is perfect for on-the-go content creators. Its lightweight design ensures easy portability, while the robust construction guarantees long-lasting performance. Whether you're a vlogger, gamer, or professional broadcaster, the Feelworld L2 Plus Livestream Mixer is the ultimate tool to elevate your livestreams, captivate your audience, and establish yourself as a true streaming sensation. Upgrade your streaming setup today and unleash your creative potential like never before!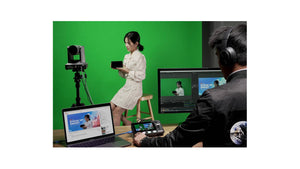 Feelworld L2 Plus Features Multi-camera Live Production Switcher
The Feelworld L2 Plus Multi-Camera Live Production Switcher is a portable fully featured live switching & streaming solution. The included large 5.5-inch LCD touchscreen makes it easy to access the professional suite of tools at your fingertips. You can preview 4 cameras, PST and PGM in real-time. The L2 Plus is the upgraded version of the LIVEPRO L1. One of the great added features is its support for PTZ camera control, which can control the rotation, focus and zoom of your PTZ camera directly from the device. The built-in chroma key function is perfect for news or on-set presentation work. You can even use it for title overlays by creating graphics to make live broadcasting more professional.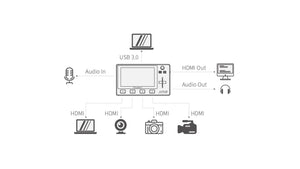 PLUG-AND-PLAY TO IMPROVE PRODUCTION EFFICIENCY
The Feelworld L2 Plus Multi-Camera Live Production Switcher is for video creators who want to make broadcast quality multi-camera programs simply and quickly from anywhere. You can live stream to YouTube/Facebook/Instagram as well as Skype or ZOOM for innovative business presentations, and easily control every screen with a PTZ camera. Best of all, L2 PLUS is designed to be plug-and-play, so you don't need to be a video professional to achieve great-looking results.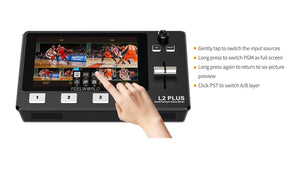 5.5-INCH LARGE LCD TOUCHSCREEN
On the front panel of the Feelworld L2 Plus Multi-Camera Live Production Switcher, there is a 5.5-inch touch screen, it can present 4 input sources, a PST preview picture and a PGM output picture to enable monitoring in real-time without having to connect an additional monitor. Gently touch the menu icon to enter the corresponding sub-menu settings easily and intuitively. Outside menu mode, gently tap one of the four input signal pictures on the screen to switch the input signal; Long press any position of the screen to switch PGM to full screen; Long press again to return to six-picture preview; click on the PST preset can switch A/B layer. Switching feeds during live production has never been easier.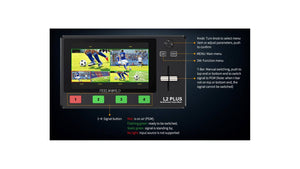 FLEXIBLE CONTROL METHODS FOR SWITCHING AND STREAMING
The flexible control panel of the Feelworld L2 Plus Multi-Camera Live Production Switcher allows you to use either the touch screen or the physical buttons to access the extensive suite of functions. Press the MENU main menu or the SW function menu button, and the interface will be displayed on the screen. You can select and set the menu by touching the option directly or turning the knob in the upper right corner. 1~4 Illuminated signal buttons allow you to easily switch and live stream even in a dimly lit environment. In addition, you can switch the signal source by using the T-Bar on the panel.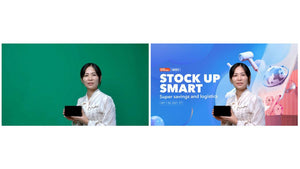 BUILT-IN CHROMA KEY AND LOGO OVERLAY TO CREATE A WONDERFUL VIRTUAL STUDIO
For news or on-set presentation work, the Feelworld L2 Plus Multi-Camera Live Production Switcher is an essential tool. It features a powerful advanced Chroma Key for green screen or blue screen keying effects. You can even use the LOGO overlay function to create a title overlay effect, making the virtual studio more professional and engaging.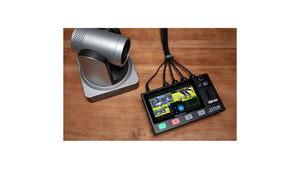 CONTROL UP TO 8 PTZ CAMERAS
The Feelworld L2 Plus Multi-Camera Live Production Switcher can control PTZ cameras which support the VISCA protocol. You can control your camera to pan, tilt, zoom and focus. At the same time, the L2 Plus saves the camera position and zoom information for quick retrieval the next time you use it. This makes the Feelworld L2 Plus Multi-Camera Live Production Switcher ideal for video conferences, online education, live streaming and sports events.

Note: When operating the camera, L2 PLUS needs to remain in the Control interface, otherwise the PTZ camera cannot be controlled.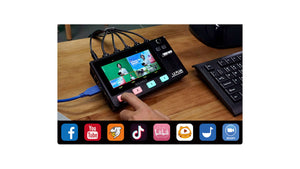 FASTER VIDEO PRODUCTION AND LIVE STREAMING
Live production is the fastest way to complete a finished program. The Feelworld L2 Plus Multi-Camera Live Production Switcher features a USB 3.0 connection that is recognised by the computer as a simple webcam source. It can connect to any computer, so all streaming software for social media platforms can be used for streaming. Software such as OBS for live streaming, or conference software (Skype, ZOOM, Tencent conference and Yealink ) for business presentations can all be used with the L2 Plus. All switching is done in real-time so you can live stream to any social media platform such as Youtube, Facebook, Tik Tok, Douyu TV and many more without hassle. In addition, the Feelworld L2 Plus Multi-Camera Live Production Switcher can be used with up to 4 HDMI inputs in full 1080p quality, so you can set up multiple camera angles such as wide shots along with independent close-ups of each person in the performance to make high quality, engaging content.

1080P HIGH-QUALITY IMAGE
The resolution of input and output of the L2 PLUS is up to 1080P@60, making the live broadcast picture clearer and more engaging. The Feelworld L2 Plus Multi-Camera Live Production Switcher allows you to connect with your fans like never before.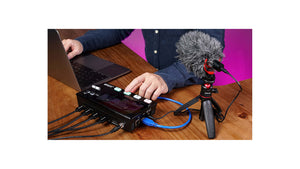 EASY COMPATIBILITY WITH EXTERNAL MICROPHONES
The Feelworld L2 Plus Multi-Camera Live Production Switcher comes equipped with a standard 3.5mm microphone interface (Audio In). It supports the input of an active (self-powered) microphone device to collect sound information more clearly, great for podcasts and streaming. Users also have the option to use an external sound console to mix multiple external sound inputs. The L2 Plus also provides a standard 3.5mm audio output, so you can use external speakers or headphones to monitor the L2 Plus's main output audio signal in real-time.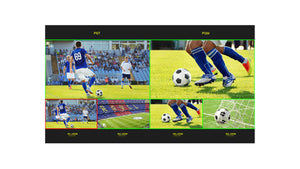 6-PICTURE PVW AND PGM SWITCHING SUPPORT
The Feelworld L2 Plus Multi-Camera Switcher can also connect to a larger external screen via HDMI for an even better monitoring experience. The L2 Plus also includes PGM, PST and 4-channel HDMI input signals with an audio column display for audio monitoring. Picture-in-picture can also be set which is very useful for large-scale multi-stand field production.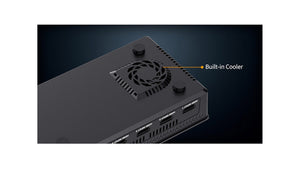 BUILT-IN HIGH-PERFORMANCE FAN
The L2 Plus features a built-in cooler with three stages of fan speed adjustment for excellent thermal performance.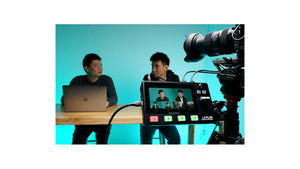 Multi-application, One Solution
The Feelworld L2 Plus Live Production Switcher features a large suite of professional functions in a lightweight and portable package. The standard ¼ inch screw mount means the device can be easily mounted on a tripod. Live streaming and multi-signal control have never been simpler or easier for a single person.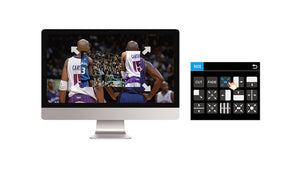 PROFESSIONAL BROADCAST TRANSITION EFFECTS
One of the benefits of Feelworld L2 Plus Switcher is the professional production quality made possible by the range of built-in video effects. "CUT" is a hard cut operation in "FAST" mode, which can be set to switch transition effects from 0.5 seconds to 5.0 seconds. You can also use T-Bar to fade the special effects manually if desired.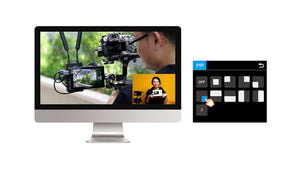 9 Picture-in-Picture Modes
One of the benefits of using Feelworld L2 Plus Multi-Camera Live Production Switcher with a multi-camera setup is that you can use the Picture-in-Picture function to display two inputs at the same time. Any of the four HDMI inputs can be used for a Picture-in-Picture effect over the program output. You can display a close-up of a product on your desk and display a face cam as a Picture-in-Picture at the same time while you talk about the product, making content more engaging.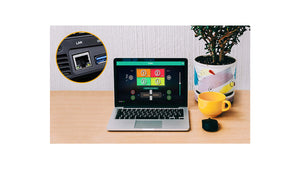 PC AND PHONE APP CONTROL FOR REMOTE OPERATION
After connecting to Ethernet on the computer, the software XPOSE can control the L2 PLUS, with the same operation as the switcher. Smartphones can also be used for remote controlling, just download the XPOSE (Feelworld Live) APP and connect to the same WIFI. In addition, it allows you to add as many panels as you like all at the same time.
FEELWORLD L2 Plus Technical Specifications
ACCESSORIES
Standard Accessories:
1× 2A Adaptor
1× USB Cable
1× Manual
FEATURES
* 5.5-inch full HD IPS screen, provides real picture
* Touch screen operation, easy to use
* Real-time 6-picture preview ( 4 inputs sources + PST preview + PGM output picture)
* USB 3.0 fast to live streaming
* PTZ camera control (Up to 8 cameras)
* Chroma key, LOGO overlay
* T-Bar easily switch the transition effects and signal sources
* 15 transition effects and 9 PIP modes, the live picture more vivid
* Audio offers AFV or Line In mode
* Remote control via PC/smartphone APP
SPECIFICATIONS
Display Spec. Model L2 PLUS 
Screen Size 5.5"
Touch screen Backlight LED
Input 4 X HDMI HDMI-A
Output 1 X HDMI  HDMI-A 1×USB TypeA USB 3.0
Audio Audio In 1×3.5mm (can be connect to microphone) 
Audio Out 1×3.5mm Stereo Jack
Input Solution
HDMISMPTE 720p@50/60 | 1080i@50/60 | 1080p@23/24/30/50/60VESA 1024X768@60 | 1280X720@60 | 1280X768@60 | 1280X800@60 | 1280X1024@60 | 1360X768@60 | 1366X768@60 | 1440X900@60 | 1600X1200@60 | 1680X1050@60 | 1920X1080@60 | 1920X1200@60
Output Solution
HDMISMPTE 720p@50/60|1080p@24/25/30/50/60VESA 1024X768@60 | 1280X720@60 | 1280X768@60 | 1280X1024@60 | 1360X768@60USB Streaming1280X720@50/60 | 1280X1024@60 | 1360X768@60 | 1920X1080@24/25/30/50/60
Note: Please refer connected computer for applicable resolution support
General Input Voltage DC 12V / 2A Max Power21W 
Working Temperature0℃~50℃ 
Humidity 5%~85% 
Unit Size 191(L) x 110(W) x 43(H)mm 
Unit Weight 610g