Introducing the revolutionary Feelworld LUT11S Camera Monitor - a game-changer in the world of professional cinematography. Designed to meet the demands of filmmakers and videographers, this cutting-edge monitor offers an unparalleled visual experience with its advanced features and exceptional performance.

The Feelworld LUT11S Camera Monitor boasts a high-resolution 11-inch display, delivering crystal-clear images with remarkable clarity and vividness. Its ultra-bright LCD panel ensures optimal visibility even in bright sunlight, providing filmmakers with unmatched convenience during outdoor shoots. Equipped with 4K HDMI input and output ports, this monitor effortlessly handles high-resolution content, allowing for seamless connectivity with a wide range of cameras and other compatible devices.

Featuring an extensive array of professional monitoring tools, the Feelworld LUT11S empowers filmmakers with precise control over their shots. Its built-in waveform and vectorscope assist in achieving accurate exposure and color grading, while the customizable 3D LUT support enables the creation of stunning visuals with unparalleled color accuracy. Additionally, the monitor's ergonomic design ensures easy mounting and hassle-free operation on various camera rigs.

Upgrade your cinematography game with the Feelworld LUT11S Camera Monitor - a must-have tool for professionals seeking ultimate precision and unrivaled visual performance. Discover a new level of creative possibilities and elevate your filmmaking to new heights with this exceptional monitor that combines cutting-edge technology, superior image quality, and intuitive functionality.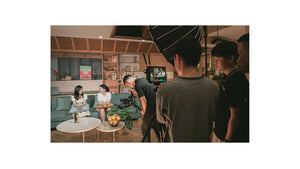 PROFESSIONAL FEATURES THROUGH SDI AND HDMI
The Feelworld LUT11S Ultrabright SDI Camera Monitor features an excellent 10.1-inch touch screen, ultra-brightness of 2000nits and a vast suite of professional features. This Feelworld LUT monitor supports 3G-SDI and up to 4K@60Hz HDMI signal input and output. The LUT11S provides a series of monitoring and framing tools with a new menu layout. Various numerical parameters are clearly presented at a glance, making the operation of this monitor easier. There is an F970 external install and power kit on the rear of LUT11S, onto which you can install accessories such as wireless transmission, LED lights, and more. The dual battery plate design allows users to install up to two F970 batteries at the same time for endurance filming even outdoors. The LUT11S is ideal for crew field shooting, monitoring and post-production.
10.1" LCD Full HD Resolution
The Feelworld LUT11S SDI Field Monitor comes with a 10.1-inch 1920x1200 full HD panel which supports multiple colour gamuts, including DCIP3. Display your stills and monitoring content with superior colour fidelity using the wide 170º viewing angle, which makes it easy for multiple members of the crew to monitor footage at the same time.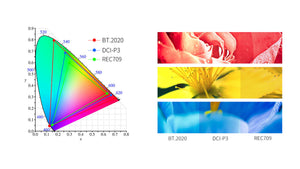 MULTIPLE COLOUR GAMUTS TO MEET THE NEEDS OF PROFESSIONALS
The Feelworld LUT11S Ultrabright SDI Camera Monitor supports REC709, DCIP3, and BT2020 colour gamuts, presenting rich colours to meet professional needs. You can be sure that the LUT11S reproduces colours excellently, letting you get great shots on the first try.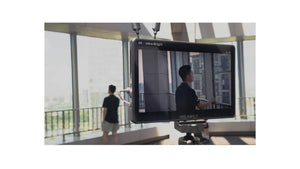 2000NIT DAYLIGHT VIEWABLE PANEL
With the support of 2000nits of ultra-high brightness, the Feelworld LUT11S is not afraid of strong light. Even when shooting outdoors, the screen display is clearly visible so you can shoot in any conditions, even without a sunshade.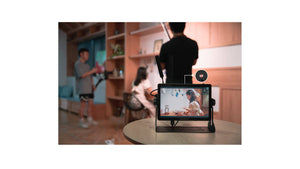 LIGHT SENSOR FOR AUTO-DIMMING
The Feelworld LUT11S features an innovative ambient light sensor. From a dim studio to a sunny on-location shoot, from midnight moonlight to noon sunshine, you can be sure that the LUT11S will adjust to fit your filming environment.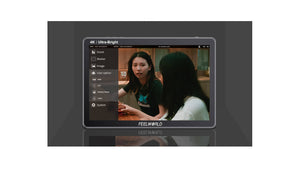 NEW UI MENU, MORE INTUITIVE AND INTELLIGENT
The Feelworld LUT11S Ultrabright SDI Camera Monitor adopts a new UI menu with intuitive icons to make the operation of the monitor more convenient. It has never been easier to access the extensive suite of functions on the LUT11S.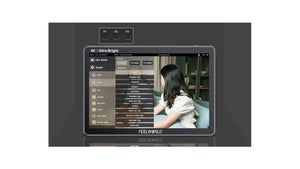 CUSTOM SHORTCUT KEYS
On the top of LUT11S there are three custom shortcut buttons which the photographer can set before shooting to the functions most convenient for them, so during shoots they can quickly call up the required functions, greatly improving the shooting efficiency.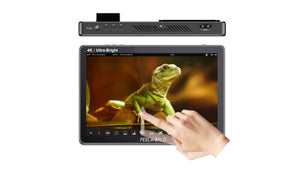 Full Touch Screen Design
The innovative touchscreen LCD user interface of the Feelworld LUT11S Ultrabright SDI Camera Monitor provides incredible control. You can use simple tap and swipe gestures for important monitoring functions without having to use the buttons. Plus, you can also operate these functions via a tactile scroll wheel for ultimate ease of use.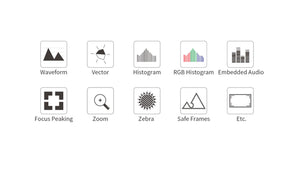 Smarter Tools for Absolute Precision
Our flexible OS is packed with an extensive suite of scopes, all 1-touch away and simple to use. The Video OS includes tools for focus, framing & exposure (waveform, RGB parade, vectorscope, RGB histogram, histogram, embedded audio, focus peaking, zoom, zebra, false colour, safe frames, etc.) as well as a flexible 3D LUT implementation (use built-in LOG to Rec.709 video or upload .cube files) and options for anamorphic de-squeeze monitoring, all designed to offer the best user experience possible.
FEELWORLD LUT11S TECHNICAL SPECIFICATIONS
Display Spec.
Model LUT11S 
Screen Size 10.1" IPS
Resolution 1920x1200 pixels 
Pixel Pitch 0.113(W) x 0.113(H) (mm) 
Aspect Ratio 16:10 
Brightness 2000cd/m² 
Contrast Ratio 800:1 
Backlight LED 
Viewing Angle 85°/85°(L/R) 85°/85°(U/D)
Input 2 X HDMI HDMI 1 X SDI 3G-SDI 1 X Tally 9 Pin Connect
Output 1 X HDMI HDMI 1 X SDI 3G-SDI 1 X DC Barrel (5.5mm outer, 2.1mm inner) barrel output for powering cameras via camera specific adaptor.
Audio 
Audio 3.5mm Stereo Headphone
SDI Input Support Format720p (60/59.94/50/30/29.97/25/24/23.98)1080i(60/59.94/50)1080p (60/59.94/50/30/29.97/25/24/23.98)2048x1080i (60/59.94/50)2048x1080p (60/59.94/50/30/29.97/25/24/23.98)
SDI Output Support Format720p (60/59.94/50/30/29.97/25/24/23.98)1080i(60/59.94/50)1080p (60/59.94/50/30/29.97/25/24/23.98)
HDMI Input/ Output Support Format
480i/576i/480p/576p1080i (60/59.94/50)720p (60/59.94/50/30/29.97/25/24/23.98)1080p (60/59.94/50/30/29.97/25/24/23.98)3840x2160p (60/50/30/29.97/25/24/23.98)4096×2160p (60/50/30/29.97/25/24/23.98)
General 
Input Voltage DC7~24V 
Power Consumption ≤28W 
Working Temperature -10°C~50°C 
Storage Temperature -20°C~60°C 
Install Way 1/4"-20 Thread Socket ( Left, Right, Bottom) 
Unit Size 242Lx156Hx23D(mm) 
Unit Weight 810g 
Color
Box Size 265L*110W*212H(mm) 
Outer Carton Qty 10 
Outer Carton Size 590*270*480 (mm) 
Gross Weight kgs
Note: When you turn off the monitor, you need to press the power button, and you can't pull out the power cable directly.