Introducing the Feelworld LUT7S Pro Ultra-Bright Camera Monitor, the perfect companion for professional photographers and videographers seeking unparalleled visual clarity and enhanced shooting experiences. Designed with meticulous attention to detail, this cutting-edge camera monitor combines advanced technology with superior craftsmanship, delivering exceptional performance in any shooting environment.

Featuring a stunning 7-inch IPS LCD screen, the Feelworld LUT7S Pro guarantees vibrant and true-to-life color reproduction, allowing you to capture every moment with unparalleled accuracy. With a remarkable ultra-bright display, boasting a peak brightness of 2200 nits, this monitor ensures crystal-clear visibility even under bright sunlight, enabling you to frame your shots with ease and precision.

Equipped with an array of impressive features, the Feelworld LUT7S Pro goes beyond a mere monitor. Its Pro model offers external mounting options for seamless integration with other camera accessories, enabling you to create a customized setup that perfectly suits your needs. Whether you're attaching a wireless video transmitter, a microphone, or additional lighting equipment, this monitor provides the versatility and flexibility required to optimize your shooting setup.

Take your photography and videography to new heights with the Feelworld LUT7S Pro Ultra-Bright Camera Monitor. Immerse yourself in an exceptional visual experience, harness the power of its external mounting options, and elevate your creative output to unprecedented levels. Embrace the future of professional monitoring and unlock your true potential with this remarkable piece of equipment.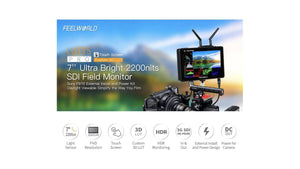 2200nit Ultrabright Screen – Perfect for outdoor filming
The Feelworld LUT7S PRO Ultrabright Touchscreen SDI Camera Monitor comes equipped with a 2200nit Ultrabright screen which allows for excellent visibility in direct sunlight, even without a sunshade. The Feelworld LUT7S PRO Ultrabright Touchscreen SDI Camera Monitor is factory calibrated to the Rec.709 HD colour standard. This, combined with its high resolution 2200nit Ultrabright screen, means it can easily and accurately reproduce colours without distortion, allowing you to see the real image when you shoot video.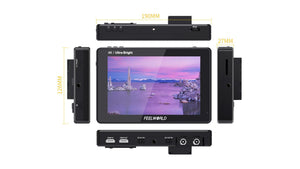 More Resolution, Less Reflection
The Feelworld LUT7S PRO Ultrabright Touchscreen SDI Camera Monitor displays content at a crisp 323 pixels per inch (PPI) to allow clear and precise monitoring in the field. The Ultrabright panel is made of optically bonded glass with an effective anti-reflective coating, to ensure optimal viewing clarity even in direct sunlight. What really makes the Feelworld LUT7S PRO Ultrabright Touchscreen SDI Camera Monitor stand out is its light-emitting diode (LED) backlighting, with an impressive 1200:1 contrast ratio and sRGB / Rec.709 Colour Gamut coverage calibrated at the factory. These factors, combined with the wide 160º viewing angle makes it easy for multiple members of the crew to watch the footage simultaneously with excellent clarity.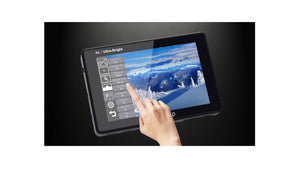 LARGE 7" MONITOR WITH INTUITIVE TOUCH CONTROLS
The innovative touchscreen LCD interface provides incredible control. You can use simple tap and swipe gestures for important and powerful monitoring functions. Scopes, focus and exposure assists can be enabled via the touch screen in addition to custom 3D LUTs to allow you to get excellent shots easily and efficiently.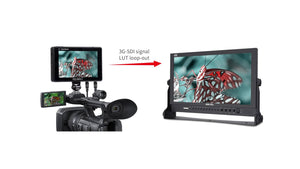 COMPATIBLE WITH WIRELESS TRANSMITTERS AND DIRECTOR MONITORS
Transmit to the crew and director at the same time. Wireless functionality via the Feelworld Wireless Transmitter makes transitions between scenes more flexible and allows for effortless outdoor shooting. This functionality allows you to display live pictures on multiple displays simultaneously without the need for obstructive wires.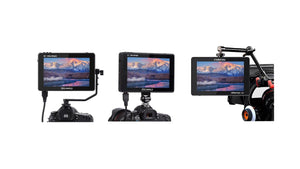 VERSATILE MOUNTING SOLUTIONS
There are 3 standard sized mounting points. Using the bottom 1⁄4 inch hole, you can securely attach the Feelworld LUT7S PRO Ultrabright Touchscreen SDI Camera Monitor to the top of your camera to make the ultimate viewfinder. The 1⁄4-inch holes on the left and right sides can be mounted on other equipment such as magic arms, brackets, etc. for the entire crew to monitor the screen. The rear of the LUT7S PRO features a mounting bracket that can be used to attach external accessories such as wireless transmitters and LED lighting. This convenient solution saves space in your rig, making this monitor a great portable tool for professionals.
Feelworld LUT7S Pro Technical Specifications
Display Spec.
Model LUT7S PRO
Screen Size 7" IPS
Resolution 1920x1200 pixels
Pixel Pitch 0.07875 (H) x 0.07875 (W) (mm)
Aspect Ratio 16:10
Brightness 2200cd/m² (Light Sensor)
Contrast Ratio 1200:1
Backlight LED
Viewing Angle 80°/80°(L/R) 80°/80°(U/D)

Input
1 X BNC 3G-SDI
1 X HDMI HDMI

Output
1 X BNC 3G-SDI
1 X HDMI HDMI
1 X DC Barrel (5.5mm outer, 2.1mm inner) barrel output for powering cameras via camera specific adaptor.

Audio
Audio 3.5mm Stereo Headphone

SDI Support Format
720p (60/59.94/50/30/29.97/25/24/23.98)
1080i(60/59.94/50)
1080p (60/59.94/50/30/29.97/25/24/23.98)

HDMI Input/ Output Support Format
480i/576i/480p/576p
1080i (60/59.94/50)
720p (60/59.94/50/30/29.97/25/24/23.98)
1080p (60/59.94/50/30/29.97/25/24/23.98)
4K UHD 3840×2160p (30/29.97/25/24/23.98Hz), 4096×2160p (24Hz)

General
Input Voltage DC7~24V
Power Consumption ≤18W
Working Temperature -20°C~50°C
Storage Temperature -30°C~60°C
Install Way 1/4"-20 Thread Socket (Left, Right, Bottom)
Unit Size 190Lx126Hx27D (mm)
Unit Weight 450g
Color Box Size 222L*158W*76H(mm)
Outer Carton Qty 10
Outer Carton Size 450*234*385 (mm)
Gross Weight 10.8kgs
Note: When you turn off the monitor, you need to press the power button, and you can't pull out the power cable directly.

Advanced Features
* Support 3D LUT Log to Rec.709, user 3D LUT Upload
* Support Touch Menu
* Parade (RGB, YUV, Y)
* All Waves
* Vector
* RGB Histogram
* Brightness Histogram
* Embedded Audio
* Peaking Focus (red, green, blue, white, yellow five peaking colors optional; 1~10 peaking level adjustable)
* False Colors
* Zebra Exposure (1%~100% adjustable)
* Check Field (Red, Green, Blue, Gray)
* Scan Mode (Under Scan, Over Scan)
* Anamorphic Mode (1.25x, 1.33x, 1.5x, 2.0x, 2.0x mag)
* Image Flip (H, V, H/V)
* Image Freeze
* Center Marker
* Safety Marker (70%, 80%, 90%, 16:9, 16:10, 4:3, 5:4, 1.85:1, 2.35:1)
* Ratio Marker (16:9, 16:10, 4:3, 1.85:1, 2.35:1)
* Marker Color (red, green, blue, white, black, yellow)
* Color Temperature Adjustment
* Nine Grid
* Zoom (100%~300%)
* Aspect Ratio
* Pixel to Pixel