Introducing the Feelworld T51 Triple Rack Mount Monitor, a cutting-edge display solution designed to elevate your professional video production and broadcasting experience. This top-of-the-line monitor boasts an array of impressive features, making it an invaluable asset for any media enthusiast or industry expert.

With its sleek and sturdy design, the Feelworld T51 is built to withstand the demands of rigorous studio environments. Equipped with three high-resolution 5-inch LCD screens, this monitor offers exceptional clarity and crispness, ensuring every detail of your footage is vividly portrayed. Its triple rack mount configuration allows for efficient space utilization, perfect for maximizing your workspace without compromising on visual performance.

Featuring advanced monitoring functionalities, the Feelworld T51 enables precise color grading and accurate image analysis. The wide viewing angle and adjustable aspect ratio ensure optimal visibility from various positions, granting you flexibility in your monitoring setup. Equipped with a comprehensive range of connectivity options, including HDMI and SDI ports, this monitor seamlessly integrates with a wide range of devices, facilitating effortless compatibility.

Moreover, the Feelworld T51's intuitive user interface and easy-to-navigate menu system make it user-friendly, even for novices. Whether you're a professional cinematographer, video editor, or broadcast technician, this monitor caters to your diverse needs, delivering unparalleled performance and reliable functionality.

Enhance your visual storytelling and streamline your production workflow with the Feelworld T51 Triple Rack Mount Monitor. Experience the pinnacle of professional-grade displays and unlock new creative possibilities in the realm of video production. Invest in the Feelworld T51 today and take your visuals to unparalleled heights.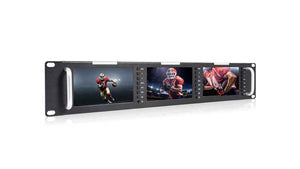 Triple, EASY TO INSTALL MONITORS
The Feelworld T51 SDI Triple Rack Mount Monitors are designed to be extremely thin and lightweight. The T51 SDI's three 5" IPS 800x480 screens work excellently for viewing SD, and HD video on any 2RU rack. The Feelworld T51 SDI Triple Rack Mount Monitors are widely used in all levels of TV news production, post-production, programme broadcasting and in TV broadcasting trucks, video surveillance and other fields. Since this series is designed to work alongside other professional equipment, high stability, reliability and electromagnetic compatibility are important priorities in the design that ensure the whole system runs smoothly.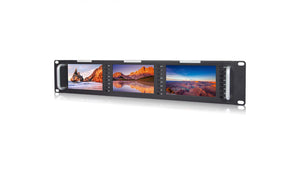 Enjoy Consistent Images from Any Perspective
The Feelworld T51 SDI Triple Rack Mount Monitors each use great 5" TFT panels, which provide a wide viewing angle and brightness output of up to 500nits. This means you'll be able to see accurate, consistent, and bright images from any point of view.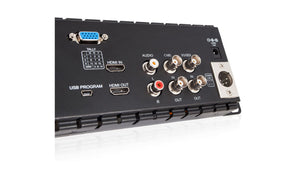 VERSATILE INPUT METHODS
SDI / HDMI / CVBS / Audio
Each LCD of T51 monitor supports:
Input:
3G-SDI X 1
HDMI X 1
CVBS X 1
Auido (L/R) X 2
Output:
3G-SDI X 1
HDMI X 1
CVBS X 1
Audio:
Stereo Headphone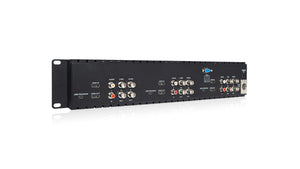 FULL METAL CONSTRUCTION
The Feelworld T51 SDI Triple Rack Mount Monitors come housed in a full metal housing for increased durability and build quality. This rack mount system is designed for continuous use and excellent heat dissipation to improve reliability. The monitor can be reliably carried and installed due to its solid cast-iron handles.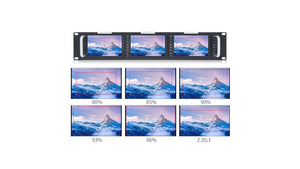 PROFESSIONAL SUITE OF FEATURES
Each of the monitors on the Feelworld T51 SDI come equipped with the vast suite of professional features users of Feelworld monitors love. Make use of peaking focus assist, check field, pixel to pixel scaling, centre markers, and image flipping.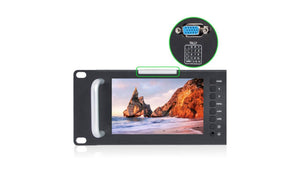 3-colour Tally Light
There are front TALLY lights for each screen, each featuring 3 colour display (Red, Green, and Yellow), which is controlled via the DB-15 ports on the rear of the device.
Incredible Stability and Reliability
As rack mount monitors need to be designed for continuous operation, all components of the Feelworld T51 SDI Triple Rack Mount Monitors must be made in accordance with industrial quality standards. The Full Metal case of the T51 SDI not only make the product more robust and durable but also improves thermal efficiency.
FEELWORLD t51 Rack Mount Monitor - TECHNICAL SPECIFICATIONS
Display Spec.
Model T51
Screen Size 5"×3
Resolution 800×480 pixels
Dot pitch 0.045(W)×0.135(H) mm
Aspect Ratio 16:9
Brightness 500cd/m²
Contrast Ratio 500:1
Backlight LED
Viewing Angle 70°/70°(L/R) 50°/70°(U/D)

Input (Each LCD)
1 X BNC 3G-SDI
1 X HDMI HDMI
1 X BNC Video
2 X RCA Audio(L/R)

Output (Each LCD)
1 X BNC 3G-SDI
1 X HDMI HDMI
1 X BNC Video

Audio (Each LCD)
Audio Out Stereo Headphone × 1

SDI Support Format
480i/576i
720p(60/59.94/50/30/29/25/24/23.98)
1080i(60/59.94/50)
1080p(60/59.94/50/30/29.97/25/24/24sF/23.98/ 23.98sF)

HDMI Support Format
480i/576i/480p/576p
1080i (60/59.94/50)
720p (60/59.94/50/30/29/25/24/23.98)
1080p (60/59.94/50/30/29.97/25/24/24sF/23.98/ 23.98sF)

General
Input Voltage DC9~24V
Power Consumption ≤25W
Power Connector DC/ 4-pin XLR
Working Temperature -20°C~55°C
Storage Temperature -30°C~65°C
Install Way Rack Mount
Unit Size 482.6Lx88Hx34D mm
Unit Weight 1570g
Outer Carton Qty 5
Outer Carton Size 637*552*258 (mm)
Gross Weight 15kgs

Advanced Features
* Peaking Focus Assist(Red highlight over parts of the monochrome image in focus)
* Check Field (Red,Green,Blue,Mono)
* Pixel to Pixel
* Center Marker
* Screen Marker (80%,85%,90%,93%,96%,2.35:1)
* Image Flip (H, V, H/V)
* Image Freeze
* Zoom All
* U/D & L/R Zoom
* Custom Color Temperature
* Built-in LED tally indicators (Red, Green, Yellow)