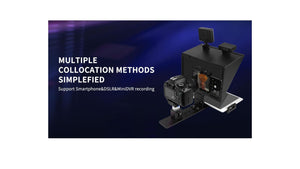 OUR MOST ADVANCED TELEPROMPTER YET
Live streaming has never been more popular. To make live broadcasts more professional and efficient, the teleprompter has become an indispensable tool for creators. It helps users express themselves more smoothly and shorten the distance between the anchor and the audience. The Feelworld TP13A Teleprompter is lightweight and portable and has been developed for professional video shooters. It can be prompted via smartphones and tablets while your DSLR is recording, allowing you to clearly read scrolling text while looking directly into the camera. It supports wide-angle lenses, Android and iOS, and Bluetooth remote control. The operation is made more convenient, making producing video faster. It is the ideal teleprompter for video and program creators.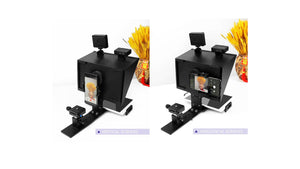 COMPACT AND PORTABLE DESIGN
The Feelworld TP13A Teleprompter uses uses a metal construction, which is sturdy and durable. The compact design is easy to carry and transport, suitable for quickly using in many situations.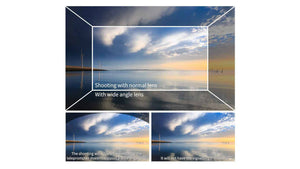 WIDE-ANGLE LENS SUPPORT
The Feelworld TP13A Teleprompter supports shooting with wide-angle lenses, providing a wider viewing angle without the effects of a vignette. When prompted with a smartphone, the TP13A supports more than 24mm focal length. With vertical camera shooting, the focal length for smartphones is 35mm.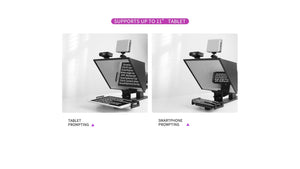 STURDY SMARTPHONE / TABLET CLAMP
The Feelworld TP13A Teleprompter comes equipped with a robust magnetic clamp so you can easily and securely attach your phone or tablet. There is a convenient button to lock the clamp in place. When you're finished shooting, just push the button again to disengage the clamp quickly and intuitively.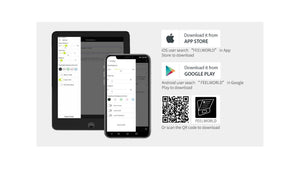 FREE FEELWORLD TELEPROMPTING APP
iOS users can search "Feelworld" on the App Store to download the app.
Android users can download the APP in the following ways:
1. Search "Feelworld" in Google Play to download.
2. Scan the QR code to download.
3. Download from the "Download" section of the TP10 details page.
Note: We updated APP to a new version, and the new one improved the following features:
1. Compatibility with Android phones
2. Adjust the position of playback content
3. Increased the adjustable range of font size
4. Android system can be downloaded directly from Google Play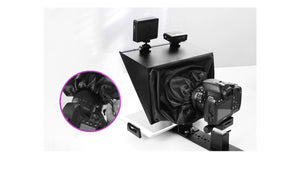 CONVENIENT MOUNTING SOLUTIONS
The Feelworld TP13A comes with two ¼ inch mounting holes on the top for mounting accessories.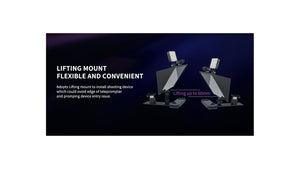 FULLY ADJUSTABLE
The Feelworld TP13A Teleprompter is adjustable to a wide range of angles. The mount can be extended up to 60mm, making the TP13A compatible with a wider variety of cameras and smartphones.
FEELWORLD TP13A Teleprompter Technical Specifications
Model TP13A
Main Material metal
Beam splitter transmission/reflection ratio 70/30
Shooting Focal Length More than 24 mm
Remote controller using distance 100m
Tablet supporting size max. 11-inch
System Supporting Android, IOS
Control Way APP, Bluetooth remote control
Unit Size L260*W320*H(240-300)mm
Unit Weight 1.475kg