Introducing the Feelworld UHD4K12X 4K PTZ Camera, the ultimate tool for capturing stunning visuals with unmatched precision and clarity. Designed with cutting-edge technology and crafted to perfection, this professional-grade camera is a game-changer for photographers, videographers, and content creators alike.

With its impressive 4K resolution, the Feelworld UHD4K12X delivers breathtakingly sharp and lifelike images, allowing you to capture every detail with pristine clarity. Whether you're shooting a live event, a documentary, or a studio production, this camera ensures that every frame is a true masterpiece. Equipped with a powerful PTZ (Pan-Tilt-Zoom) system, you have complete control over your shots, effortlessly adjusting the camera's position and zoom level remotely. This versatility enables you to capture dynamic shots from various angles, bringing your creative vision to life.

The Feelworld UHD4K12X is packed with features that make it a standout in its class. Its advanced autofocus system ensures that your subjects are always in sharp focus, even in fast-paced environments. The camera's low-light capabilities allow you to shoot in challenging lighting conditions, delivering stunning results every time. With its intuitive interface and user-friendly controls, you can easily navigate through the camera's settings and customize your shooting experience. Furthermore, the UHD4K12X offers seamless connectivity options, including HDMI and USB, making it compatible with a wide range of devices and enabling smooth live streaming and recording.

In conclusion, the Feelworld UHD4K12X 4K PTZ Camera is a powerhouse of innovation, delivering unmatched image quality, flexibility, and control. Whether you're a professional filmmaker or an aspiring content creator, this camera will elevate your productions to new heights. Experience the future of visual storytelling with the Feelworld UHD4K12X and unlock limitless creative possibilities.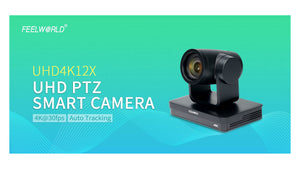 All-in-one Live Video Production Solution
Introducing the Feelworld UHD4K12X 4K PTZ Camera, the ultimate solution for capturing breathtaking footage with unparalleled clarity and precision. This cutting-edge camera is designed to meet the demands of professional videographers, content creators, and live streamers, offering a host of advanced features that will elevate your visual storytelling to new heights.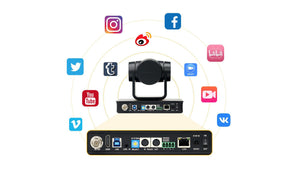 MULTIPLE VIDEO OUTPUT METHODS
With advanced connectivity options, the UHD4K12X is ready to integrate seamlessly into your existing workflow. It supports multiple video outputs, including HDMI, SDI, and IP streaming, ensuring compatibility with a wide range of devices and broadcasting platforms. Whether you're connecting to a professional switcher, a computer for live streaming, or a video recorder, this camera provides the versatility you need to stay connected.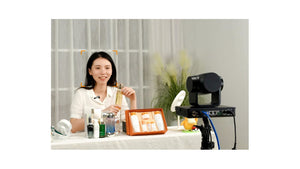 ADVANCED FEATURE SET
The UHD4K12X also incorporates intelligent features such as autofocus, face detection, and image stabilization, enhancing your shooting experience and reducing the need for manual adjustments. Focus on your creativity and let the camera take care of the technical details, ensuring every shot is sharp, well-framed, and visually striking.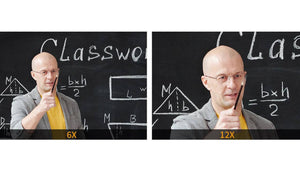 12x optical zoom
Equipped with a powerful 12X optical zoom lens, the UHD4K12X provides unmatched versatility, allowing you to capture close-ups and wide-angle shots with equal ease. Whether you're focusing on a subject from afar or need a wider perspective to capture the entire scene, this camera adapts to your needs, ensuring you never miss a moment.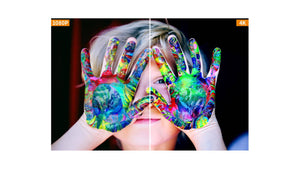 UP TO 4K 30fps Video
At the heart of the UHD4K12X is its exceptional 4K Ultra High Definition resolution, delivering four times the detail and sharpness of Full HD. Whether you're shooting films, documentaries, events, or live broadcasts, this camera ensures every frame is filled with astonishing clarity, lifelike colors, and stunning realism. Say goodbye to blurry images and hello to a truly immersive visual experience.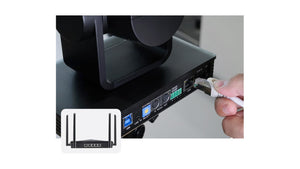 EXCELLENT BUILD QUALITY
Constructed with durability in mind, the UHD4K12X features a robust and sleek design that can withstand the rigors of professional use. It comes with a sturdy mounting bracket for easy installation on tripods, ceilings, or other surfaces, offering flexibility in positioning the camera for optimal shots.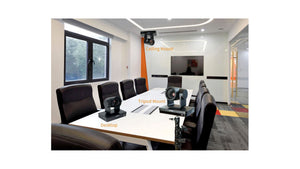 Multiple Mounting Options
The Feelworld UHD4K12X PTZ Camera includes mounting hardware screw holes and standard tripod threads on the base to get you the best video coverage. This also means it is compatible with a wide range of third-party accessories such as tripods, light stands, and more.
Feelworld UHD4K12X Technical Specifications
Camera Parameters
Model UHD4K12X
Sensor 1/2.8 inch high quality CMOS sensor
Effective Pixels 8.51 megapixel, 16:9
View Angle H:6.5°(N)~70.9°(W)
Iris F1.6 ~ F2.8±5%
Digital Zoom 15X
Optical Zoom 12X
Minimum Illumination 0.5Lux(F1.8, AGC ON)
DNR 2D & 3D
White Balance Auto/Manual/One-push/Specified Color Temperature
Focus Auto/Manual/One-push
Exposure Auto, Manual, Shutter Priority, Iris Priority, Brightness Priority
Iris Mode F1.8 ~ F11, CLOSE
Shutter Speed 1/25~1/20000
BLC On/Off
Dynamic Range Off, 1 ~ 8
Video Adjustment Brightness, Chromaticity, Saturation, Contrast, Sharpness, Black And White Mode, Gamma Curve
SNR >50dB


Input/output Interface
Interface HDMI, SDI, LAN(POE), USB3.0, A-IN, RS232-IN, RS232-OUT, RS422(Compatible with RS485), DC12V Power Supply, Dial Switch, Power Switch
Video Output HDMI, 3G-SDI, USB3.0, LAN(support PoE)
Video Compression Format LAN: H.264, H.265; USB: MJPG, H264, YUY2, NV12
Audio Interface Double track 3.5mm linear input
Audio Compression Format AAC, MP3, G.711A
LAN Interface 10M/100M/1000M adaptive Ethernet port, support POE power supply, support audio and video output
Control Interface RS232-IN, RS232-OUT, RS422 compatible with RS485
Control Protocol VISCA/Pelco-D/Pelco-P
Serial Port Communication Protocols VISCA/Pelco-D/Pelco-P
USB Communication Protocols UVC(Video Communication Protocol), UAC(Audio Communication Protocol)
Network Protocol RTSP, RTMP, ONVIF, GB/T28181, VISCA OVER IP, IP VISCA, RTMPS, SRT, support remote upgrade, remote reboot, remote reset
Power Supply HEC3800 Power Socket(DC12V)


PTZ Parameters
Pan Rotation -170°~+170°
Tilt Rotation -30°~+90°
Pan Control Speed 0.1 ~60°/sec
Tilt Control Speed 0.1~30°/sec
Preset Speed Pan: 60°/sec, Tilt: 45°/sec
Preset Number 255 presets(10 via remote control)


Video Signal
HDMI 4KP30/25,1080P60/59.94/50/30/29.97/25,720P60/59.94/50
SDI 1080P30/29.97/25
USB Main Stream YUY2/NV12:1920×1080/1280×720/1024×576/800×600/800×448/640×360/480×270/320×180@10/5fps
USB Main Stream MJPG/H264:3840*2160/1920×1080/1600×896/1280×720/1024×576/960×540/800×600/800×448/720×576/720×480/640×360/640×480/480×270/352×288/320×240@30/25/20/15/10/5fps
USB Sub-stream YUY2/NV12:1280×720/1024×576/800×600/800×448/640×360/640×480/480×270/320×180@30/25/20/15/10/5fps
USB Sub-stream MJPG/H264: 1920×1080/1600×896/1280×720/1024×576/960×540/800×600/800×448/720×576/720×480/640×360/640×480/480×270/352×288/320×240@30/25/20/15/10/5fps


Other Parameters
Input Voltage 12V/1A
Input Current <1A
Power Consumption Maximum: 12W
Stored Temperature -10℃~+70℃
Storage Humidity 20%~95%
Working Temperature -10℃~+50℃
Working Humidity 20%~80%
Dimension (W*H*D) 181mm×115mm×149mm
Unit Weight 1.2kg