Introducing the SEETEC 4K156-9HSD Broadcast Monitor, a cutting-edge visual powerhouse designed to elevate your broadcasting experience. This exceptional monitor offers unrivaled 4K resolution, ensuring every frame is rendered with utmost clarity and precision. With its impressive 15.6-inch display, this monitor provides a generous viewing area that brings your content to life with stunning vibrancy.

Equipped with advanced features, the SEETEC 4K156-9HSD delivers unmatched functionality and versatility. Its wide color gamut guarantees vibrant and accurate color reproduction, enhancing the visual impact of your projects. The monitor's HDR support adds depth and richness to your footage, making shadows more defined and highlights more vivid for a truly immersive viewing experience.

The SEETEC 4K156-9HSD boasts a wide range of connectivity options, including HDMI and 3G-SDI inputs, ensuring seamless integration with various broadcasting equipment. With its user-friendly interface and intuitive controls, navigating through the monitor's features and settings becomes effortless, allowing you to focus on your creative process. Additionally, its lightweight and portable design make it an ideal companion for both studio use and on-location shoots.

Invest in the SEETEC 4K156-9HSD Broadcast Monitor and revolutionize your broadcasting workflow. Witness the remarkable level of detail and color accuracy that this monitor brings to your projects, empowering you to deliver captivating content that captivates audiences and leaves a lasting impression. Elevate your visual storytelling with the SEETEC 4K156-9HSD, the ultimate tool for professional broadcasters.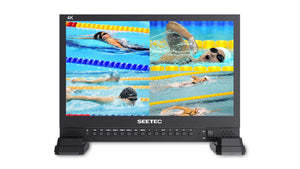 FUTUREPROOF YOUR SETUP WITH SEETEC
Upgrade your monitoring setup with the SEETEC 4K156-9HSD 4K Broadcast Monitor. This 15.6-inch monitor boasts a 3840 x 2160 panel for crystal-clear viewing of every pixel in stunning 4K Ultra HD images. With support for SD, HD-SDI, 3G-SDI, and 4K HDMI 2160P sources, this future-proof solution handles all your monitoring needs. Experience every detail with the 3840 x 2160 resolution and smooth 60fps playback via HDMI input. Ideal for high-motion broadcasts like sports, this SEETEC monitor combines fast frame rates with a future-proof design for unrivaled performance.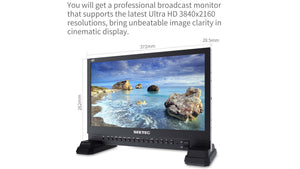 EXCELLENT 4K ULTRA HD SEETEC PANEL
Immerse yourself in the vibrant world of the SEETEC 4K156-9HSD 4K Broadcast Monitor. With wide 170-degree viewing angles, it guarantees optimal visibility for multiple crew members. Its 4K Ultra HD IPS panel delivers unrivaled colour accuracy and breathtaking picture quality. Elevate your viewing experience with this high-performance monitor.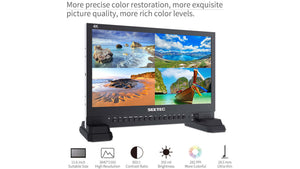 Built-in Quad View
Experience the versatility of the SEETEC 4K156-9HSD 4K Broadcast Monitor, enabling you to view multiple video sources on a single monitor. When producing a live programme from multiple cameras, it's crucial to have simultaneous access to multiple video sources. The SEETEC 4K156-9HSD 4K Broadcast Monitor boasts four 4K HDMI inputs, one SDI input with loop out, DVI, and VGA. It also supports quad, dual, and single-view monitoring functions, ensuring flawless multi-camera monitoring in both field and studio environments.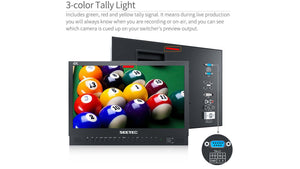 3-colour Tally Light
SEETEC 4K156-9HSD 4K Broadcast Monitors boast crystal-clear IPS screens and tally functionality, making them the ideal choice for live broadcasts. With green, red, and yellow tally signals, the SEETEC 4K156-9HSD keeps you informed during production, indicating recording or on-air status. It seamlessly integrates with live switchers, allowing you to identify the active camera. The tally connects via an industry-standard parallel pin connector at the rear, ensuring complete compatibility with switchers and automation systems. Streamline your broadcasting setup today!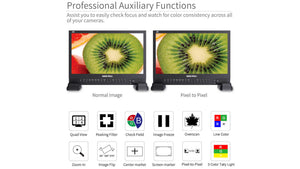 Uninterrupted Power
No matter if you're dealing with SD, HD, or Ultra HD, the SEETEC 4K156-9HSD 4K Broadcast Monitor is an exceptionally versatile monitor equipped with a multitude of features, making it ideal for live broadcasting and post-production alike. With XLR power, this monitor from SEETEC is suitable for various locations. Whether you're on set utilizing external batteries or in your newsrooms, vans, or post-production facilities with standard power, this monitor has you covered.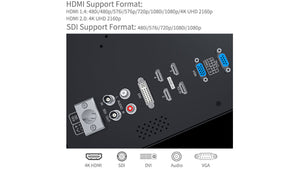 TRUSTED SEETEC QUALITY
Transform any live event into a high-quality HD TV program with the SEETEC 4K156-9HSD 4K Broadcast Monitor. Affordable and reliable, SEETEC monitors offer a seamless solution for creating exceptional HD programs on-the-go. Ideal for broadcasters, professional sports, concerts, seminars, and more. With its robust design and outstanding features, the SEETEC 4K156-9HSD ensures effortless, intuitive, and efficient production of captivating content.





SEETEC 4K156-9HSD TECHNICAL SPECIFICATIONS
Display Spec.
Model 4K156-9HSD
Screen Size 15.6" IPS
Color Depth 16.7M colors (8-bits)
Resolution 3840×2160 pixels
Pixel Pitch 0.0897 x 0.0897 mm
Aspect Ratio 16:9
Brightness 300cd/m²
Contrast Ratio 800:1
Backlight LED
Viewing Angle 85°/85°(L/R) 85°/85°(U/D)

Input
4 X HDMI HDMI (HDMI2.0x1 support 4K 60HZ; HDMI1.4x3 support 4K 30HZ)
1 X BNC SDI
1 X DVI DVI
1 X VGA VGA
2 X RCA Audio(L/R)
1 X DB-9 Tally

Output
1 X BNC SDI

Audio
Audio Out Headphone, Speaker

SDI Support Format
720p(60/59.94/50/30/29/25/24/23.98)
1080p(60/59.94/50/30/29.97/25/24/24sF/23.98/ 23.98sF)

HDMI Support Format
HDMI 2.0: 4K UHD 2160p (23.98/24/25/29.97/30/50/59.94/60)
HDMI 1.4: 4K UHD 2160p (23.98/24/25/29.97/30)
480p/576p
720p (60/59.94/50/30/29/25/24/23.98)
1080p (60/59.94/50/30/29.97/25/24/24sF/23.98/ 23.98sF)

General
Input Voltage DC12~24V (XLR)
Power Consumption ≤18W
Working Temperature -10°C~50°C
Storage Temperature -20°C~60°C
Unit Size (mm) 372L×262H×28.5D (mm) (Without Bracket)
Unit Weight 2.03kg (Without Bracket)
Outer Carton Qty 2
Outer Carton Size 417*332*477 (mm)
Gross Weight 7.6kgs

Advanced Features
* Quad Split Display (1P, 2P LR, 2P TB, 2P PIP, 4P)
* Peaking Focus Assist
* False Color
* Overscan
* Display Rotate (0°, 90°, 180°, 270°)
* Check Field (Red, Green, Blue, Mono)
* Image Freeze
* Zoom
* Pixel to Pixel
* Center Marker
* Screen Marker (80%, 85%, 90%, 93%, 96%, 2.35:1)
* Line Color (Red, Green, Blue, White)
* Color Temperature Adjustment
* Built-in LED tally indicators (Red, Green, Yellow)
Back to top