Introducing the SEETEC ATEM156 Monitor – the ultimate solution for professional broadcasting needs. Designed with cutting-edge technology and exceptional attention to detail, this high-performance SEETEC monitor is set to revolutionize your viewing experience.

Equipped with a spacious 15.6-inch display, the SEETEC ATEM156 monitor delivers crystal-clear imagery and vibrant colors that bring your content to life. Its Full HD resolution ensures every pixel is displayed with utmost precision, providing unparalleled visual clarity. Whether you're editing videos, conducting live broadcasts, or simply reviewing footage, this monitor offers remarkable accuracy and fidelity that meet the demands of even the most discerning professionals.

Featuring a wide viewing angle, the SEETEC ATEM156 monitor ensures that every member of your team can comfortably view the screen without compromising on image quality. With its advanced LED backlighting, this SEETEC monitor guarantees consistent brightness levels across the entire display, making it perfect for use in various lighting conditions.

Designed with convenience in mind, the SEETEC ATEM156 monitor comes equipped with a range of connectivity options, including HDMI, allowing seamless integration with your existing equipment. Its rugged yet sleek design ensures durability and portability, making it an ideal companion for on-location shoots or studio environments.

Experience enhanced control and efficiency with the SEETEC ATEM156 intuitive on-screen display and customizable function buttons. Adjust and fine-tune various parameters such as brightness, contrast, and color settings to match your specific preferences and requirements. The SEETEC monitor also supports features like peaking, histogram, and false color, providing invaluable tools for accurate monitoring and precise content creation.

Upgrade your broadcasting setup with the SEETEC ATEM156 Broadcast Monitor – the perfect blend of advanced technology, exceptional performance, and unparalleled versatility. Discover a new level of visual excellence and elevate your professional workflow to new heights with this remarkable SEETEC monitor.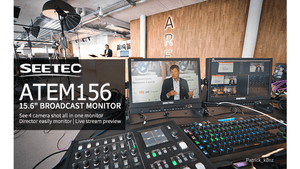 EXCELLENT CONNECTIVITY
The SEETEC ATEM156 Monitor features four 4K HDMI Input and Output ports. This versatile monitor can also be used to view multiple feeds simultaneously, controllable with an external mixer switcher like the ATEM Mini. During a live broadcast, you can preview the feed and switch to the desired screen. The SEETEC ATEM156 is equipped with a 15.6-inch IPS LCD panel, which has a resolution of 1920 x 1080, a contrast ratio of 800:1, and an LED backlight with a brightness of 250cd/m², providing an accurate reproduction of captured video. It combines wide 170° viewing angles in both horizontal and vertical directions to reduce colour changes due to the angle you're viewing from, ensuring you can always monitor your shots with excellent colour accuracy.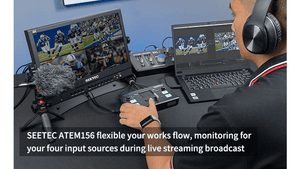 PROFESSIONAL TOOLS
The SEETEC ATEM156 Broadcast Monitor comprises a range of proficient monitoring features that align with the actual requirements of pre- and post-production. It encompasses focus-checking capabilities like Peaking Focus, False Colour, and Pixel to Pixel scaling, aiding in capturing superior shots with crisp visuals. It is endowed with an instinctive control panel, incorporating shortcut keys with customizable functions for swift activation when necessary. To power the SEETEC ATEM156 Broadcast Monitor, you can employ the 12V DC power input or the V-mount battery plate situated at the rear of the device. Package Includes: 1x ATEM156 Monitor, 1× Mini/ Micro HDMI to HDMI Cable, 1× V-mount Battery Plate, 1× 3A Power Adapter, 1× U-shaped Bracket (Please note: batteries are not included). Accompanied by a one-year warranty.
MULTI-VIEW CAPABILITY
When you're creating a live programme with multiple camera angles, it's important to be able to see them at the same time so you can see which shot works best. The SEETEC ATEM156 Broadcast Monitor features four 4K HDMI inputs and outputs, supports quad view, dual view, and single view monitoring functions, which allows you to get perfect multi-camera monitoring in any location.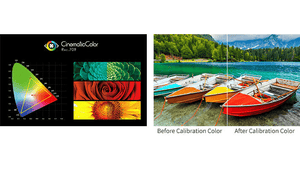 True Colour · Professional Colour Calibration
Discover the SEETEC ATEM156 Broadcast Studio Monitor, meticulously factory-calibrated to meet the exacting standards of the professional Rec.709 HD colour spectrum. This expert calibration ensures seamless efficiency in achieving monitor calibration, effortlessly delivering precise and true-to-life colour reproduction without any distortions. Trust in this monitor's ability to faithfully portray the real image as you shoot videos, guaranteeing an unparalleled viewing experience that accurately reflects the original content with unwavering accuracy.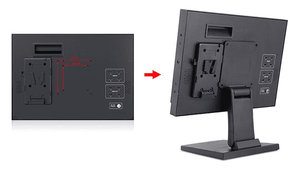 VESA COMPATIBILITY FOR EASY MOUNTING
The incorporated VESA mounting points ensure there is no need to rack-mount the SEETEC ATEM156 Broadcast Monitor. This monitor is compatible with an extensive selection of stands, wall mounts, and monitor arms, allowing you to conveniently mount the SEETEC ATEM156 wherever it is required.
LIGHT, DURABLE CHASSIS
The chassis of the SEETEC ATEM156 Broadcast Monitor is constructed from highly durable and lightweight aircraft-grade aluminium, rendering the weight of the SEETEC ATEM156 Broadcast Monitor exceptionally light at 1.57kg (excluding mounting brackets). Aluminium possesses robust and enduring qualities, rendering the SEETEC ATEM156 Broadcast Monitor well-suited for high-intensity production tasks like mobile shooting, location shooting, or live broadcasts.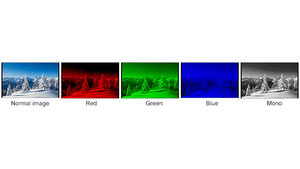 Check Field
The SEETEC ATEM156 Broadcast Monitor includes the Check Field function to modify camera colour settings. Within the check field mode, you have the option to utilize red, green, blue, or mono pixels to create the image, enabling faster and more precise adjustments to hue and saturation.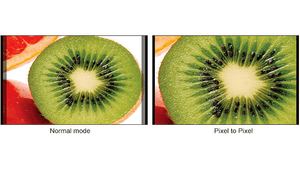 Pixel to Pixel
Enables the filmmaker to check the image from the 1:1 signal source without scaling. This feature is essential for capturing optimum detail.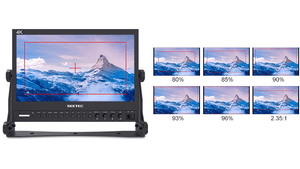 Centre Marker & Safe Marker
Safe Mark for View Finding and Composition (80%, 85%, 90%, 93%, 96%,2.35:1)
Seetec ATEM156 broadcast monitor
Display Spec.
Model: ATEM156 monitor
Screen Size: 15.6" IPS
Color Depth: 16.7M colors (8-bits)
Resolution: 1920×1080 pixels
Pixel Pitch: 0.17925 (H) X 0.17925 (V) mm
Aspect Ratio: 16:9
Brightness: 250cd/m²
Contrast Ratio: 800:1
Backlight: LED
Viewing Angle: 85°/85°(L/R) 85°/85°(U/D)
Input / Output
Input: 4 X HDMI(Support 4K 30Hz)
Output: 4 X HDMI (Support 4K 30Hz)
Audio Out: 3.5mm Stereo Headphone
HDMI Support Format:
480p/576p
720p (60/59.94/50/30/29.97/25/24/23.98)
1080p (60/59.94/50/30/29.97/25/24/23.98)
3840×2160p (30/25/24), 4096×2160p (24)

General
Input Voltage: DC12~24V
Power Consumption: ≤12W
Working Temperature: -10°C~50°C
Storage Temperature: -20°C~60°C
Unit Size (mm): 372L×262H×28.4D (mm) (Without Bracket)
Unit Weight: 1.57kg (Without Bracket)
Other options