Introducing the SEETEC FS173-S4K Broadcast Monitor, a cutting-edge display designed to revolutionize your visual experience. This high-performance monitor boasts a stunning 1920x1080 resolution, bringing your content to life with unparalleled clarity and detail. Whether you're a professional videographer, filmmaker, or broadcast enthusiast, this monitor is an essential tool that will elevate your work to new heights.

Equipped with advanced features, the SEETEC FS173-S4K offers exceptional image quality and accurate color reproduction. Its wide viewing angle ensures that every member of your team can appreciate the vibrant visuals from any position in the room. With an impressive contrast ratio, this monitor delivers deep blacks and striking brightness levels, allowing you to discern even the finest nuances in your footage.

The SEETEC FS173-S4K Broadcast Monitor is not just about exceptional visuals; it also offers a range of practical features to enhance your workflow. Its intuitive user interface allows for effortless navigation and customization, ensuring that you can tailor the monitor's settings to suit your specific requirements. The multiple connectivity options, including HDMI, SDI, and VGA, provide seamless integration with various devices, making it a versatile solution for any production environment.

Invest in the SEETEC FS173-S4K Broadcast Monitor and unlock the true potential of your visuals. With its remarkable resolution, impeccable image quality, and user-friendly design, this monitor is an indispensable companion for professionals in the broadcast industry. Stay ahead of the competition and deliver captivating content that captivates audiences with the SEETEC FS173-S4K Broadcast Monitor.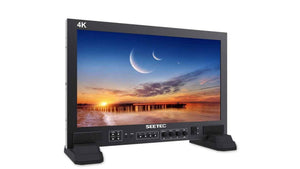 USEFUL PROFESSIONAL FUNCTIONS
The SEETEC FS173-S4K Broadcast Studio Monitor comes equipped with the features professionals find most useful, including Peaking Filter, Image Freeze, Check Field, Centre Markers, and Colour Temperature adjustment. The features of this SEETEC monitor are designed to assist users in accurately controlling the exposure and focus when shooting, making and playing movies and videos.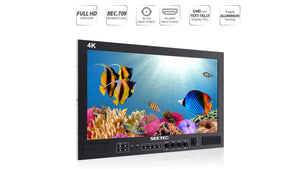 Excellent Broadcast-Quality Display
Experience Full HD 1920x1080 resolution, 16.7 million colours, and clearer and sharper details with the SEETEC FS173-S4K Broadcast Studio Monitor's excellent IPS display. What you see is truly what you get, so you can be sure that you're getting the shots you need. This large 17.3-inch display allows you to see every pixel.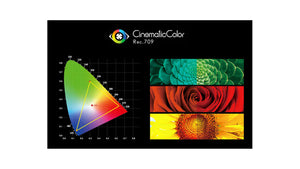 Professional Colour Calibration
Discover the SEETEC FS173-S4K Broadcast Studio Monitor, meticulously factory-calibrated to meet the exacting standards of the professional Rec.709 HD colour spectrum. This expert calibration ensures seamless efficiency in achieving monitor calibration, effortlessly delivering precise and true-to-life colour reproduction without any distortions. Trust in this monitor's ability to faithfully portray the real image as you shoot videos, guaranteeing an unparalleled viewing experience that accurately reflects the original content with unwavering accuracy.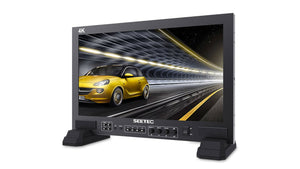 Accurate Colour Reproduction
The SEETEC FS173-S4K Broadcast Studio Monitor supports ITU standards and the HD video Rec.709 standard colour space, along with advanced image processing technology so that images are presented with extremely accurate, natural colours. With this SEETEC monitor, professionals can accurately evaluate the quality of various input video signals.
Innovative Operating Methods
The convenient buttons on the SEETEC FS173-S4K Broadcast Studio Monitor allow you to switch between video signals quickly; this SEETEC monitor can switch between VIDEO, DVI, HDMI, and SDI. SEETEC FS173-S4K Broadcast Studio Monitors come with four assignable shortcut keys: F1, F2, F3 and F4 for quick access to the functions you need most, including Peaking, Pixel to Pixel, Camera Mode, Centre Marker, Screen Marker and other functions at the push of a button. The SEETEC FS173-S4K Broadcast Studio Monitor also features four rotary encoder switches which allow immediate access to Menu, Saturation, Brightness, Contrast, Focus, and Camera Modes.
Professional Monitoring, Done Easily
The SEETEC FS173-S4K Broadcast Studio Monitor offers broadcast quality SD, HD and 3G monitoring. The SEETEC FS173-S4K is an incredibly high-quality monitor that is versatile enough to be used for broadcast facilities, mobile live productions or on set for feature film production. The monitor comes with 3G/HD/SD-SDI, HDMI, Audio, Video, RS485, and DVI-I inputs to meet all HD, SD, and analogue video signal inputs with a professional suite of tools to help you get great shots.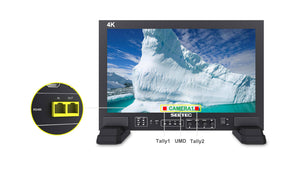 UMD and Text-Tally Display
The SEETEC FS173-S4K Broadcast Studio Monitor supports UMD and Text-Tally display using the TSL 3.1/4.0 protocol, with 0-126 TSL address selection to display up to 16 letters. The UMD inputs and outputs via the RS485 ports.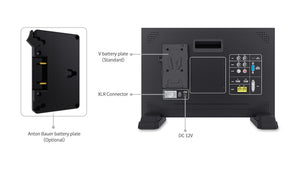 Monitoring wherever you need it
We've made it easier than ever to power the monitor. SEETEC FS173-S4K Broadcast Studio Monitors can be powered in two ways: with either a DC adapter or lithium batteries. The SEETEC FS173-S4K has a flexible battery system that supports the V battery plate (standard) and Anton Bauer battery plates.
Stability and Reliability
The Machined aluminium design of the SEETEC FS173-S4K Broadcast Studio Monitor is built to last. The full metal shell not only makes the product lighter and more durable but also helps improve thermal efficiency.
SEETEC FS215-S4K MONITOR - TECHNICAL SPECIFICATIONS
 Display Spec.
Model FS173-S4K
Screen Size 17.3"
Color Depth 16.7M
Resolution 1920×1080 pixels
Dot pitch 0.1989(H)×0.1989(V) mm
Aspect Ratio 16:9
Brightness 300cd/m²
Contrast Ratio 700:1
Backlight LED
Viewing Angle 89°/89°(L/R) 89°/89°(U/D)

Input
1 X BNC 3G-SDI
1 X HDMI HDMI
1 X Video Video
2 X RCA Audio(L/R)
1 X DVI-I DVI-I
1 X RS485 RS485

Output
1 X BNC 3G-SDI
1 X HDMI HDMI
1 X Video Video
1 X RS485 RS485

Audio
Audio Stereo Headphone, Speaker

SDI Support Format
480i/576i
720p(60/59.94/50/30/29/25/24/23.98)
1080i(60/59.94/50)
1080p(60/59.94/50/30/29.97/25/24/24sF/23.98/ 23.98sF)

HDMI Support Format
480i/576i/480p/576p
1080i (60/59.94/50)
720p (60/59.94/50/30/29/25/24/23.98)
1080p (60/59.94/50/30/29.97/25/24/24sF/23.98/ 23.98sF)
4K UHD 3840×2160p (30/29.97/25/24/23.98Hz), 4096×2160p (24Hz)

General
Input Voltage DC9-24V
Power Consumption ≤27W
Working Temperature -10°C~50°C
Storage Temperature -20°C~60°C
Unit Size 425L×284H×35.7D mm (W/O stand feet)
Unit Weight 3.2kg
Outer Carton Qty 2
Outer Carton Size 535*350*425 (mm)
Gross Weight 12kgs

Advanced Features
* UMD and Text-Tally Display (TSL 3.1/4.0 Protocol)
* Peaking Focus Assist(Red highlight over parts of the monochrome image in focus)
* Center Marker
* Screen Marker (80%,85%,90%,93%,96%,2.35:1)
* Image Freeze
* Image Flip (H, V, H/V)
* Camera Mode
* Pixel-to-Pixel (Nonsupport in 4K input)
* Check Field (Red,Green,Blue,Mono)
* Zoom All (Nonsupport in 4K input)
* U/D & L/R Zoom (Nonsupport in 4K input)
* Aspect Ratio (Nonsupport in 4K input)
* Custom Color Temperature
* Built-in LED tally indicators optional