Introducing the SEETEC LUT215 Post-Production Broadcast Monitor, a top-of-the-line professional display designed to elevate your post-production workflow to new heights. With its impressive 1920x1080 resolution, this cutting-edge monitor ensures unparalleled clarity and precision, allowing you to immerse yourself in stunning visuals with every pixel brought to life.

Equipped with advanced features tailored for the broadcast industry, the SEETEC LUT215 guarantees accurate color reproduction and impeccable image quality. Its wide color gamut and high contrast ratio deliver vibrant hues and deep blacks, presenting your content with exceptional richness and detail. Whether you're editing videos, creating visual effects, or grading footage, this monitor provides the visual accuracy you need to achieve true cinematic brilliance.

Designed with professional users in mind, the SEETEC LUT215 boasts a sleek and ergonomic design, complemented by a user-friendly interface. The monitor's extensive connectivity options, including SDI, HDMI, and DVI inputs, ensure seamless compatibility with a wide range of devices and systems. Additionally, its integrated LUT support enables effortless color grading, empowering you to achieve your desired look efficiently.

Experience unparalleled image fidelity and precise color reproduction with the SEETEC LUT215 Post-Production Broadcast Monitor. This monitor is your ultimate companion for delivering exceptional visual content that captivates audiences and meets the highest industry standards. Upgrade your post-production setup today and unlock a world of limitless creative possibilities.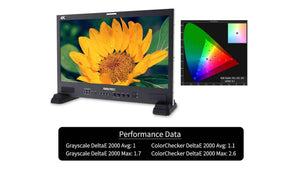 FACTORY COLOUR CALIBRATION
Discover the SEETEC LUT215 Broadcast Monitor, meticulously factory-calibrated to meet the exacting standards of the professional Rec.709 HD colour spectrum. This expert calibration ensures seamless efficiency in achieving monitor calibration, effortlessly delivering precise and true-to-life colour reproduction without any distortions. Trust in this monitor's ability to faithfully portray the real image as you shoot videos, guaranteeing an unparalleled viewing experience that accurately reflects the original content with unwavering accuracy.
BUILT IN 3D LUTs
The SEETEC LUT215 Broadcast Monitor supports custom 3D LUTs, ensuring you can be consistent when filming and always maintain the same colours. Store up to 16 custom LUTs that can help you save time during production and ensure you capture the right colours. The SEETEC LUT215 Broadcast Monitor supports C-log standard, C-log full, S-log2, S-log3, and BMD-4Klog.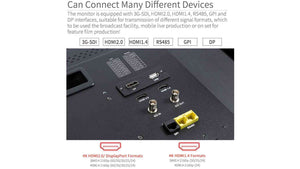 EXCELLENT CONNECTIVITY
The SEETEC LUT215 Broadcast Monitor comes as with built in 3G-SDI, HDMI 2.0, HDMI 1.4, RS485, GPI and display port inputs as standard, which offers great connectivity to other devices. The SEETEC LUT215 Broadcast Monitor is versatile, and is a great choice for broadcast facilities, live production as well as feature film production.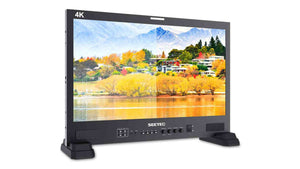 ACCURATE EXPOSURE AND FOCUS
The SEETEC LUT215 Broadcast Monitor features an excellent Full HD 21.5" IPS panel with a resolution of 1920 x 1080. With a contrast ratio of 3000:1 and a bright 250 nit backlight, you can be sure that the SEETEC LUT215 Broadcast Monitor provides an accurate representation of your footage, allowing you to get great shots on the first try. The SEETEC LUT215 Broadcast Monitor also features an incredibly wide 178 degree viewing angle which means the whole crew can monitor the footage in great clarity, no matter the angle they view it from.
VERSATILE FEATURES
The SEETEC LUT215 Broadcast Monitor features a large suite of features professionals find useful, including Picture in Picture to monitor two feeds simultaneously for comparison, up to 16 custom LUTs for excellent colour calibration, Tally Lights, Anamorphic mode, False colours, Peaking filter, embedded audio, time code display, over exposure, safety markers, and much more!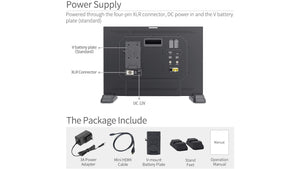 LIGHTWEIGHT, DURABLE CONSTRUCTION
The SEETEC LUT215 Broadcast Monitor has a body composed of high quality machined aluminium, so you can be sure your monitor can go anywhere you can with its metal construction and lightweight design. This also comes with the added benefit of improved passive cooling performance.
Seetec ATEM156 broadcast monitor
Display Spec.
Model: ATEM156 monitor
Screen Size: 15.6" IPS
Color Depth: 16.7M colors (8-bits)
Resolution: 1920×1080 pixels
Pixel Pitch: 0.17925 (H) X 0.17925 (V) mm
Aspect Ratio: 16:9
Brightness: 250cd/m²
Contrast Ratio: 800:1
Backlight: LED
Viewing Angle: 85°/85°(L/R) 85°/85°(U/D)
Input / Output
Input: 4 X HDMI(Support 4K 30Hz)
Output: 4 X HDMI (Support 4K 30Hz)
Audio Out: 3.5mm Stereo Headphone
HDMI Support Format:
480p/576p
720p (60/59.94/50/30/29.97/25/24/23.98)
1080p (60/59.94/50/30/29.97/25/24/23.98)
3840×2160p (30/25/24), 4096×2160p (24)

General
Input Voltage: DC12~24V
Power Consumption: ≤12W
Working Temperature: -10°C~50°C
Storage Temperature: -20°C~60°C
Unit Size (mm): 372L×262H×28.4D (mm) (Without Bracket)
Unit Weight: 1.57kg (Without Bracket)
Other options