Introducing the SEETEC P150-3HSD Broadcast Monitor, a cutting-edge display designed to revolutionize your viewing experience. With its remarkable 1024x768 resolution, this monitor delivers astonishing visual clarity that will leave you mesmerized. Whether you're a professional broadcaster, filmmaker, or avid video enthusiast, the SEETEC P150-3HSD is the ultimate companion for all your visual needs.

Equipped with advanced features, this broadcast monitor offers exceptional colour accuracy and precise image reproduction, ensuring that every frame is presented with incredible detail and vibrancy. Its high-definition display brings out the finest nuances in your content, making it a valuable asset for video editing, post-production, and colour grading. The SEETEC P150-3HSD's expansive screen size and wide viewing angle further enhance your viewing experience, allowing you to enjoy exceptional visuals from any position.

Crafted with meticulous attention to detail, the SEETEC P150-3HSD is not only visually impressive but also highly functional. Its intuitive user interface provides easy access to a range of customizable settings, enabling you to fine-tune the monitor to suit your preferences. Equipped with multiple connectivity options, including HDMI, VGA, and BNC, this broadcast monitor ensures seamless compatibility with various devices, making it a versatile addition to your professional setup.

In summary, the SEETEC P150-3HSD Broadcast Monitor stands out with its superior 1024x768 resolution and exceptional image quality. Immerse yourself in breathtaking visuals and unlock new levels of creativity with this state-of-the-art display. Experience the future of broadcasting and elevate your work to new heights with the SEETEC P150-3HSD Broadcast Monitor.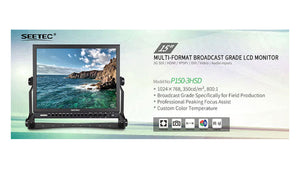 TRUSTED SEETEC MONITOR QUALITY
The SEETEC P150-3HSD Professional Broadcast Monitor has been widely used in TV news production, broadcasting houses, TV broadcasting trucks as well as other fields. Since this series has been designed to work alongside other pieces of professional equipment, high stability, reliability and electromagnetic compatibility have been built into the design to make sure the whole system works smoothly.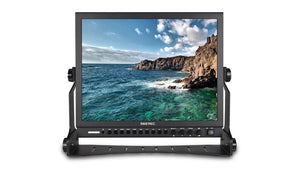 EXCELLENT STABILITY AND RELIABILITY
The full aluminium case not only makes the product more solid and durable but also helps to improve the unit's thermal efficiency. Furthermore, the full aluminium case of the SEETEC P150-3HSD Professional Broadcast Monitor helps to prevent electromagnetic interference. This SEETEC monitor features an excellent 1024X768 high-definition panel. With the SEETEC P150-3HSD Professional Broadcast Monitor's large screen size of 15 inches with a 4:3 ratio, 800:1 Contrast, and a brightness of 350cd/m², we can see that this monitor is a good choice for film crews in the field and indoor applications.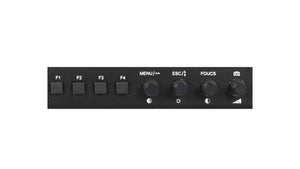 SEETEC INNOVATIVE DISPLAY OPERATION
The SEETEC P150-3HSD Professional Broadcast Monitor features four function keys for peaking focus assist, check field, camera mode function, pixel to pixel, Center Marker, Safe Marker, Image Flip and so on, which can be set to what professional users need most. The dual functionality and knob type switches are SEETEC's exclusive technology feature, which is designed to bring you more convenient, intuitive, and rapid operation.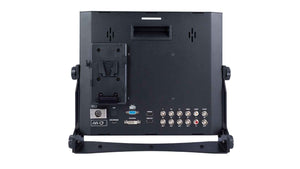 P150-3HSD FEATURES MULTIPLE INPUTS AND OUTPUT OPTIONS
Input:
3G-SDI X 1
HDMI X 1YPbPr X 3
DVI X 1
Video X 1
Auido (L/R) X 2
Output:
3G-SDI X 1
HDMI X 1
YPbPr X 3
Video X 1
Audio:Stereo Headphone
Internal Speaker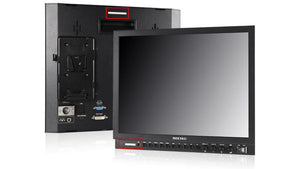 This Seetec Monitor FEATURES TALLY LIGHT SUPPORT
The SEETEC P150-3HSD Professional Broadcast Monitor features a 3-colour (Red, Green, Yellow) Tally Light both on the front and rear side of the device, which are controlled via DB-9 ports on the rear panel.
The P150-3SD Seetec monitor
1× Mini HDMI Cable
1× V Battery Plate
1× 1.5A Power Adapter
1× Tally Kit
1× Sunshade
1× U bracket
1× Operation Manual
Features:
1. Wide view angle, HD 1024×768, bright, colorful display
2. HDMI, 3G-SDI, Ypbpr, Video, Audio(L/R) inputs and HDMI, 3G-SDI, Ypbpr, Video loop-through outputs
3. Special Features:
* Peaking Focus Assist (Red highlight over parts of the monochrome image in focus)
* Check Field (Red, Green, Blue, Mono)
* Camera Mode
* Pixel to Pixel
* Center Marker
* Safe Marker (80%, 85%, 90%, 93%, 96%, 2.35:1)
* Image Flip (Horizontal, Vertical, Hor&Ver)
* Image Freeze
* Zoom All* U/D & L/R Zoom
4. Monitoring via front panel 3.5mm stereo headphone jack and built-in speaker
5. Built-in LED tally indicators (Red, Green, Yellow)
6. Power using included 12-volt supply or use standard 4-pin XLR
Display Spec.
Screen Size: 15"
Resolution: 1024×768 pixels
Pixel Pitch: 0.297(H)×0.297(V) mm
Aspect Ratio: 4:3
Brightness: 350cd/m²
Contrast Ratio: 800:1
Backlight: LED
Viewing Angle: 80°/80°(L/R) 65°/80°(U/D)
Input
1 X BNC: 3G-SDI
1 X HDMI: HDMI
3 X BNC: YPbPr
1 X DVI-I: DVI-I
1 X BNC: Video
2 X RCA: Audio(L/R)
Output
1 X BNC: 3G-SDI
1 X HDMI: HDMI
3 X BNC: YPbPr
1 X BNC: Video
Audio
Audio Out: Stereo Headphone, Speaker
SDI Support Format
480i/576i
720p(60/59.94/50/30/29/25/24/23.98)
1080i(60/59.94/50)
1080p(60/59.94/50/30/29.97/25/24/24sF/23.98/ 23.98sF)
HDMI Support Format
480i/576i/480p/576p1080i (60/59.94/50)
720p (60/59.94/50/30/29/25/24/23.98)
1080p (60/59.94/50/30/29.97/25/24/24sF/23.98/ 23.98sF)
4K UHD 3840×2160p (30/29.97/25/24/23.98Hz), 4096×2160p (24Hz)
General
Input Voltage: DC9~24V
Power Consumption: ≤15W
Working Temperature: -10°C~50°C
Storage Temperature: -20°C~60°C
Unit Size: 331.1L×282.6H×33.8D mm (W/O Bracket)
Unit Weight: 2.07kg (W/O Bracket)/ 2.60kg (W/Bracket)