Introducing the SEETEC WPC215, a game-changing 21.5-inch portable director monitor designed to elevate your professional workflow to new heights. With a dazzling 1000-nit high-bright display, this monitor ensures impeccable clarity and exceptional performance even in the brightest outdoor environments. Its Full HD 1920x1080 resolution guarantees razor-sharp image quality and accurate colour representation, making it an indispensable tool for filmmakers, photographers, and content creators.
The WPC215's ergonomic design and lightweight construction make it incredibly easy to carry on set, allowing directors, cinematographers, and producers to have an up-close view of their work without missing a beat. Equipped with an array of advanced features such as waveform, vectorscope, and histogram for precise monitoring, as well as 3D LUT support for colour calibration, this monitor empowers professionals to achieve their creative vision with precision and confidence.
Versatile connectivity options including HDMI, SDI, and AV inputs ensure compatibility with a wide range of camera systems. The SEETEC WPC215 is the ultimate portable director monitor, delivering exceptional performance and reliability for those who demand nothing but the best in their craft. Elevate your visual storytelling experience today with the SEETEC WPC215.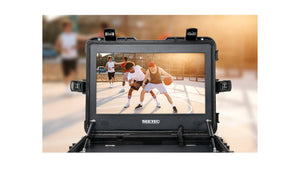 High-Brightness Brilliance
The SEETEC WPC215 boasts a stunning 1000-nit high-brightness display, ensuring crystal-clear visuals even in the brightest outdoor environments. Whether you're filming under the scorching sun or in challenging lighting conditions, this monitor ensures you never miss a detail.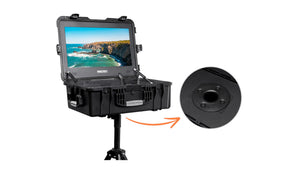 EXTENSIVE FIELD MOUNTING OPTIONS
The SEETEC WPC215 features extensive mounting options that make it ideal for a wide range of setups. It features a large tripod mounting connector on the base to keep the monitor at eye level, as well as extensive mounting points for peripherals such as wireless transmitters.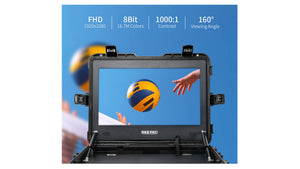 Full HD Clarity
Experience breathtaking Full HD resolution at 1920x1080 pixels, providing you with unparalleled image clarity and vivid colours. Every frame comes to life with exceptional precision and accuracy, allowing you to make critical decisions with confidence.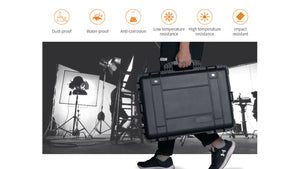 Portable Perfection
Built with portability in mind, the SEETEC WPC215 is incredibly lightweight and comes with a convenient carry-on design. This makes it the ideal choice for on-location shoots and outdoor productions. It's easy to transport and set up, ensuring you have the right tools at your fingertips, wherever your creative journey takes you.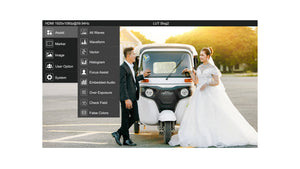 Advanced Monitoring Features
Equipped with a range of advanced monitoring tools, the SEETEC WPC215 offers you unparalleled control over your shots. Features like waveform, vectorscope, and histogram assist you in achieving the perfect exposure and colour balance. Focus assist, peaking, and zoom functions ensure your images are tack-sharp and true to your vision.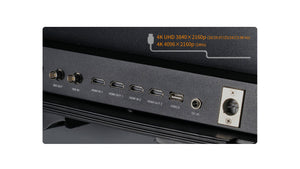 Versatile Connectivity
The SEETEC WPC215 offers a multitude of connectivity options, including HDMI, 3G-SDI, and composite inputs. This versatility allows seamless integration with a variety of cameras and video sources, making it a valuable addition to any production setup.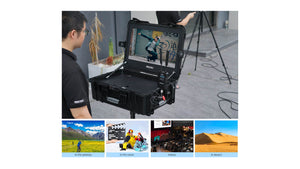 Robust Build
Crafted with durability in mind, the SEETEC WPC215 features a rugged construction that can withstand the rigors of professional filmmaking. Its sleek and ergonomic design ensures ease of use and guarantees that it can withstand the demands of the field.



SEETEC WPC215 BROADCAST MONITOR Technical Specifications
Key Features:
Model WPC215
Screen Size 21.5" IPS
Color Depth 16.7M
Resolution 1920×1080 pixels
Pixel pitch 0.24795(W) x 0.24795(H) mm
Aspect Ratio 16:9
Brightness 1000cd/m²
Contrast Ratio 1000:1
Backlight LED
Viewing Angle 89°/89°(L/R) 89°/89°(U/D)

Input
1X SDI 3G-SDI
2 X HDMI HDMI-A (up to 4K@30)
1 X USB USB (upgrade and LUT import)

Output
1 X SDI 3G-SDI
1 X HDMI HDMI-A (up to 4K@30)

Audio
Audio Stereo Headphone, Speaker

SDI Support Format
720p (60/59.94/50/30/29/25/24/23.98)
1080i (60/59.94/50)
1080p (60/59.94/50/30/29.97/25/24/24sF/23.98/23.98sF)

HDMI Support Format
480i/576i/480p/576p
720p (60/59.94/50/30/29.97/25/24/23.98)
1080i (60/59.94/50)
1080p (60/59.94/50/30/29.97/25/24/23.98)
4K UHD 3840×2160p (30/29.97/25/24/23.98 Hz)| 4096×2160p (24Hz)


General
Input Voltage DC 12V
Power Consumption ≤38W
Working Temperature 0°C~50°C
Storage Temperature -20°C~60°C
Unit Size 596*440*240mm
Unit Weight about14.8kg
Outer Carton Qty 1
Outer Carton Size (mm)
Gross Weight kgs

Advanced Features
* Built-in Multi camera Delog LUTs
* User 3DLUTs upload via USB (up to 32)
* All waves(RGB、YUV、Y)
* Vector
* Histogram (RGB1、RGB2、Y)
* Focus Assist (Red, Green, Blue three colors optional highlight over parts of the image in focus)
* False Colors
* Over Exposure (10-100)
* Under Scan, Over Scan
* Anamorphic Mode (1.33X, 1.6X, 2.0X, 2.0X MAG, User)
* Pixel to Pixel
*Center Marker
* Safety Marker (80%, 85%, 90%, 93%, 96%, 2.35:1)
* Ratio Marker ( 4:3、13:9、14:9、15:9、16:9、1.85:1、2.35:1)
* Image Freeze
* Selectable Color Temperature Presets