Introducing the Feelworld LUT6 Ultra-Bright Camera Monitor, your ultimate companion for professional videography and cinematography. Designed with precision and engineered to elevate your shooting experience, this cutting-edge monitor delivers unrivaled performance and unmatched visual clarity.

Equipped with a vibrant 6-inch IPS screen boasting a resolution of 1920x1080 pixels, the Feelworld LUT6 displays true-to-life colors and exceptional image details, allowing you to capture every moment with utmost accuracy. With its ultra-bright 2600 cd/m² brightness, this monitor ensures seamless visibility even in the harshest lighting conditions, making it an ideal choice for outdoor shoots.

The Feelworld LUT6 stands out from the competition with its versatile functionality. Featuring support for various professional functions like waveform, histogram, and peaking focus assist, this monitor empowers you with precise monitoring and focus control. Its 3D LUT color calibration technology provides accurate color reproduction, giving you the confidence to achieve the perfect shot every time.

Crafted with durability in mind, the Feelworld LUT6 is built to withstand the demands of the industry. Its robust housing ensures reliable performance even in challenging environments. The lightweight and compact design make it highly portable, allowing you to effortlessly carry it wherever your creativity takes you.

Unleash your artistic vision and bring your videos to life with the Feelworld LUT6 Ultra-Bright Camera Monitor. Elevate your filmmaking journey with this indispensable tool, and experience the true potential of your camera's capabilities.
The Feelworld LUT6 Ultra Bright camera field monitor
The Feelworld LUT6 ultra bright camera field monitor is perfect for use in direct sunlight, even without a sunshade. An incredible brightness of 2600nits means you can be sure that you don't miss any of the action due to strong light sources.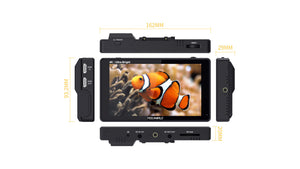 A Feelworld Camera monitor Designed for Every Situation
The Feelworld LUT6 monitor equips filmmakers with the benefits of a large on-camera display without making the camera set up feel cumbersome. The front of the LUT6 features a large high resolution, daylight viewable LCD touchscreen, there are video connections on the left side and SD card slot on the bottom, and space for a NP-F battery on the back. The outer frame features standard 1/4" mount points on the bottom and right for attaching it to camera and rig. This design detail makes the Feelworld LUT6 easy to attach to a camera and easy to share with a team member or client on set.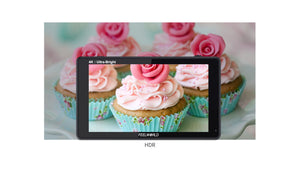 The Feelworld LUT6 monitor with built in HDR/De-log 3DLUT
The Feelworld LUT6 has built-in HLG 2020, HLG 709, HLG P3 HDR 3D LUT, and Rec709 De-slog3 LUTs, includes SLOG2, SLOG3, LOGC, VLOG. This camera field monitor can display an HDR (high dynamic range) signal for incredible clarity and detail, simplifies the complexities of shooting Log and HDR, helping you to replicate post-production workflows at the moment when it matters most–while shooting.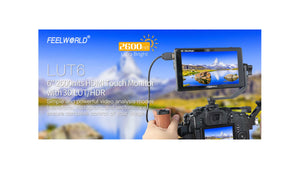 The Feelworld LUT6 with 2600NiT ultra bright display
The Feelworld LUT6 camera field monitor features a 2600NIT ultra bright screen to give you complete control of your image, even in bright sunlight.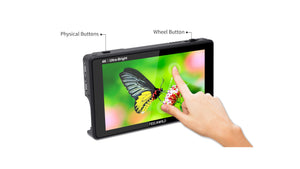 The Feelworld LUT6 monitor comes with a touch screen as well as a Button Control Menu
You can also get a quick glance at your menu settings and features with an easy tap on the screen. It also supports physical buttons control. Tap/Rotate the wheel button for quick selection and function settings. Tap the power switch to turn off the touch function, designed to prevent misuse. With these two methods of operation the Feelworld LUT6 camera field monitor gives you huge flexibility.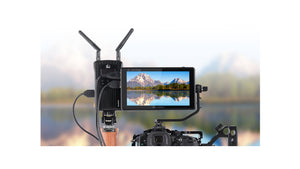 Feelworld LUT6 4K HDMI Loop-out
The Feelworld LUT6 camera monitor has 4K HDMI in and loop-out, giving you the the ability to display live pictures on multiple displays at once while still maintaining the original video quality.
Connect to Wireless Transmitter
Transmission to film crew director monitoring at the same time. Without cables you have more flexibility to transition between scenes effortlessly for outdoor shooting.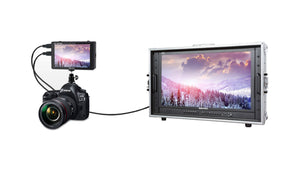 Connect the LUT6 to a Seetec Director Monitor
Display live pictures on multiple displays simultaneously with the Feelworld LUT6 camera monitor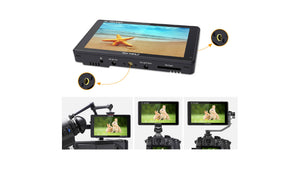 Attach to Cameras, Equipment Carts or Hang It Anywhere
The standard sized mounting points on the Feelworld LUT6 camera monitor make it easy to mount and are compatible with third party rigging equipment. There are 2 mounting points located on the bottom and right making it easy to mount.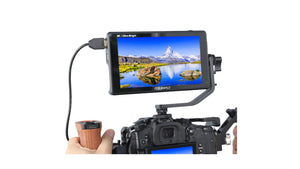 Feelworld LUT 6 Camera Monito
Feelworld LUT6 2600nit ultra-bright monitor
FEELWORLD LUT6 CAMERA MONITOR TECHNICAL SPECIFICATIONS
Display Spec.
Model: Feelworld LUT6
Screen Size: 6" IPS
Resolution: 1920x1080 pixels
Pixel Pitch: 0.069 (L) x 0.069 (W) (mm)
Aspect Ratio: 16:9
Brightness: 2600cd/m²
Contrast Ratio: 1000:1
Backlight: LED
Viewing Angle: 80°/80°(L/R) 80°/80°(U/D)
INPUT/ OUTPUT 
Input: 1 X HDMI
Output: 1 X HDMI, 1 X DC (Barrel (3.5mm outer, 1.1mm inner) barrel output for powering cameras via camera specific adaptor)
Audio: 3.5mm Stereo Headphone
HDMI Input/ Output Support Format:
480i/576i/480p/576p
1080i (60/59.94/50)
720p (60/59.94/50/30/29.97/25/24/23.98)
1080p (60/59.94/50/30/29.97/25/24/23.98)
3840x2160p (30/29.97/25/24/23.98)
4096×2160p (30/29.97/25/24/23.98)
General
Input Voltage: DC7~24V
Power Consumption: ≤16W
Working Temperature: -20°C~50°C
Storage Temperature: -30°C~60°C
Install Way: 1/4"-20 Thread Socket (Right, Bottom)
Battery Plate: F970 Battery Plate
Unit Size: 162Lx93.2Hx29D(mm)
Unit Weight: 300g
Battery Plate: Dual F970 Battery Plate
Compatible Battery: Sony F970, F960, F950,F930, F770, F750, F730, F570, F550, F530, series. Because the FEELWORLD LUT7S monitor is the ultra bright, we recommend use Sony F970 battery, two F970 batteries can use 4-5 hours.
(Note battery not include, need purchase separate)
Other options