Introducing the Feelworld POE20X PTZ Camera, a cutting-edge marvel that effortlessly captures breathtaking visuals with exceptional precision. Designed for the most demanding professional environments, this advanced PTZ camera combines superior performance with unparalleled convenience.

Featuring a powerful 20x optical zoom lens, the Feelworld POE20X enables you to capture every detail with astonishing clarity, ensuring that no moment goes unnoticed. Whether you're conducting video conferences, broadcasting live events, or monitoring large spaces, this camera guarantees exceptional image quality even in low-light conditions, thanks to its remarkable low-light sensitivity capabilities. With its smooth and precise pan, tilt, and zoom functionality, you can effortlessly frame the perfect shot, capturing every angle flawlessly.

What sets the Feelworld POE20X apart is its built-in Power over Ethernet (POE) technology, revolutionizing the way you power and connect your camera. POE allows for a single cable to deliver both power and data, eliminating the need for multiple cables and simplifying installation. With POE, you can conveniently connect the camera to your network, ensuring seamless integration and effortless remote control. This feature not only saves you time and effort during setup but also provides a reliable and stable connection for uninterrupted video transmission.

In summary, the Feelworld POE20X PTZ Camera is a remarkable fusion of exceptional performance and convenience. With its stunning image quality, versatile zoom capabilities, and innovative POE technology, this camera is the ideal choice for professionals seeking a high-quality PTZ solution that guarantees exceptional results every time.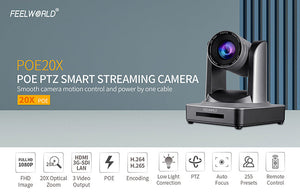 Feelworld POE Professional PTZ Video Camera
The Feelworld POE20X PTZ camera features smooth camera motion and power by one cable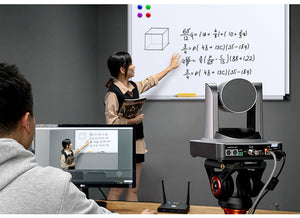 The Feelworld PTZ camera for live streaming
Are you worried about cumbersome network wiring? Are you still spending a high cost to purchase equipment for power supply? FEELWORLD POE20X helps you solve all your worries. It is a full HD PTZ camera with 20x optical zoom, simultaneous 3G-SDI, HDMI, LAN video output interfaces. This Feelworld PTZ camera supports PoE, which allows you easily transmit all the information and power for your device with only one cable. It is ideal for video conferencing, education, live broadcasting, broadcasting and churches.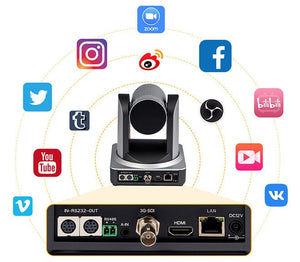 Multiple Video Output
Stream to Your Favorite Platforms
Simultaneous HDMI, 3G-SDI, and IP streaming video output and multiple network protocols allow the Feelworld POE20X to easily live stream to your favorite platforms, such as YouTube, Facebook, etc.
Note: The 3G‐SDI is available for 100m transmission at 1080p60 format.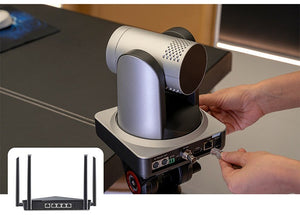 PoE Support
No more wires!
The Feelwoerld POE20X PTZ camera supports PoE (Power over Ethernet). Just one cable can be used for power, video/audio streaming and control.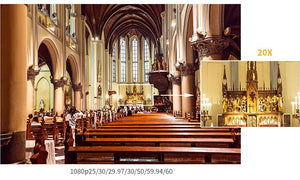 1080P@60 HD Image Quality + 20X Optical Zoom
Realize a life-like Video Experience
The high resolution 1080P@60fps, outstanding colour reproduction,20X zoom delivers premium optics and life-like video to create the experience of sitting together in the same room, even if you are a thousand miles away.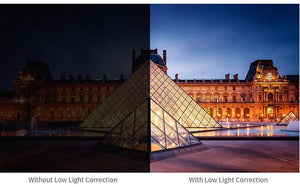 Low Light Correction
The low-light performance technology incorporated into the Feelworld POE20X can automatically adjust the brightness level. Every moment can be seen clearly even in dark or back lit conditions. Outstanding performance and video quality make live recording extremely convenient.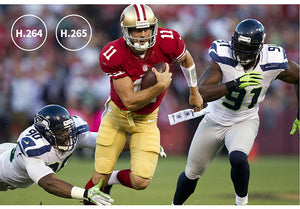 H.264&H.265 Encoding, More Smooth and Clear Video motion
IP live streaming supports H.264&H.265 video compression, which makes motion video more fluent and clear under low bandwidth conditions.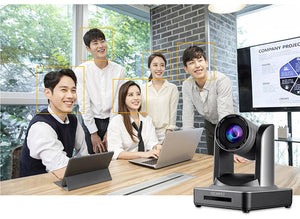 Auto Focus, Smart Frame Capture Everyone
Take close-ups of participants of video conferene details - there is no need to worry about blurring your image when you're on camera with the Feelworld POE20X PTZ camera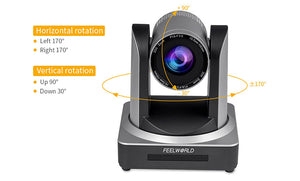 Accurate, Smooth and Silent PTZ Movement
Capture every person in the room with multi-angle
Built-in two-way high speed and silent pan/tilt, the lens can rotate 340° horizontally (±170°) and 120° vertically (-30°~+90°).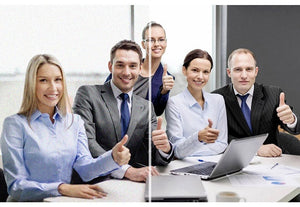 Low Noise and High SNR
Super high SNR image is achieved with low noise CMOS. Advanced 2D/3D noise reduction technology further reduces the noise while ensuring high image clarity.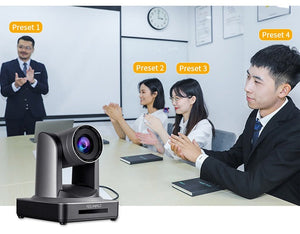 Up to 255 Preset Positions with the Feelworld POE20X
The secret to more productive meetings
10 preset positions by IR remote controller,that can save pan, tilt, and zoom settings, and smoothly transitions between them at the touch of a button. Up to 255 preset positions via WEBSERVER
SPECIFICATIONS
Feelworld POE20X PTZ camera
Camera Parameters 
Model POE20X 
Sensor 1/2.9 inch high quality CMOS sensor 
Effective Pixels 2.07 megapixel, 16:9 
Output Resolutions 720p25/29.97/30/50/59.94/60 | 1080p25/30/29.97/30/50/59.94/60 
View Angle 3.3°~ 54.7° 
Focus Length f=5.5~110mm 
AV F1.6 ~ F3.5 
Optical Zoom 20X 
Minimum Illumination 0.5 lux (F1.8, AGC ON) 
DNR 2D & 3D 
White Balance Auto / Manual/ One Push/3000K/3500K/4000K/4500K/5000K/5500K/6000K/6500K/7000K 
Focus Auto / Manual/ One Push Focus 
Exposure Auto / Manual 
BLC On/Off 
WDR OFF/Dynamic level adjustment 
Video Adjustment Brightness, Color, Saturation, Contrast, Sharpness, B/W mode, Gamma curve 
SNR >55dB
Input/output Interface 
Video Interface HDMI, 3G-SDI, LAN(support PoE) 
Image Code Stream Double stream outputs simultaneously 
Video Compression Format H.264, H.265 
Audio Interface Double track 3.5mm linear input 
Audio Compression Format AAC、MP3、G.711A 
Control Interface RS232 (IN/OUT), RS485 
Control Protocol VISCA/Pelco-D/Pelco-P 
HD IP Interface 100M IP port(10/100BASE-TX) 
Network Protocol RTSP, RTMP, ONVIF, GB/T28181, VSICA 
Power Interface HEC3800 outlet (DC12V)
PTZ Parameters 
Pan Rotation -170°~+170° 
Tilt Rotation -30°~+90° 
Pan Control Speed 0.1 ~60°/sec 
Tilt Control Speed 0.1~30°/sec 
Preset Speed Pan: 60°/sec, Tilt: 30°/sec 
Preset Number 255 presets (10 presets via remote control)
 Other Parameters 
Input Voltage 12V/1.5A 
Power Consumption Maximum: 12W 
Stored Temperature -40℃~+70℃ 
Storage Humidity 20%~90% 
Working Temperature -10℃~+50℃ 
Working Humidity 20%~80% 
Dimension (W*H*D) 150mm×150mm×167.5mm 
Unit Weight 1.4kg 
Outer Carton QTY 4pcs 
Outer Carton Size 52*29*50cm 
Gross Weight 9.85kgs
Alternatives