Introducing the SEETEC P173-9HSD Broadcast Monitor – the ultimate companion for professional videographers and broadcasters seeking unparalleled visual clarity and precision. With its cutting-edge technology and sleek design, this top-of-the-line monitor is a true game-changer in the industry.

Equipped with a vibrant 17.3-inch IPS display, the SEETEC P173-9HSD boasts an impressive resolution of 1920 x 1080, ensuring every pixel is brought to life with stunning clarity and lifelike colors. Thanks to its wide viewing angle, this monitor allows for accurate color representation even from various perspectives, making it ideal for collaborative projects and team environments. Say goodbye to guesswork and hello to confidence as you rely on this monitor's precise color calibration, ensuring consistent and accurate visuals throughout your workflow.

Featuring an array of professional-grade features, the SEETEC P173-9HSD Broadcast Monitor goes above and beyond expectations. Its advanced waveform and vectorscope analysis tools provide real-time insights into your footage, enabling you to fine-tune and perfect your images with precision. The monitor's built-in 3D-LUT color calibration ensures impeccable color accuracy, while its multiple input and output options, including 3G-SDI, HDMI, and headphone ports, offer seamless connectivity and versatility. With its rugged yet lightweight design, this monitor is perfect for both studio and on-location shoots, making it an essential tool for any serious videographer or broadcaster.

Upgrade your visual experience today and unlock a new level of professionalism with the SEETEC P173-9HSD Broadcast Monitor. Immerse yourself in stunning visuals, enhanced color accuracy, and unparalleled performance, all in one sleek package. Don't settle for anything less than perfection—choose the SEETEC P173-9HSD and elevate your video production to extraordinary heights.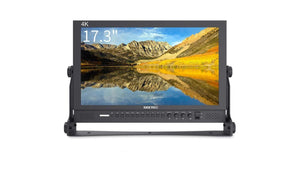 TRUSTED SEETEC MONITOR QUALITY
SEETEC has been committed to providing comprehensive broadcast monitoring solutions for professional filmmakers. The SEETEC P173-9HSD Broadcast Monitor features an upgraded display from HD to FHD and supports inputs of up to UHD 4K resolution. SEETEC MONITORS aims to support professional content creators in their drive to create more exciting stories with the help of our advanced technology which is designed to improve the efficiency of your productions.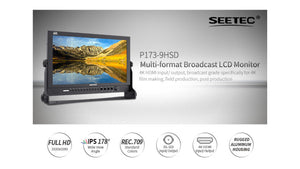 Seetec Monitor Stability and Reliability
The SEETEC P173-9HSD Professional Broadcast LCD Monitor has been widely used in TV news production, broadcasting houses, and TV broadcasting stations. The SEETEC P173-9HSD Broadcast Monitor is designed to work alongside other professional equipment, so we prioritised high stability, high reliability and electromagnetic compatibility in our design to make sure the whole system works as smoothly as possible. The full aluminium carry-on case not only makes the product more solid and durable but also improves thermal efficiency. The case of the SEETEC P173-9HSD Monitor also provides anti-interference capabilities, making this Seetec Monitor a great choice for professionals.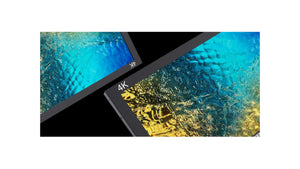 BEAUTIFUL FULL HD PANEL WITH TRUE COLOURS
With the P173-9HSD's 17.3-inch 1920×1080 Full HD panel what you see is truly what you get. The SEETEC P173-9HSD Rack Mount Broadcast Monitor's excellent viewing angles provide crisp, clear shots in the field, which means less time in the editing room. The SEETEC P173-9HSD Rack Mount Broadcast Monitor's Full HD Panel is the tool of choice for high-quality colour reproduction, being factory calibrated to the Rec.709 standard for excellent colour reproduction.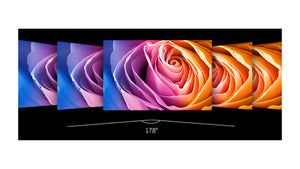 EXCELLENT IPS VIEWING EXPERIENCE FROM SEETEC MONITORS
The IPS panel of the SEETEC P173-9HSD Broadcast Monitor is designed to have no brightened dots or streaking. This, combined with the excellent 178° viewing angles lets you enjoy consistent images from any perspective. The wide colour gamut panel is calibrated to the Rec.709 standard to ensure the SEETEC P173-9HSD Broadcast Monitor has more precise colour restoration, with excellent picture quality and more rich colour levels.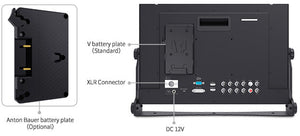 VERSATILE POWER CONFIGURATIONS
We've made it as easy as possible to power the SEETEC P173-9HSD Broadcast Monitor. The monitor can be powered in two ways: with either a DC adapter or lithium batteries. The SEETEC P173-9HSD Broadcast Monitor has a flexible battery system that supports the V battery plates (standard) as well as an Anton Bauer battery plate to provide excellent user choice.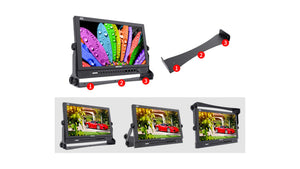 CONVENIENT MOUNTING POINTS FOR EASY SETUP
You can attach the P173-9HSD SEETEC Monitor to camera supports or hang it anywhere via the 3 mounting points located on the U-shaped bracket. The standard-sized mounting points make it easy to mount and are compatible with a wide range of third-party rigging equipment.
The Seetec P173-9HSD Broadcast Monitor
DISPLAY SPEC.
Screen Size:17.3" IPS
Resolution: 1920x1080 pixels 
Pixel Pitch: 0.1989(H)×0.1989(V) mm
Aspect Ratio: 16:9
Brightness: 300cd/m² 
Contrast Ratio: 700:1
Backlight: LED 
Viewing Angle: 89°/89°(L/R) 89°/89°(U/D)
INPUT/ OUTPUT
Input: 3G-SDI, HDMI, Y/Pb/Pr, Video, Audio(L/R), DVI-I, Tally
Output: 3G-SDI, HDMI, Y/Pb/Pr, Video
Audio: 3.5mm Stereo Headphone, Speaker
SDI Support Format: 480i/576i; 720p (60/59.94/50/30/29/25/24/23.98); 1080i (60/59.94/50); 1080p (60/59.94/50/30/29.97/25/24/24sF/23.98/23.98sF)
HDMI Support Format: 480i/576i/480p/576p; 1080i (60/59.94/50); 720p (60/59.94/50/30/29/25/24/23.98); 1080p (60/59.94/50/30/29.97/25/24/24sF/23.98/23.98sF); 4K UHD 3840×2160p (30/29.97/25/24/23.98Hz), 4096×2160p (24Hz)
GENERAL
Input Voltage: DC9~24V
Consumption: ≤26W
Working Temperature: -10°C~50°C
Storage Temperature: -20°C~60°C 
Unit Size: 426L×297H×35.1D mm (W/O Bracket)
Unit Weight: 2.75kg (W/O Bracket) / 3.30kg (W/ Bracket)
Other options